NFL Mock Draft: Part 2
This is part 2 of my NFL Mock Draft – part one can be found here.

The 1996 NFL draft was an odd one.  One of the best ever classes at the wide receiver position, with the likes of Keyshawn Johnson, Terry Glenn,  Marvin Harrison, Eric Moulds, Terrell Owens, Muhsin Muhammad, Jermaine Lewis, and Joe Horn being taken, the draft was dominated by success stories – see, for example, the Baltimore Ravens, who got two probable Hall of Famers in the first round, Jonathan Ogden and Ray Lewis.
With all this success, an odd thing happened – the top quarterback in the draft, Tony Banks, kept sliding and sliding, not taken until St. Louis took him at #42 overall – in the second round.  This was only the fifth time in the modern era every QB slipped that far.  Since then, every draft has featured a quarterback going in the first round.  That brings us to this year, and a subpar QB class, led by Geno Smith.  There have been doubts on his ability to produce in the NFL, led by a scouting report given by Pro Football Weekly, which called him a "gimmick, overhyped product of the system lacking the football savvy, work habits and focus to cement a starting job and could drain energy from a QB room."  That seems – well, it seems a tad harsh to me, but the fact remains that Smith's not a QB prospect like we had last year, with Luck or Griffin.

Since I don't predict trades, I don't have Smith going at all in the first round, which would be surprising.  That being said, I can't imagine one of the QB needy teams, if Smith does indeed fall like I have him going, won't jump on the trigger – perhaps Jacksonville, giving their 2nd and 4th round picks (#33 and #98 overall) to, say, Houston at the end of the first round.  I do feel that no team will take Smith where they were originally scheduled to pick – a trade will be involved somewhere.

On with the predictions!
17. Pittsburgh Steelers – Keenan Allen, WR, California
Having lost Mike Wallace in free agency – and somewhat accepting of that fact, due to his continued inability to hold on to the football – the Steelers could be looking to get some youth I their receiving corps.  They re-signed PlaxicoBurress and Emmanuel Sanders, but Allen fits the Steelers needs to a T – not a burner, but with a quick release and light feed that can help him exploit holes in the defense.  Other possibilities: Cordarelle Patterson, WR, Tennessee; Jarvis Jones, OLB, Georgia.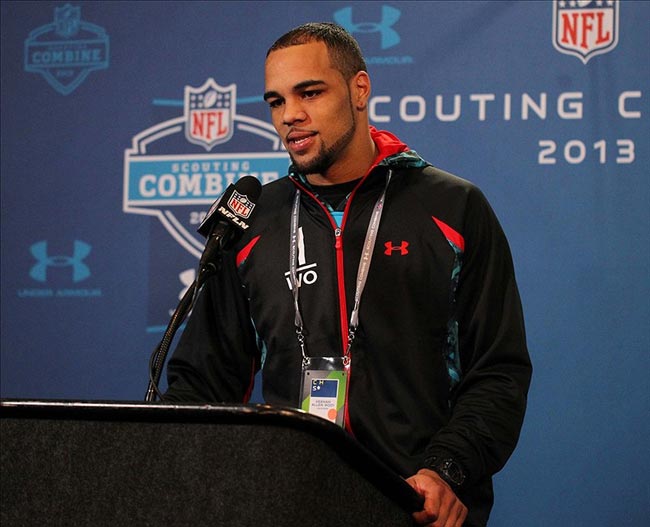 Feb 22, 2013; Indianapolis, IN, USA; California wide receiver Keenan Allen speaks at a press conference during the 2013 NFL Combine at Lucas Oil Stadium. Photo Credit: Brian Spurlock-USA TODAY Sports.



18. Dallas Cowboys – Alec Ogletree, ILB, Georgia
Eighteen is a bit of a no-man's land for the Cowboys.  They desperately need offensive line help, and this is a deep draft there – but the lightness at quarterback means a bunch of the teams before them might use this opportunity to beef up their own lines.  They'll be hoping for one of the big guards to drop to 18, or else might trade down to get better value.  If they stand still, they could do worse than grabbing the best remaining player – one with character concerns, certainly, but an explosive defensive presence.  Other possibilities: Justin Pugh, OG, Syracuse; Chance Warmack, OG, Alabama.

19. New York Giants – Manti Te'o, ILB, Notre Dame
What else is there to say about Te'o?  His pro day seems to have redeemed him somewhat in the eyes of scouts after his poor showing at the combine, and there are rumors that the Giants are definitely interested in him.  He's no longer the top-10 prospect he was considered entering the national title game, but he was still a Heismann finalist – and hopefully, he can put the catfishing saga behind him on his way to a successful NFL career.  Other possibilities: Alec Ogletree; Bjoern Werner, DE, Florida State.

20. Chicago Bears – Sylvester Williams, DT, North Carolina
I had the Bears penciled in for a linebacker, until they went out and signed DJ Williams and James Anderson – not to say they won't still draft one, but that need has been tempered a little bit.  Like the Cowboys, the offensive line help won't last until they're picking, so depth and an eventual replacement for Henry Melton might be the order of the day.  Other possibilities: DJ Fluker, OT, Alabama; Manti Te'o.

21. Cincinnati Bengals – Ed Lacy, RB, Alabama
With the beginnings of a young, powerful offense set at quarterback and receiver, a replacement for the plodding BenJarvus Green-Ellis could help – or at least let them share the load some, keeping Green-Ellis' legs fresh.  Lacy's the only running back who played like a top pick this season, though he could possibly last until the Bengals' second round pick.  Other possibilities: Manti Te'o; Geno Smith, QB, West Virginia.

22. St. Louis Rams – Tyler Eifert, TE, Notre Dame
This is the pick the Rams received for RGIII, and it's probably a tad lower than they anticipated, but that's the way the cookie crumbles, sometimes.  The Rams did just sign Jared Cook to play tight end, but Eifert seems like the better bet to be a long-term starter at the position, and would continue to help the Rams movement to develop an NFL-quality passing game.  Other possibilities: Keenan Allen, Cordarelle Patterson.

23. Minnesota Vikings – Cordarelle Patterson, WR, Tennessee
The Vikings need to replace Percy Harvin – it's probably clear that their relationship was soured to the point of no return, but they needed help there even before Harvin left.  Greg Jennings can't play two positions simultaneously, hence the selection of Patterson – he's probably got the highest upside of any of the receivers in the draft, and could learn as a #2 receiver behind Jennings for a few years.  Other possibilities: Sheldon Richardson, DT, Missouri; Keenan Allen.

24. Indianapolis Colts – Desmond Trufant, CB, Washington
The Colts struggled in the defensive secondary last season, and desperately need an improvement.  Don't let their record last season fool you – this team still has a way to go before it becomes a consistent playoff team, especially on the defensive side of the ball.  Trufant is a big, tough, physical cornerback who would help clamp down the position of weakness.  Other possibilities: Menelik Watson, OT, Florida State; BlidiWreh-Wilson, CB, Connecticut.

25. Minnesota Vikings – Johnathan Jenkins, DT, Georgia
This is the pick the Vikings got from the Seahawks in the Percy Harvin trade, but I have them already trying to replace him with their previous pick.  Therefore, I have them trying to find a new tackle to play next to Kevin Williams, as LetroyGuion just wasn't up to snuff last season.  Jenkins has dropped forty pounds from his college weight, and is now more in line with what NFL teams are looking for.  Other possibilities: Justin Hunter, WR, Tennessee; Sylvester Williams.

26. Green Bay Packers – Justin Hunter, WR, Tennessee
Odd that I have both Tennessee receivers going in the first round, but that's the way things shake out, sometimes.  The Packers still have plenty of receivers with Greg Jennings gone – James Jones, Jordy Nelson, and Randall Cobb – but all those guys work best as complimentary receivers, and there's no guarantee any of them can make the jump up to #1.  Other possibilities: Ed Lacy; Travis Frederick, C, Wisconsin.

27. Houston Texans --Quinton Patton, WR, Louisiana Tech
Patton would be a bit of a luxury option here; an eventual replacement for Andre Johnson who can still put up numbers.  Like I said in the opening, however, we're in the part of the draft where I wouldn't be surprised to see a team come up to grab Geno Smith, and the Texans could afford to move down into the top of the second round, and deal with their issues there.  Other possibilities: Sylvester Williams, Justin Hunter.

28. Denver Broncos – Bjoern Werner, DE, Florida State
The fallout from Faxgate continues.  Werner, or a defensive end like him, would be a solid replacement, assuming they can get their smoke signals into the NFL in time and their carrier pigeons don't die.   Other possibilities: Jonathan Jenkins; Kawann Short, DT, Purdue.

29. New England Patriots – Kawann Short, DT, Purdue
With the top receivers off the board at this point in time in the mock, the Patriots could look to improving their interior pass rush.  They've still got Vince Wilfork going strong, but a younger player to compliment and eventually replace him might be a solid plan.  Other possibilities: Tyler Eifert; Jonathan Jenkins.

30. Atlanta Falcons – Sam Montgomery, DE, LSU
The Falcons did go out and get OsiUmenyiora, which is good!  However, they had roughly zero pressure on opposing QBs last season, and had to release both John Abraham and Ray Edwards.  They need more help here, and Montgomery's the best pass rusher left at this point.  Other possibilities: Damontre Moore, DE, Texas A&M; Desmond Trufant.

31. San Francisco 49ers – BlidiWreh-Wilson, CB, Connecticut
If this pick isn't someone in the defensive secondary, I'll be surprised -- unless it's someone on the defensive line.   The 49ers, having lost DashonGoldson, need help – they did just sign NnamdiAsomugah in a hope a change of scenery can bring back his old skill, but that's not enough.  They could package this pick and the one they got for Alex Smith to try to make a move for Kenny Vacarro just outside the top dozen.  Other possibilities: Kawann Short; Xavier Rhodes, CB, Florida State.

32. Baltimore Ravens – Menelik Watson, OT, Florida State
Will the last player left in Baltimore turn out the lights?  The Super Bowl champs have seen an exodus of top talent due to age and salary cap problems, and may enter a mini-rebuilding period.  One free agent they have yet to resign is Bryant McKinnie.  If they opt to go younger and cheaper, Watson would be a fine alternative this late in the draft.  Other possibilities: Quinton Patton, Geno Smith.


What do you think?
We'd love to hear your comments and/or opinions. If you submit them here, other visitors can read them, rate them and comment on them. An e-mail address is not required.