NFL Free Agency: Best Remaining Defenders
Last week, we looked at the best remaining offensive players left – now, let's go to the defensive side of the ball and check out what players are left on that side of the ball.
DE: Dwight Freeney, Indianapolis and Israel Idonjie, Chicago
A couple former studs in their early 30s, both Freeney and Idonije likely have a couple productive seasons left in them, for the right prices.  Freeney's cooled off from his peak, when he could be counted on for double-digit sack totals as long as he stayed healthy, and is more of a two-down player nowadays – he was on the field for 66% of the Colts defensive snaps last season.  He was slowed down by an ankle injury, and a transition to a 3-4 defense, last season, but appears to be healthy now, and a 4-3 defense should jump at the chance to snatch Freeney up.  The issue slowing things down seems to be his salary demands – they started at $8 million a year, and have been dropping throughout the offseason.  Expect him to get a job as a pass rusher for about $4 million a year as we get a little closer to training camp.

Idonije doesn't have the pedigree Freeney brings with him, but offered similar production last season, racking up seven and a half sacks and being a force in the run game, too.  The lack of historical success also seems to be bringing his price down to more reasonable levels, and various rumors have the Bears, 49ers, and Titans.  He can play inside on passing downs, too, adding a bit more versatility.  If I was looking for a pass rusher, I'd rather have Freeney, but as an all-around player, Idonije might be a better value.

DT: Richard Seymour, Oakland
Another mid-30s lineman with injury issues who could still contribute.  Seymour missed eight games last season with a hamstring injury, but was a pro-bowler as recently as 2011.  He's no longer the force he was back in his Patriots days but, then again, neither are the Patriots.  A team that wants to take a risk on Seymour could be getting a veteran presence and a difference maker on the line, if they're willing to put up with the chances that Seymour's body might simply be breaking down.  It has been rumored that Seymour was looking for big bucks, but that might not scare off teams too much.  Post June 1st, when contracts come off the books, look for a contender like the Falcons to kick Seymour's tires fairly heavily.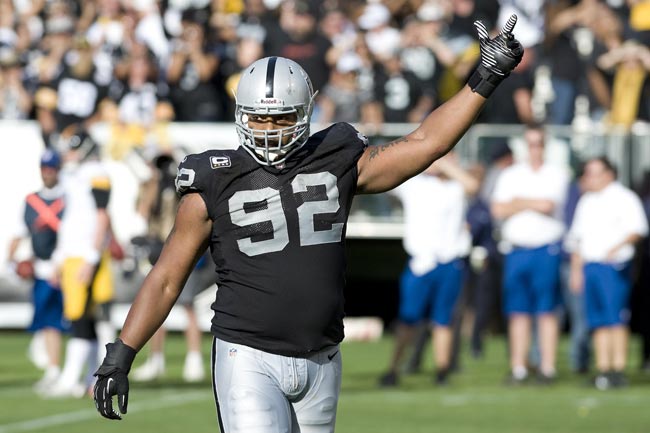 Oakland, CA, USA: Oakland Raiders defensive tackle Richard Seymour (92) gestures during the fourth quarter against the Pittsburgh Steelers at O.co Coliseum. The Raiders defeated the Steelers 34-31. Photo Courtesy by Ed Szczepanski-USA TODAY Sports.


OLB: Daryl Smith, Jacksonville; Nick Barnett, Buffalo
Playing in the black hole that is the Jacksonville Jaguars franchise, Smith may not be on most casual fans' radars.  Add in the fact that he's not a 3-4 pass-rushing outside linebacker, and people might be tempted to dismiss him based on his poor sack numbers.  Don't be fooled – he's been productive in the 4-3 for essentially his entire career, never quite reaching pro-bowl caliber numbers but always providing a solid presence on the outside. The issue he's dealing with is a groin injury which caused him to miss 14 games last season – but, before that, he had missed only four games in eight years.  So far, the only team to check him out has been the Rams, but I have to think he'll land a job somewhere.

Nick Barnett was released due to a failed physical up in Buffalo, though for the life of me, I can't imagine how – he never missed a game for the Bills.  He's probably best in pass coverage, though he offers a lot of help in run support, as well – not much of a pass rusher, he could, like Smith, bring a veteran presence to a team's linebacker corps.  Barnett also has experience playing both in the middle and on the strong-side, so he's fairly versatile, too.  Like Smith, though, he may have aged out of most team's radars, but he should be high on the list for a pickup if a team starts struggling in training camp.

ILB: Karlos Dansby, Miami; Brian Urlacher, Chicago
Are you noticing a theme?  Every team wants to get younger, so we have productive veterans looking for a camp job.  No player still unsigned has the pedigree of Urlacher, a near-sure first-ballot hall of famer; an 8-time pro bowler who earned the honors as recently as 2011, and a Bears legend.  Of course, that's the past tense – he was sluggish and slow in 2012, as well as injured, and based solely on that, shouldn't have a job in 2013.  It'd be odd to see him outside of a Bears jersey, anyway, and no one has seemed that interested in bringing him in.  He'd only suit up for a contender anyway, so we may be able to pencil in his Hall of Fame ceremony for 2018.

Dansby, on the other hand, was still productive in 2012, especially in the run game – he has a great ability to find and plug holes just as they open.  The Dolphins chose to go younger at the position, so Dansby found himself on the open market.  The Cardinals have recently brought him in, back where he started his career, and it might be a great fit – Daryl Washington has a four-game suspension which may become something more due to a domestic assault case, so Dansby would be a very skilled replacement with familiarity with the team and fan base, if not the coaching staff.

CB: Sheldon Brown, Cleveland; Quentin Jammer, San Diego
Chris Gamble is the best cornerback not signed, but he went out and announced his retirement at age 30, so for now, we can't consider him (though I would not be surprised if he went out and found himself a job during training camp if he reconsiders).  That brings us to the aging Brown as the best player left, but he's turning 34, and teams might want to go younger.  It'd be a bit of a shame – Brown remains productive, and I was a little surprised the Browns didn't offer him even a one-year deal.
 
When this article was first written, the alternative to Brown was Jacob Lacey, but the Vikings snagged up the young nickel cornerback, showing the value teams are placing on youth movements.  That brings us to Jammer – rather than a nickel cornerback looking for a starting role, it's a starting cornerback who will probably have to accept a nickel or dime role if he wants to continue his career.  He's lost coverage ability, too, so perhaps a move to safety could extend his career.  One way or another, he's probably looking at a league minimum salary, if that.

S: Kerry Rhodes, Arizona; Gerald Sensabaugh, Dallas
Rhodes has a strong argument as the best free agent available at any position – a classic, middle of the field safety who had a very productive season in 2012 with Arizona.  Everything said about age hits the 31-year old Rhodes, though, and the Cardinals decided they could go younger and cheaper than Rhodes' $6 million salary.  A team with a hole in the secondary – the Browns, for example, or the Bengals – could pencil Rhodes in as a regular starter, if they can get a good price on him – this late in the process, that seems likely.

I don't really understand why Sensabaugh is a free agent – the Cowboys didn't save a ton of money by cutting him and, while he doesn't really offer anything in the run game, is still a quality cover man on a team that had enough holes to begin with.  Sensabaugh visited with the Cardinals and Titans back in March, and though interest cooled off during the draft, I would expect it to pick back up as we enter the training camp phase.  Sensabaugh is still a starting-quality safety in the league, and, for a one-year deal, he'll find a home before too much longer.

What do you think?
We'd love to hear your comments and/or opinions. If you submit them here, other visitors can read them, rate them and comment on them. An e-mail address is not required.