The NFL's Best Remaining Offensive Playmakers
So, your team didn't go out and get the difference maker you've been waiting for.  Their draft was sub-standard, their free agency a mess, their roster now complete and uninspiring.  At least you know who's going to be suiting up in 2013, right?
Well, hold on, because there are still some names out there to be had in free agency.  Admittedly, all of the best players are gone – that's why they're the best players; they wouldn't be hanging on in free agency otherwise.  But teams in need of someone to fill out the bottom of their roster – depth guys, backups, people fighting for nickel corner and third receiver roles – can still find some talent out there.  So, without further ado, let's look at the best remaining free agents to be had at every position.

QB: Tim Tebow, NY Jets
Well, might as well start things off with a bang, right?  I'm pretty much on the bandwagon that Tebow will never be a quality NFL starting quarterback – he doesn't have the physical tools or the mechanics that are required in the modern NFL.  But there aren't any studs out there – would you rather have a 38 year old Charlie Batch or Tebow?  Matt Leinart or JaMarcus Russell ring sound good to you?  So, let's look at the positives.  His time in New York was a disaster, but can you really judge someone from 8 pass attempts?  In 2011 with the Broncos, he did make the playoffs and, more than that, took care of the ball well – only six interceptions on 271 pass attempts, which is a very solid number.  This may be because no one can seem to catch his passes – he had a 46.5% completion percentage that season – but if you're a bad team taking a flyer on someone, you could certainly do worse than Tebow, and I'm not sure you can do much better.  Certainly, someone could find a more creative use of him than the Jets did, before writing him off permanently, he could use one last chance.  And if not, there's always the CFL.

RB: Ahmad Bradshaw, NY Giants
Sticking in New York, we are hearing that finally, finally, Bradshaw has received full medical clearance.  At only age 27, he probably has a few more solid seasons left in him, assuming he can stay healthy, and he did average 4.2 yards per carry last season when he was on the field.  Ideally, he'll go to a team with a stud RB already in place, there to take some carries off of an overworked lead back – think LeSean McCoy, Arian Foster, or Adrian Peterson.  It's a two-back league, and the surprisingly powerful Bradshaw could get meaningful carries on a playoff team in 2013.

FB: Mike Cox, Atlanta
If you're a fan of the six teams that still use fullbacks in the modern NFL, you'll like Cox, a tough run blocker.  Not much call for fullbacks anymore, what with the two tight end set and spread offences both taking them off the field, but a team like Jacksonville – who lost Greg Jones in free agency – might give Cox a look.  As a matter of fact, they're a logical landing place for Tebow and Bradshaw as well.  I'm not saying your 2013 Jaguars will be the all-post-draft-free-agents team, but they've certainly got enough needs.

WR: Brandon Lloyd, New England; Titus Young, St. Louis
A couple talented players with attitude issues – isn't that always the case at the receiver position?  Lloyd, as recently as 2010, had nearly 1,500 receiving yards – and in 2012, still caught 71 balls for 911 yards.  The Patriots are not at all interested in re-signing him, because he has too many drops, but he has shown he can still be productive.  The bigger issue holding him back is probably his reputation as a bit of a locker room cancer – there are even rumors that he is bipolar.  Teams might be a bit hesitant to take him on, even though he has shown he can still contribute.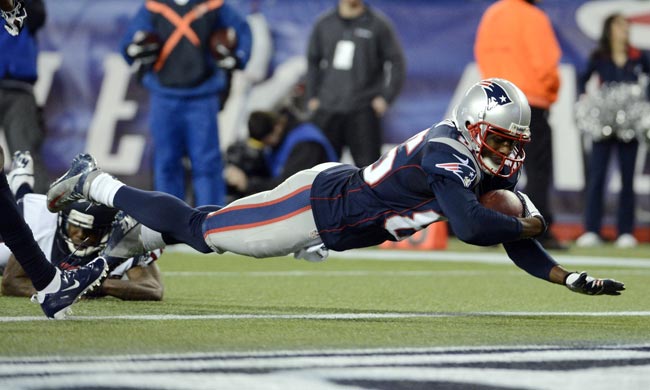 Foxboro, MA, USA: New England Patriots wide receiver Brandon Lloyd (85) scores a touchdown past Houston Texans cornerback Johnathan Joseph (left) during the third quarter of the AFC divisional round playoff game at Gillette Stadium. Photo courtesy by Robert Deutsch-USA TODAY Sports.


Titus Young is another case entirely – a 24-year receiver with flashes of talent sounds great, but add in his physical altercation with Louis Delmas, and the case of him intentionally lining up in the wrong places to protest not getting the ball enough?  That's a load of headaches right there.  He sort-of apologized for his actions last season – then deleted the tweet in which he did so – and seems to lack the maturity needed to play in the NFL – that, or he needs some sort of help.  I can see Lloyd getting a job much quicker than Young does, as being hard to work with is one thing, but actively sabotaging football games is another thing entirely.  I imagine Young will spend 2013 at home.
TE: JeronMastrud, Miami
One of the results of the league going tight-end-crazy is the lack of talented tight ends on the open market.  Tony Gonzalez, Martellus Bennett, Dustin Keller, Dennis Pitta?  All signed up in a hurry.  Instead, we have to go all the way down to Mastrud, the least promising player on this list – and that includes Tebow.   He has one reception in his entire NFL career, for eight yards, so we're not exactly talking a starter.  However, Mastrud is the leading tight end in Kansas State history, and played defensive line in high school – he's a solid blocker.  His best hope for hooking on to an NFL team might be in Kansas City, where he recently had a tryout.  It's probably back to the practice squad or out of football for Mastrud, however.

OT: Tyson Clabo, Atlanta; Eric Winston, Kansas City
Speaking of Kansas City, Eric Winston's an odd name.  With Brandon Albert franchised and Eric Fisher drafted with the first overall pick, Winston was expendable.  He gets penalized quite a bit – too much, if you ask me – but is a solid right tackle, especially in a zone-blocking system.  He's working out in Miami, as they continue their near endless quest to find help on their offensive line, and has been brought in by Tennessee, Dallas, and San Diego as well for talks and tryouts.  He'll slide in at right tackle for someone; the question is who.

Another name in the tackle shuffle – and another player who's going into Miami this week – is Clabo.  If he wasn't turning 32 this year, he'd have been signed already – he started every game the last five seasons, and made the pro bowl in 2010.  His release from the Falcons has been speculated as being a cap-space move, saving his $4.5 million salary for negotiations with Matt Ryan.  I'd expect both Claboand Winston to start in 2013, unlike some of the other names on this list, though ironically, they'll both end up depressing the other's salary due to competing with one another.

OG: Brandon Moore, NY Jets; Tyronne Green, San Diego
Put Moore in Clabo's category – he'll be turning 34 this season, but is a great run blocker and decent in the pass.  He doesn't make any sense for the Jets because they're blowing up the roster; getting ready for a rebuilding season doesn't involve employing mid-30s guards.  Moore's biggest hurdle isn't his age or his talent, but his contract demands – he apparently is looking for $3-4 million a year, and teams have been hesitant to give it to him.  He's not a long term solution, either – more of a stopgap or a patch for now, to be replaced when needed.  He'll need to drop those demands a bit to get a job.

Green's been improving – a total liability two years ago, he actually played somewhat competently in 2012.  Admittedly, that's not the best recommendation a player's ever had, but he's got 7 years on Moore – he could still develop a bit more.  He's an interesting option for the same kind of role as Moore – a little less proven talent, probably a bit cheaper, with a higher upside.  I think I'd rather have Moore if I was planning to do anything in 2013, though.

C: Dan Koppen, Denver
The only competent center left out there, Koppen has had quite the career.  Spending most of his time snapping to Tom Brady, he left New England with injuries, only to be snatched up by Denver after week 4 to help give Peyton Manning's offense a boost.  That's a pretty good pedigree of QB who have trusted Koppen to anchor their lines.  He's old, but he's still got game, and is one of the smartest centers in the game.  He's no longer a pro-bowler or anything like that, but he could start for quite a few teams, either reuniting with Manning in Denver, or helping a young QB look that much better.


Coming soon: the best remaining players on the defensive side of the ball, including a future hall-of-famer!


What do you think?
We'd love to hear your comments and/or opinions. If you submit them here, other visitors can read them, rate them and comment on them. An e-mail address is not required.