Importance of Coaches in the NBA
How Important are Coaches in the NBA?
The true value of basketball coaches is often debated. Teams mired in mediocrity or general awfulness often view a coaching upgrade as an easy way to renew fan confidence and change the outlook of their franchise. However, those same teams are often disappointed because, at the highest level, a team cannot have great success without talent on the floor.
Though it is undoubtedly true, the problem with that statement is that it encourages people to believe that coaches are a dime a dozen. One coach, any coach: lots of teams seem to believe that they can find their 2000 Ravens Trent Dilfer: put tons of talent on the floor and find a coach who won't screw it up. However, this theory is rarely, if ever successful and coaches are actually the most important part of a team for one two simple reasons: only a few coaches are capable of leading a team to a championship and only a good coach can create vital team chemistry.
Bill Simmons alluded to this "Great Coach Theory" in his Book of Basketball but I think his analysis was incomplete. To paraphrase (inadequately I am sure) the Sports Guy, Simmons suggested that coaches were a dime a dozen after the top five or so because there are a few coaches who have captured nearly every championship in recent NBA history. Since 1980, Phil Jackson (11), Pat Riley (5), and Greg Popovich (4) have accounted for two thirds of the league's championships. Therefore, Simmons is correct that there are a few special coaches in the league at any given time and the rest are an echelon below. However, this analysis misses the fact that there are actually three tiers of coaching-Hall of Fame, Strong, and Bad-and the difference between the latter two is exceptionally important because it impacts successful talent development and team respectability.
Here's an article about Derrick Rose Jersey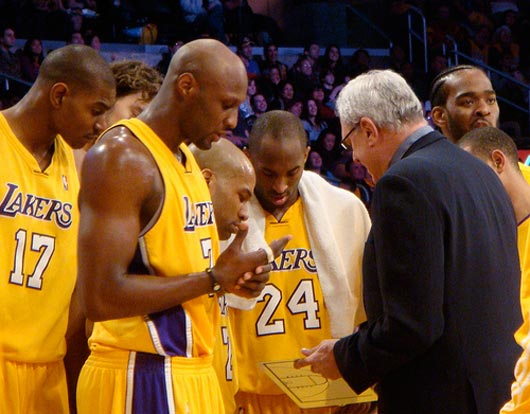 Phil Jackson (right) coaching the Lakers.
Thanks to bridgetds at flickr.com for this photo.
---
Let's look at a few examples. Six of Phil Jackson's record eleven coaching championships came with a Bulls (1991-3, 1996-8) he inherited from Doug Collins. While Collins has no coaching rings, he is definitely a good coach and deserves credit for teaching and developing both Michael Jordan and Scottie Pippin and providing maturity to the team's talented nucleus. It was left to Phil Jackson to take the team to the next level (which he did) but it is far from the certain that the Bulls would have dominated the decade in the same way without Collins' teaching.
A second, and more recent, example is Stan Van Gundy's work in Miami and Orlando. Van Gundy has obvious flaws-he is prone to screaming, clashes with his players, and is not a master playoff strategist-but he is also a good coach who has successfully developed talent and put good teams on the floor in two different cities. In Miami, Van Gundy developed Dwayne Wade and meshed his talents successfully with an ageing Shaquille O'Neal (no mean feat) and led the team to successive conference finals. Pat Riley took over in 2006 and earned the championship ring, but it was Van Gundy who developed the talent and laid the groundwork for a title.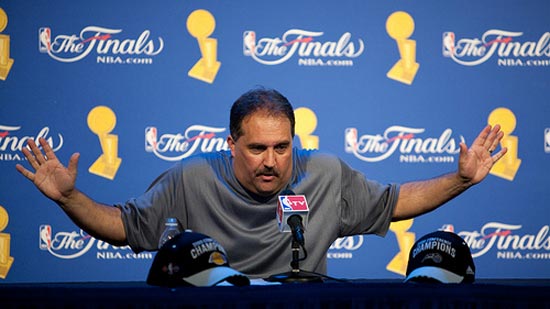 Stan Van Gundy.
Thanks to lubright at flickr.com for this photo.
---
Here's an article about Michael Jordan Jersey
There are numerous other examples of coaches who have developed talent and lent a franchise respectability. Scott Skiles managed that with the Bulls a few years ago and is currently developing a scrappy Bucks team headlined by Brandon Jennings. Mike Woodson increased the Hawks win totals each of his first five seasons. Such coaches are not on the same tier as Jackson, Riley, Popovich, or even someone like Larry Brown, but they are clearly integral to the success of their franchises. Moreover, the performance of terrible coaches (Terry Porter, Eric Musselman, Isaiah Thomas, the list goes on) and their detrimental effects on franchises are often very clear. As a result, it is clear that coaches are extremely important in the NBA in two distinct ways: a team needs a top notch, Hall of Fame coach to win a title and, equally important, needs a good coach to develop the talent to truly contend. Therefore, the next time a cheap franchise hires a low-end coach for pennies on the dollar because they think their talent will compensate for the bad coaching, that team's fans should know they are missing an integral part of the championship formula.
---
What do you think?

We'd love to hear your comments and/or opinions. If you submit them here, other visitors can read them, rate them and comment on them. An e-mail address is not required.
What Other Visitors Have Said
Click below to see contributions from other visitors to this page...

Coach is Everything Not rated yet
The head coach is everything in the NBA. Have you ever watched a really competitive pick-up game and there is a player that flat out dominates the court …
---
From Importance of Coaches in the NBA to NBA Basketball Blog | Sports Blog | NFL Football Blog | NCAA Football Blog | NFL Football Archives | College Football Archives | MLB Baseball Blog | College Baseball Blog | MLB Baseball Archives | NCAA Basketball Blog | NBA Basketball Archives | NCAA Basketball Archives | Fantasy Football | Fantasy Basketball | Fantasy Baseball | Soccer Archives | Olympics Archives | Stupid Athletes Archives | Other Archives | Football Forum | Basketball Forum | Baseball Forum | NFL Football Store | NBA Basketball Store | MLB Baseball Store | NCAA Football Store | NCAA Basketball Store | NCAA Baseball Store | Fatheads | NFL Football Tickets | NBA Basketball Tickets | MLB Baseball Tickets | NCAA Football Tickets | NCAA Basketball Tickets | NCAA Baseball Tickets |
---
Home Page
About Us | Contact Us | Site Search | Advertise | Terms of Use |
---