Explaining the Robert Griffin Decision
Breaking news Wednesday had the Washington Redskins sitting Robert Griffin III down for the rest of the regular season, turning the offense over to Kirk Cousins.  This is not directly due to injury, though Griffin has been taking his fair share of shots this season.  It is, instead, perhaps somewhat of an admittance of guilt on the part of Mike Shanahan.
The stated reason is to make sure Griffin reaches the offseason healthy – something he very much did not do last season, tearing ligaments in his knee and exacerbating the injury in the playoffs, essentially removing his entire offseason.

Griffin did not take the benching particularly well, standing on the sidelines of practice, helmet in hands, watching Cousins and Rex Grossman taking snaps.
"Coach's decision is what we go with," Griffin said. "That's the way it's always been, so I have to do that. I have to sit here and do whatever I can to help Kirk, do whatever I can to help this team win. In times like these you just have to lean on what you've been taught in life and my parents, being military parents, have taught me to respect authority, and I have to respect what Coach says."
None of this is happening in a vacuum, either—it all comes as rumors of coach Mike Shanahan's departure swirl around Washington.  One leading rumor has the move being a ploy by Shanahan to force owner Dan Snyder to fire him—the reasoning being, if Shanahan quits instead, he's leaving $7 million on the table.  Being fired would allow him to collect that money.  Snyder has been concerned about the relationship between his coach and his quarterback for some time now, and this move, symbolic of that deteriorating relationship, could be a ploy to force Snyder to go in another direction.  If you're in to conspiracy theories, there's your storyline for the last three weeks of Washington's season.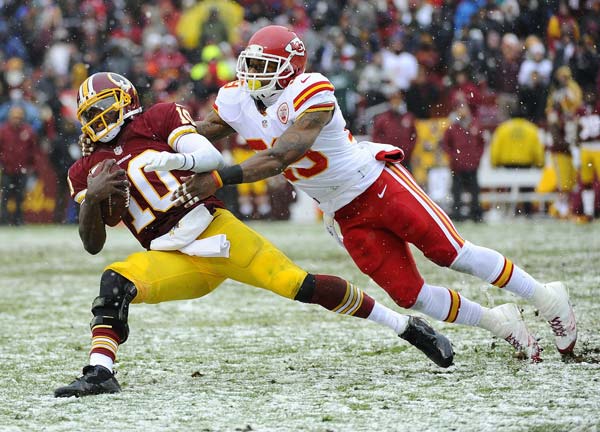 I think that's a bit far-fetched, but it does point out one of the larger problems with this move.  One of the reasons Snyder might take umbrage to it is the fact that it's courting quarterback controversy.  What if Cousins, who impressed in limited action last year, including a Week 15 victory, plays well?  It's easy to imagine a scenario where Cousins leads the team to wins over Atlanta, Dallas, or the Giants, with the cameras cutting to Griffin every time Cousins throws a touchdown pass.  What if the team plays better with Cousins in—will that create a schism in the locker room, with players taking sides on who should start 2014 under center?

Will Griffin be able to maintain his position as a locker room leader when his coach is saying that the team will be better off with him sitting on the sidelines?   If the reason for Griffin being benched is fear of him getting hurt, what does that say about the other 52 players who have to go out there—that their health isn't as important as Griffins?   It puts Griffin on a different level from his teammates, which can't help but cause some locker room schisms.

This isn't like the situation across town, where the Washington Nationals shelved Stephen Strasburg in 2012 as he recovered from Tommy John surgery.  That was a plan that was specifically tied to Strasburg's recovery from a specific surgery, one that was developed entering the season and stuck to, regardless of the surrounding circumstances.  The entire handling of Griffin's knee injury seemed haphazard and poorly thought out from the start—Griffin took nearly a month to get back to a level of play fitting with his rookie season, as he worked his way back into playing shape.

No, this is a player being sat down because it turns out it's safer for professional football players not to play professional football.  While that may be true, it's certainly an unusual move, and one that will likely cause ripples throughout Washington's organization.

As for the actual games?  Washington actually won't be much worse with Cousins back there instead of Griffin—he looked very good in limited action last season and, knowing he's the starter for three weeks, has the chance to actually provide the Redskins with a trading chip—valuable, as they don't get the normal benefit to a lost season, having traded their first round pick to St. Louis in the RGIII trade.

Perhaps Cousins can generate an upset win over the Cowboys, costing them a playoff spot, and putting his name firmly into Washington lore.  That's about the best Washington fans can hope for at this point of the season.


What do you think?
We'd love to hear your comments and/or opinions. If you submit them here, other visitors can read them, rate them and comment on them. An e-mail address is not required.
What Other Visitors Have Said
Click below to see contributions from other visitors to this page...

Goodbye Mike and Kyle

Shanahan is 24 and 37 as the Redskins coach. That record gets any coach fired, he does not have to bench his QB(which they gave away the farm to get). …
From Explaining the Robert Griffin Decision to NFL Football Blog