Do NBA Teams Actually Build for Championships?
Do NBA teams actually build for championships? At first glance, this sounds like an idiotic question. Of course NBA management teams build for championships; what else would you build for? Go for broke or don't go at all right? Well, even though most fans would like to believe that is the case, a close look at some NBA teams and how they were constructed reveals otherwise. Some NBA teams are built to contend for, and win, NBA championships but many others are constructed to tread water by making the playoffs consistently and losing in the early-mid rounds.
Certain teams-like the Los Angeles Lakers, Chicago Bulls, and Boston Celtics-are undoubtedly built to win championships. The Lakers have constructed championship teams around homegrown star Kobe Bryant for over a decade now and have enjoyed unparalleled success. Their first group, built around their own draft pick (Bryant), imported star Shaquille O'Neal, coaching savant Phil Jackson, and useful role players won three NBA titles in a row. After a brief hiatus, O'Neal was replaced by Pau Gasol in the best trade of the 2000s and the Lakers are now trying for their second three-peat in ten years. Clearly, the Lakers are a team built to win titles and anyone who says otherwise doesn't know what they are talking about.
Here's an article about Derrick Rose Jersey
The Bulls and Celtics are also clearly built to contend. After years of unsuccessful rebuilding due to bad trades, middling draft picks, and diminishing returns, the Bulls hit the lottery in 2008 and won the right to draft homegrown franchise star point guard Derrick Rose. The franchise built around Rose, mainstay wing Luol Deng, and rising center Joakim Noah and imported former All Star power forward Carlos Boozer and an outstanding bench to contend for years. Likewise, the Celtics have clearly aimed at consistent contention: since drafting point guard Rajon Rondo in 2006, the Celtics have added All Stars Ray Allen and Kevin Garnett to their team and won an NBA title in 2008. They are poised to contend through 2012 and, if they acquire star center Dwight Howard in the 2012 free agency period, for much longer.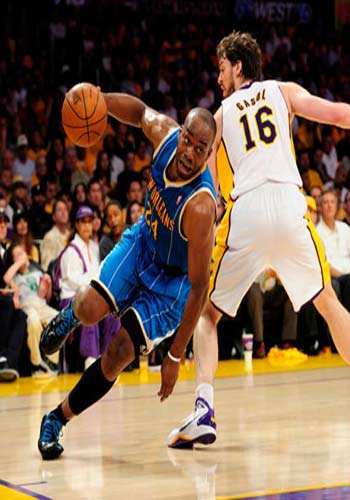 Los Angeles, California, U.S. - New Orleans Hornets Carl Landry during a game against the Los Angeles Lakers during a NBA Western Conference First Round playoff basketball game in Los Angeles, on Sunday, April 17, 2011.
---
Furthermore, despite their respective failures to win an NBA title, it would be unfair to say that teams like the Dallas Mavericks, Portland Trail Blazers, and Orlando Magic are not trying their best to contend. The Mavericks and Magic have each been hamstrung by their tendency to overpay for middling players like Brandon Haywood, Eric Dampier, Rashard Lewis, Gilbert Arenas, Hedo Turkoglu, and others. But these are failures of execution not effort. For their part, the Blazer's efforts have been crippled by constant injuries to star players Brandon Roy and Greg Oden; if the Blazer's entire roster was ever healthy they would be one of the favorites to win an NBA title.
However, many teams in the NBA seem to be built to just tread water; to win forty-five to fifty games, taste the playoffs, and head home. For example, take a look at the Atlanta Hawks. The Hawks overpaid for Joe Johnson this summer because, even though he is clearly not the critical piece leading to a title, he is their key to remaining second round playoff fodder for the next half decade. That trip to the playoffs brings in a lot of revenue and keeps fans interested so the Hawks overpaid for Johnson even though they knew it would prevent the reshuffle that the team needs to really contend for an NBA championship. Josh Smith and Al Horford cannot play together, the team needs a true franchise point guard, their isolation offense is not effective against the best opponents; it is obvious that this team cannot win a title. But what became clear after the summer of 2010 is that the Hawks are not built to win a championship: they are built to taste it enough to keep fans interested but always remain also-rans.
The New Orleans Hornets are another team that fits this mold. Franchise management surrounds star Chris Paul with just enough talent to make the playoffs but has failed-repeatedly-to put in the effort needed to trade for another franchise player alongside him and injured power forward David West. All credit to Chris Paul for his battle with the Lakers in the 2011 NBA playoffs but that does not change the fact that the team is built to make the playoffs and then be eliminated. For another prime example, one needs to look no further than the Memphis Grizzlies, whose criminal overpays for forward Rudy Gay and point guard Mike Conley show that the team aims to be a feisty second round playoff team rather than a true title contender.
Ultimately, it is hard to say how many of these failed building efforts started that way or transformed into them at some point. The Hawks decided to throw in the towel on true contention somewhere between missing on Chris Paul and Deron Williams in the draft and resigning Joe Johnson in 2010. The Hornets were just a cheap franchise under George Shinn and no one quite understands the Memphis Grizzlies' front office strategy. But, what is clear is that, at this point, their teams are not actively built to win titles. And, that answers a very interesting question: are NBA teams build to win championships? Some certainly are but it is hardly a given.
For a contrary view, check out and comment at All NBA Teams Build for Championships.
---
What do you think?

We'd love to hear your comments and/or opinions. If you submit them here, other visitors can read them, rate them and comment on them. An e-mail address is not required.
What Other Visitors Have Said
Click below to see contributions from other visitors to this page...

All NBA Teams Build For Championships Not rated yet
I think you are really saying that the management of some franchises is incompetent vs the management of others. I'm sure some are better than others, …
---
From Do NBA Teams Actually Build for Championships to NBA Basketball Blog | Sports Blog | NFL Football Blog | NCAA Football Blog | NFL Football Archives | College Football Archives | MLB Baseball Blog | College Baseball Blog | MLB Baseball Archives | NCAA Basketball Blog | NBA Basketball Archives | NCAA Basketball Archives | Fantasy Football | Fantasy Basketball | Fantasy Baseball | Soccer Archives | Olympics Archives | Stupid Athletes Archives | Other Archives | Football Forum | Basketball Forum | Baseball Forum | NFL Football Store | NBA Basketball Store | MLB Baseball Store | NCAA Football Store | NCAA Basketball Store | NCAA Baseball Store | Fatheads | NFL Football Tickets | NBA Basketball Tickets | MLB Baseball Tickets | NCAA Football Tickets | NCAA Basketball Tickets | NCAA Baseball Tickets |
---
Home Page
About Us | Contact Us | Site Search | Advertise | Terms of Use |
---