Can the Spurs Retool for Another Title
Two weeks ago, the San Antonio Spurs were rocking it like its 2007. The Spurs had the Western Conference's best record and one of the most efficient scoring offenses in the NBA. Some questioned whether they could win an NBA title with their mediocre defense but they were certainly expected to roll by the eighth seeded Memphis Grizzlies. But the pesky Grizzlies used their powerful frontcourt to smash the Spurs in the paint and their tough defensive guards hampered Tony Parker and Manu Ginobli all season. The result: a shocking first round exit for a team that was once the very best in the NBA.
Can the Spurs retool to win a title while Tony Parker (29), Manu Ginobli (33), and Tim Duncan (35) are still playing at an All Star level? It's hard to say. Richard Jefferson, the team's current small forward, has not proved to be the X factor the Spurs anticipated but his contract will inhibit the team's ability to add a marquee free agent. So, if a top player is not going to be signed this offseason, what other methods can the Spurs use to add the players needed to contend for one last NBA title?
The Spurs primary needs are a capable starting shooting guard with defensive abilities and three point shooting range, a swing forward capable of spelling Jefferson and Ginobli, and a starting center who can play alongside Tim Duncan. The best way that Spurs could fill that first whole is in the draft. Several underrated shooting guard prospects, including Duke combo guard Nolan Smith and Georgia's Travis Leslie, should be available when the Spurs pick late in the first round (or close enough to trade up) and the Spurs could fill the need that way. Another great option would be to sign restricted free agent Arron Affalo to a deal; while Denver could match it they also have to sign Wilson Chandler and will be hard pressed to keep both players. Getting one-or even two-capable players at this position would allow Ginobli to return to the Sixth Man role that he is most effective in and help the Spurs create a deeper rotation.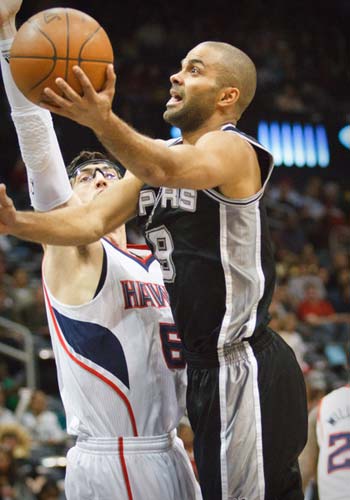 San Antonio's Tony Parker (right) shoots in front of Atlanta's Kirk Hinrich in Atlanta Hawks 97-90 loss to the San Antonio Spurs at Philips Arena in Atlanta, GA.
---
The Spurs' second primary need is a swing forward. The free agency market could really help here. Players like Peja Stojakovic, Caron Butler, Michael Redd, Mike Dunleavy, and Shane Battier will all be available and looking to play for a well run, contending franchise. Signing one of them could really deepen the Spurs rotation and provide an alternative to Jefferson at the three spot when he is not producing.
Finally, the Spurs need to move Tim Duncan to power forward full time, where his ageing body, loss of leaping ability, and declining defensive speed will be far less exposed and he will take less of a daily physical beating. Argentine import Tiago Splitter will really help here as he continues to develop b but Splitter cannot do it alone; another big man is needed. The type of center needed is also rare so this will be the toughest hole for the Spurs to fill. But two options that could work very well are to sign Yao Ming to give him one last chance to contend for a title and add another capable backup-like Kurt Thomas or Keith Benson-in either free agency or the draft. If they can keep Ming healthy by limiting his minutes until the playoffs, he could be the elite X factor they need to win one last NBA title.
---
What do you think?

We'd love to hear your comments and/or opinions. If you submit them here, other visitors can read them, rate them and comment on them. An e-mail address is not required.
---
From Can the Spurs Retool for Another Title to NBA Basketball Blog | Sports Blog | NFL Football Blog | NCAA Football Blog | NFL Football Archives | College Football Archives | MLB Baseball Blog | College Baseball Blog | MLB Baseball Archives | NCAA Basketball Blog | NBA Basketball Archives | NCAA Basketball Archives | Fantasy Football | Fantasy Basketball | Fantasy Baseball | Soccer Archives | Olympics Archives | Stupid Athletes Archives | Other Archives | Football Forum | Basketball Forum | Baseball Forum | NFL Football Store | NBA Basketball Store | MLB Baseball Store | NCAA Football Store | NCAA Basketball Store | NCAA Baseball Store | Fatheads | NFL Football Tickets | NBA Basketball Tickets | MLB Baseball Tickets | NCAA Football Tickets | NCAA Basketball Tickets | NCAA Baseball Tickets |
---
Home Page
About Us | Contact Us | Site Search | Advertise | Terms of Use |
---