NBA Playoffs First Round Review
The Eastern Conference
Chicago Bulls (1) defeat Indian Pacers (8) 4-1
The Bulls vs. Pacers series ended up being very compelling. For Chicago Bulls fans, it was great déjà vu since the last time we faced the Pacers in the playoffs was in an epic seven game victory in 1997-1998. In that year, Michael Jordan and Scottie Pippin gave it everything they had to squeak by the Pacers one last time and grab their sixth and final Bulls championship. Seeing the Bulls on the court against the Pacers in a playoff setting and following a 60+ win season made those of us who remember the glory days feel absolutely amazing. Is a new golden era of Bulls basketball coming? In terms of the series itself, it ended up being interesting, compelling….and ultimately predictable. The Bulls don't blow opponents out and the Pacers are young and feisty so the Bulls had to squeak out three wins while learning the playoff ropes as a group. But their Game 5 win was very convincing.
Boston Celtics (3) defeat New York Knicks (6) 4-0
This was always a bad matchup for the Knicks. New York lacked the size, defense, and physicality to match up with the Celtics and it showed. But, despite the sweep, New York played very well for the first two games and we all saw glimpses of what a Carmelo-Anthony-Amare Stoudemire duo can accomplish if both are healthy and surrounded by a great supporting cast. But finding that cast will be difficult as it is and could be almost impossible if a new, hard spending cap is instituted for next season. Meanwhile, the Celtics shook off their habitual late-season funk and entered fifth gear for the postseason. Boston may have holes but anyone who thinks they will be an easy out is sorely mistaken.
Shopping for a Derrick Rose Jersey
Miami Heat (2) defeat Philadelphia 76ers (7) 4-1
To their credit, the 76ers did test the Heat. They won a game and proved difficult to put away in a deciding Game 5. But Miami was too powerful and showed that, when running on all cylinders, they will be difficult to defeat. That said, I think that Miami will have serious issues going forward in these playoffs. The 76ers were an ideal matchup because they play at the fast pace that Miami thrives on they don't have a size-based frontcourt. Chicago, Los Angeles, Boston, Orlando, and even Memphis will all present huge matchup problems for the Heat in an upcoming series because they have the type of size that the Heat cannot defend and have trouble with on the offensive side of the ball.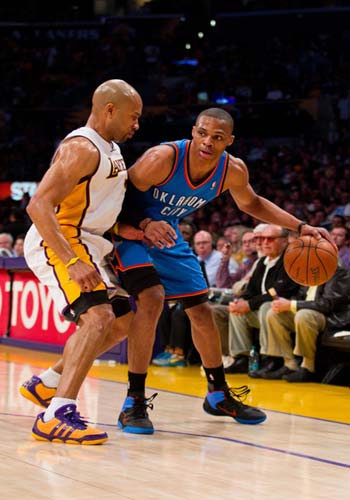 Guard Russell Westbrook of the Oklahoma City Thunder looks to drive to the basket while being guarded by Derek Fisher of the Los Angeles Lakers during the first half of the Thunder's 120-106 victory over the Lakers at the STAPLES Center in Los Angeles, CA.
---
Visit Dwayne Wade Jersey
Atlanta Hawks (5) defeat Orlando Magic (4) 4-2
This was a major upset. The Hawks looked dead in the water late in the season but managed to defeat their archrivals convincingly. But, for all that the victory means to them, the Hawks did not play particularly well in any of the games and match up poorly against the Bulls offensive versatility and tough defense. As for the Magic, how can they keep Dwight Howard now? That will be the question of the offseason.
The Western Conference
Oklahoma City (4) defeat Denver Nuggets (5) 4-1
This series was expected to be a close battle but it proved to be the opposite. Denver showed its lack of a go to player while Oklahoma City made itself a title favorite with a dominant performance. The Thunder are now a complete team with two great stars and will be contenders for the next half decade.
Looking for a LeBron James Jersey
Dallas Mavericks (3) defeat Portland Trail Blazers (6) 4-2
Give the Mavericks credit for cranking out a decisive series victory over a tough Portland team. Dallas will have a very tough time beating the Los Angeles Lakers-who seem to be hitting their playoff groove the last two games-but it was still an inspiring performance.
Los Angeles Lakers (2) defeat New Orleans Hornets (7) 4-2
This series proved to be tougher than expected but the Lakers still prevailed. They also seem to be hitting their stride at just the right time and the Mavericks are a favorable matchup for the defending champions. Looking at New Orleans, however, Chris Paul showed just how special he is in pushing this series to a tough six games. Can he get to a contending team before his knees give out on him? I hope so.
Memphis Grizzlies (8) defeat San Antonio Spurs (1)
This series was an upset shocker! Or was it? The Spurs looked like an older, tired team all series. The Grizzlies played young, hyper basketball and pressured the top seeds on every single possession. The Spurs were never able to gather themselves, get into offensive sets, and execute. But, the fact remains that the Spurs of yore would have crunched this Grizzlies team 4-0. There is a point when "veteran" turns into "old" and the Spurs are hitting that point. They need a real overhaul and a new, younger star player.
Well that's our First Round Playoff Review. Check out our preview of the next round!
---
What do you think?

We'd love to hear your comments and/or opinions. If you submit them here, other visitors can read them, rate them and comment on them. An e-mail address is not required.
---
From NBA Playoffs First Round Review to NBA Basketball Blog | Sports Blog | NFL Football Blog | NCAA Football Blog | NFL Football Archives | College Football Archives | MLB Baseball Blog | College Baseball Blog | MLB Baseball Archives | NCAA Basketball Blog | NBA Basketball Archives | NCAA Basketball Archives | Fantasy Football | Fantasy Basketball | Fantasy Baseball | Soccer Archives | Olympics Archives | Stupid Athletes Archives | Other Archives | Football Forum | Basketball Forum | Baseball Forum | NFL Football Store | NBA Basketball Store | MLB Baseball Store | NCAA Football Store | NCAA Basketball Store | NCAA Baseball Store | Fatheads | NFL Football Tickets | NBA Basketball Tickets | MLB Baseball Tickets | NCAA Football Tickets | NCAA Basketball Tickets | NCAA Baseball Tickets |
---
Home Page
About Us | Contact Us | Site Search | Advertise | Terms of Use |
---