2011 BCS Bowls Previews
Rose Bowl
Wisconsin vs. TCU
I know that the Rose Bowl felt the need to take TCU because they were the number three seed, but I have to admit I'm sad that Stanford was not selected. I think Stanford-Wisconsin would have been a really great matchup but, to be fair, Wisconsin-TCU isn't too bad.
These teams are quite similar in many ways. Both are tough, hard-nosed squads that emphasize defense and the possession game. TCU is superior defensively but Wisconsin's running game is unmatched. The Badgers have three runners capable of averaging five yards a carry and, led by John Clay, they have dented, bruised, and ultimately busted open almost every defensive group they have faced this season. Indeed, their demolition of an undefeated Ohio State team midseason was spectacular.
As a result, this game will come down to whether TCU's defense can hold its own against Wisconsin's running bulldozers. It really is that simple. If they can, TCU will have its first Rose Bowl victory and, paired with its move to the Big East in 2012, will be poised for a long run of BCS championship contention. But, if Wisconsin has its way with the TCU front-line the same way that they mauled through Ohio States' elite defensive front, then the Rose Bowl will again belong to the Big Ten….at least for the time being.
Here's an article about Michigan State Football Gear
Tostitos Fiesta Bowl
Oklahoma vs. Connecticut
Last year's bowl matchup, aptly termed the Fiesta Flop, almost moved me to tears. And, in case you were wondering, those were tears of sports fan anguish. The BCS took two very exciting mid-major teams and, instead of allowing them to test their mettle against elite BCS conference foes, matched them against one another. The result was somewhere in-between merely unsightly and downright unwatchable.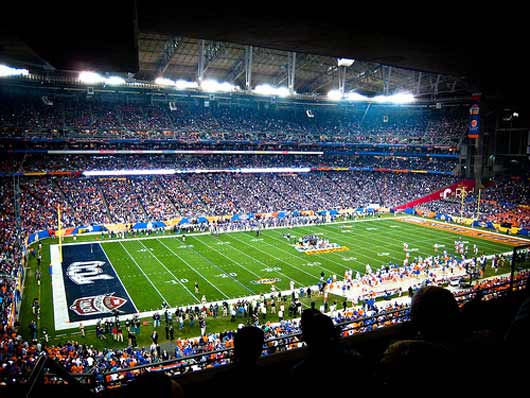 TCU vs. Boise State in the Fiesta Bowl. Boise State wins in the 17-10 upset at January 4, 2010.
Thanks to seantoyer at flickr.com for the picture.
---
This year's matchup is arguably worse….but for totally different reasons. The BCS matched Oklahoma, the 11-2 Big 12 Champion, against an unranked Connecticut team that only made a BCS bowl because the Big East (for some inexplicable reason) still has an automatic bid. In any case, if you were wondering why I haven't written much about this year's matchup yet, that's because there isn't much to write about it. Oklahoma shouldn't simply beat Connecticut, they should destroy them in a fashion similar to deleted scenes from Braveheart's execution scene and, if by some chance Connecticut does win, it will be the biggest upset loss of Bob Stoop's career. Either way, it's an embarrassing matchup and just another reason we need a playoff system in college football or, at the very least, no more automatic bids.
Discover Orange Bowl
Stanford vs. Virginia Tech
Stanford vs. Virginia Tech is a very intriguing matchup. After starting the season in a shocking 0-2 hole, Tech pulled itself out of a ditch and managed to win the ACC. They have looked good for months and, while not unbeatable, will be very tough to crack.
We've got your Auburn Football Gear
Tech quarterback Tyrod Taylor is very talented and the Hokies will produce offensively while still hanging their hats on tough defensive play. However, Stanford has improved steadily over the past few years, went a surprising 11-1 this season, and is led by Heisman runner up Andrew Luck. Luck should put up excellent stats so, despite Tech's defensive prowess, this could turn into a shootout quickly.
Ultimately, this is a hard game to call but I have to give the edge to Stanford. Tech is a very good team but they seem to lack the playmaking ability to get them over the hump. Luck should make some great plays and lead Stanford to its first marquee bowl in….well let's not count.
Allstate Sugar Bowl
Ohio State vs. Arkansas
This matchup is more intriguing in reality than it is on paper. On paper, Ohio State is a former number one ranked group that went 11-1 this season and dominated almost every opponent. In contrast, Arkansas went 10-2 and never cracked the top 5 in the BCS rankings.
However, the paper trail doesn't tell the whole story. The Razorbacks are extremely potent offensively. Led by quarterback Ryan Mallett, they have the ability to shred opponents with both a midrange and downfield passing game. Moreover, their two losses were a 24-20 nail-biter to LSU and a closer than it looks 65-43 loss to BCS number one Auburn. Ohio State, meanwhile, didn't face SEC-level opponents week in and week out and was destroyed by Big Ten rival Wisconsin.
Visit Oregon Football Gear
That said, I like Ohio State to win this game. Their recent dismal BCS stretch aside, the Buckeyes are a dominant team on both sides of the ball. The same cannot be said of the Razorbacks whose defense leaves a lot to be desired. Mallett will put points on the board but I just don't think it will be enough when it's all said and done.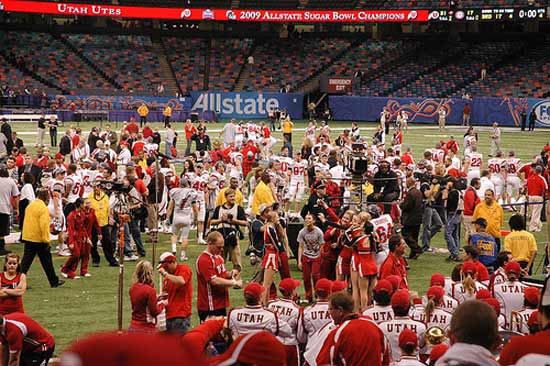 Utah Utes 2009 Sugar Bowl Champions.
Thanks to hopperlangford at flickr.com for the picture.
---
BCS Championship Game
Oregon vs. Auburn
Finally: the big enchilada. This is one of the most interesting championship matchups in recent years. After a half decade of watching an SEC power cold-bloodedly murder a Big Ten (yes Ohio State were talking about you) team or Big 12 power (sorry Texas we can't go back in time and give you Colt back for the second half) this year's game is totally different. It pits an unusual SEC selection in Auburn against a usual Pac Ten also-ran in Oregon. We'll have to see how it pans out.
Thanks to Victorie at flikr.com for the photo of Cam Newton running the ball and Neon Tommy (also on flikr) for the picture of LaMichael James on the sideline.
---
One thing we know is that defense will not be the deciding factor. Neither defensive group is anything above mediocre. Both these groups made it this far based on their offenses and rightfully so: they are two of the most prolific groups in recent history. That is what makes this game so hard to pick: both teams are undefeated, historic offensive groups so choosing which one will win is like selecting between Filet and New York Strip-its preference.
Shopping for a Ohio State Football Gear
I'm going with Auburn. Ultimately, after watching that Alabama comeback, I don't think Newton will let his team lose. And that will be a shame too because I am not sure college football can completely recover from two vacated titles in a five year period.
Here's our other Bowl Game Predictions.
---
---
What do you think?
We'd love to hear your comments and/or opinions. If you submit them here, other visitors can read them, rate them and comment on them. An e-mail address is not required.
What Other Visitors Have Said
Click below to see contributions from other visitors to this page...

BCS Championship Not rated yet
This game should be good, but I think that the Ducks will be able to stop Cam Newton in his tracks. The Ducks are flying under the radar and after watching …
---
From 2011 BCS Bowls Previews to NCAA Football Blog | Sports Blog | NFL Football Blog | NFL Football Archives | College Football Archives | MLB Baseball Blog | College Baseball Blog | MLB Baseball Archives | NBA Basketball Blog | NCAA Basketball Blog | NBA Basketball Archives | NCAA Basketball Archives | Fantasy Football | Fantasy Basketball | Fantasy Baseball | Soccer Archives | Olympics Archives | Stupid Athletes Archives | Other Archives | Football Forum | Basketball Forum | Baseball Forum | NFL Football Store | NBA Basketball Store | MLB Baseball Store | NCAA Football Store | NCAA Basketball Store | NCAA Baseball Store | Fatheads | NFL Football Tickets | NBA Basketball Tickets | MLB Baseball Tickets | NCAA Football Tickets | NCAA Basketball Tickets | NCAA Baseball Tickets |
---
Home Page
About Us | Contact Us | Site Search | Advertise | Terms of Use |
---