2010-2011 College Football Bowl Game Projections
New Mexico Bowl (December 18th)
Prediction: BYU 27 UTEP 23
Reason: Neither of these 6-6 teams are very good but BYU has more talent and has underperformed all season. Hopefully, they will play up to their talent when it counts.
uDrove Humanitarian Bowl (December 18th)
Prediction: N. Illinois 30 Fresno State 21
Reason: Northern Illinois won an impressive ten games and was undefeated in the regular season of the MAC conference this season. They did this with a high powered offense that put fifty plus on opponents on four separate occasions. They will likely rebound from their conference title defeat against underdog Miami (of Ohio) and win their bowl game to finish 11-3.
R + L Carriers New Orleans Bowl (December 18th)
Prediction: Troy 23 Ohio 17
Reason: As usual, Ohio was ground into dust by in-state rival Ohio State this season. However, aside from that beatdown, Ohio played well and had a few impressive wins including an early season victory over MAC champion Miami. However, Troy went 7-5 and almost beat Oklahoma State in a 41-38 squeaker of a loss early this season. This one will be close but I think Troy pulls it out.
Beef O'Brady's Bowl St Petersburg Bowl (December 21st)
Prediction: Louisville 24 So. Miss 20
Reason: Honestly, I don't think I could come up with a worse name for a bowl than that. Isn't it god awful? Listen to it "The Beef O'Brady's St. Petersburg Bowl." Well anyways, I was tempted to choose So. Miss because of their superior record, but a closer look at Louisville this season shows that they are better than advertised. Louisville lost a narrow 24-21 game to South Florida and actually blanked BCS (a joke yes I know but still) bound Connecticut 26-0 midseason. Bottom line, this is a team that can play with the big boys and they should notch a win against a weak conference opponent.
MAACO Bowl Las Vegas (December 22nd)
Prediction: Boise State 30 Utah 27
Reason: It's really, really sad to see two teams of this caliber playing against one another in the MAACO bowl. I still think Boise State deserved a BCS shot at 11-1 but the current system put Connecticut in instead. These are two high powered squads that both have MASSIVE chips on their shoulders so I think this game will be highly competitive, physical, and very close. That said, Boise State has lost two games since 2007 (to TCU in postseason play and 12-1 Nevada this year) so I think they deserve the edge. Ultimately, though, this game could go either way and I would not be surprised to see Utah win.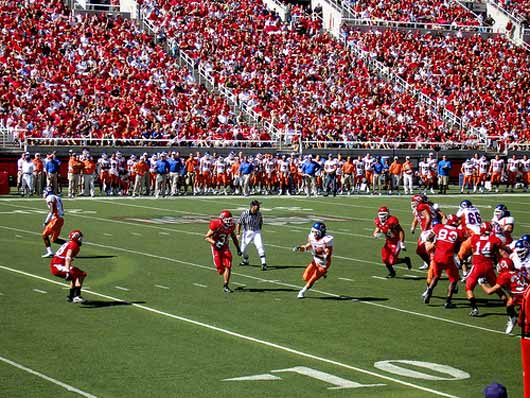 A match-up Boise State vs. Utah in 2006.
Thanks to gr8witeninja at flickr.com for the picture.
---
San Diego County Credit Union Poinsetta Bowl (December 23rd)
Prediction: Navy 35 SDSU 20
Reason: I don't think this game will be that close. I really like this 8-3 Navy squad because they play with great determination and, unlike some years, have great talent as well. SDSU is an ok squad but I don't think they have what it takes to stop the sailor's squad.
Shopping for a Ohio State Football Gear
Sheraton Hawaii Bowl (December 24th)
Prediction: Hawaii 45 Tulsa 28
Reason: Hawaii went 10-3 this season. Two of those losses were a narrow early season loss to powerhouses USC and Boise State. Tulsa had losses to East Carolina and Southern Methodist. They may have similar records, but these two teams are in different leagues; Hawaii hasn't been this good since Colt Brennan made his dark horse Heisman run.
Little Caesars Bowl (December 26th)
Prediction: Toledo 27 Florida International 20
Reason: This is one of those crapshoot games that actually feature real crap. Neither of these teams were very good this season and neither had a landmark win of any kind. Toledo had a better overall and in-conference MAC record (8-4, 7-1) so they will probably notch a win here.
AdvocareV100 Independence Bowl (December 27th)
Prediction: Air Force 37 Georgia Tech 27
Reason: This is an interesting matchup. Air Force went 8-4 and nearly beat both Oklahoma and Utah. Georgia Tech was ranked in the top fifteen to start the season, but have not looked right since. However, Tech has much more talent than Air Force so, if they prove motivated, this one could prove to be an upset. I will still take the tough fighter pilots though, they always play with a pesky determination and I think they will break down the will of this fragile Tech team.
Champs Sports Bowl (December 28th)
Prediction: West Virginia 35 N.C. State 24
Reason: This one shouldn't get all that close. West Virginia was half an overtime period away from beating Connecticut midseason, going 9-2, and playing in the Fiesta Bowl. Instead, they lost that game 16-13 and ended up on the outside looking in. Still, this is a good squad that has the talent to play with the big boys years in and year out and they should put away the pesky Wolfpack without too much of an issue.
Insight Bowl (December 28th)
Prediction: Missouri 35 Iowa 20
Reason: You have to feel a bit bad for Iowa. After a 7-2 start with narrow losses to ranked Wisconsin and Arizona teams, they lost three narrow games to tough Northwestern (21-17), powerhouse Ohio State (20-17), and Minnesota (27-24). The team simply could not finish games and, in the loss to a just awful Minnesota squad, fell off the rails. Still Iowa has enough talent and pride to challenge Missouri but, even with that said, I don't like their chances here. As bad as you have to feel for Iowa, this Missouri team got absolutely shafted by the bowl process. The Tigers went 10-2 and beat Oklahoma (ranked number one at the time and still BCS bound) and ended up in the Insight Bowl. They should take care of business but you still have to feel pretty bad for where they ended up. Exactly what is the difference-talent wise and record wise-between Missouri, LSU, Arkansas, and Oklahoma? Not much….how much more of this do we need to see before there is some kind of playoff system?
Here's an article about Michigan State Football Gear
Military Bowl (December 29th)
Prediction: Maryland 33 East Carolina 20
Reason: Maryland went 8-4 in the ACC and had narrow losses to West Virginia and the U. East Carolina barely broke even in Conference USA. I'll take the high powered Maryland offense here because East Carolina hasn't shown any evidence that they can stop them.
Texas Bowl (December 29th)
Prediction: Baylor 27 Illinois 21
Reason: Illinois managed a Ron Zook special 6-6 this season. The epitome of mediocrity, Illinois will have trouble with a Baylor team that went 7-5 in the Big 12 and beat a ranked Kansas State group.
Valero Alamo Bowl (December 29th)
Prediction: Oklahoma State 45 Arizona 20
A season ending loss to Oklahoma relegated this team to the Alamo Bowl. Perhaps it is some consolation that they should roll over a mediocre 7-5 Arizona team that had a losing record in the weak Pac Ten.
Bell Helicopter Armed Forces Bowl (December 30th)
Prediction: Army 21 SMU 20
Reason: This clash of mediocre teams should be close….if only because neither squad really has any firepower. That said, look for Army determination to eke out a victory.
New Era Pinstripe Bowl (December 30th)
Prediction: Kansas State 21 Syracuse 17
Reason: All credit to Syracuse for a rare respectable season and an in-conference winning record. However, Kansas State is tougher than its 7-5 record would indicate so they should pull this one out.
Franklin American Mortgage Music City Bowl (December 30th)
Prediction: Tennessee 24 UNC 17
Reason: Both of these teams underachieved this season but they managed it in very different ways. UNC was forced to suspend half of its talent due to NCAA violations and suffered through a very mediocre season. Tennessee lost Lane Kiffin (and, perhaps more importantly, his father Monte Kiffin) to USC and started 2-6. However, Tennessee finished 4-0 and that kind of momentum is hard to stop.
Bridgepoint Education Holiday Bowl (December 30th)
Prediction: Nebraska 40 Washington 17
Reason: Nebraska had their chances this season. As late as the Big 12 championship game, when they led Oklahoma 17-0 early, it looked like Nebraska would be BCS bound. However, a late meltdown landed them here. They should still have no trouble with Washington, though it will be interesting to see if Jake Locker can make some headway against such a tough defensive group.
Meineke Car Care Bowl (December 31st)
Prediction: South Florida 30 Clemson 20
Reason: South Florida is one of college football's most unpredictable teams so you have no idea what you will get from game to game. That said, they definitely have the talent to pull out a comfortable win here.
Hyundai Sun Bowl (December 31st)
Prediction: Notre Dame 27 Miami 21
Reason: I can guarantee you that no one at Miami or Notre Dame is happy to be in the Sun Bowl. The opposite is not true: the Sun Bowl's organizers couldn't be happier to host a rivalry game between these two historic programs. Both of these schools are at a crossroads though and, despite some trying years, it looks as though both will improve in the next few seasons. Notre Dame should win this matchup though: Brian Kelly is a winner and, after finishing the season 3-0 with victories over a ranked Utah team, a ranked USC team, and Army, he should lead the Fighting Irish to his first bowl victory in South Bend.
We've got your Auburn Football Gear
Autozone Liberty Bowl (December 31st)
Prediction: Central Florida 27 Georgia 24
Reason: Georgia has been a mess all season. At 6-6, they have been a major disappointment all year long, though a midseason loss to Colorado may have been their nadir. By contrast, Central Florida was a surprisingly successful 10-3 and, despite their talent deficit relative to Georgia, they are a confident and complete squad ready to notch a historic win over the Bulldogs.
Chick Fil-A Bowl (December 31st)
Prediction: South Carolina 34 Florida State 27
Reason: Year One of the PBBE (Post Bobby Bowden Era) went smoothly at Florida State. The team went 9-4 and paved the way for a return to prominence but, for the moment, State remains on the outside looking in and faces a tough opponent in South Carolina. Carolina had a chance in the SEC Championship Game to win a BCS berth but failed miserably with a 56-17 loss to Auburn. Ultimately, Steve Spurrier has failed to lead Carolina to the glory he promised so, as usual, a B+ bowl game beckons. Nonetheless, the Gamecocks had good wins over Georgia and Florida and I'm picking them to win a fairly close bowl game.
TicketCity Bowl (Jan 1st)
Prediction: Texas Tech 34 Northwestern 31
Reason: Northwestern coach Pat Fitzgerald couldn't have been pleased that his team finished a mediocre season by letting Wisconsin put up an embarrassing 70 points in their season finale. As a result, Fitzgerald should have his team primed for their bowl game with Tech but the Red Raiders will be a tough out. Tech had a few tough games this season-including a win over Missouri-and the Red Raiders offense may overwhelm Northwestern.
Outback Bowl (Jan 1st)
Prediction: Florida 40 Penn State 24
Reason: You could make an argument that these were the two top underachieving teams of the season. Florida certainly was: after a Sugar Bowl blowout victory last year the program suffered through a 7-5 retooling year featuring poor offensive play. Urban Meyer will be around for the Outback Bowl but is retiring after that so it will be up to newcomer (and former Texas defensive coordinator) Will Muschamp to resurrect Florida's glory. Still, the bet here is a talented Florida team sees their Hall of Fame coach off with a resounding victory against a mediocre Penn State team.
Capital One Bowl (Jan 1st)
Prediction: Michigan State 27 Alabama 24 OT
Reason: I think this is, by far, the most compelling bowl matchup of the year. It matches the defending BCS Champion, Alabama, against an 11-1 Michigan State team that overcame their coach's midseason heart attack and was shafted out of a BCS berth despite ranking seventh overall to end the season. This really is a battle between heavyweights and it could absolutely go either way but this Michigan State squad is a special team and I think they will pull out a close, possibly even overtime, victory over the Crimson Tide. Of course, the Big Ten's recent abysmal performance against the SEC's best says otherwise, but I'm sticking to my guns and giving it to State.
Gator Bowl (Jan 1st)
Prediction: Mississippi State 37 Michigan 27
Reason: As a die-hard Wolverines fan, I am very excited that Michigan is on its way back. But the Wolverines are not there yet. They have improved from 3-8 in 2008 to 5-7 in 2009 to 7-5 this year but they need a defensive overhaul before they can really play the big boys. Their record and performance bears this out: the Wolverines hung weak opponents out to dry by letting Denard Robinson loose but their woeful defense couldn't handle top opponents in losses to Iowa (when the Hawkeyes were doing well), Penn State, Michigan State, Wisconsin, and Ohio State. By contrast, Mississippi State fielded its best team in years and was competitive in tough losses against Auburn (17-14) and Arkansas (38-31 2OT) so expect them to handle Michigan without too much of a problem.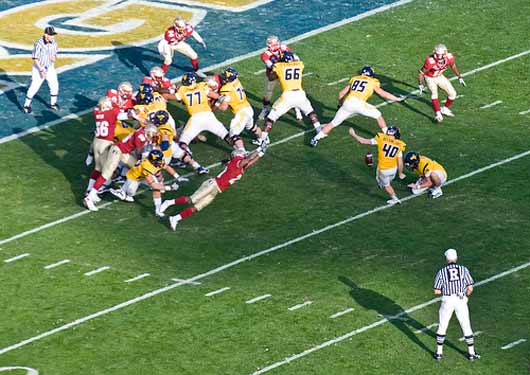 A Gator Bowl Match at January 1, 2010.
Thanks to sean.flynn at flickr.com for the picture.
---
GoDaddy.com Bowl (Jan 6th)
Prediction: Miami (OH) 24 Middle Tennessee 10
Reason: Perennial doormat Miami played well down the stretch this season and captured the MAC title. They should continue with that momentum against a weak Middle Tennessee team that didn't manage a winning record.
AT &T Cotton Bowl (Jan 7th)
Prediction: LSU 33 Texas A &M 27
Reason: Two-loss LSU had a solid BCS case but the Cotton Bowl is not a bad consolation prize. LSU had a good, though not great season, as they were a force throughout but always seemed a step behind the true contenders. Still, they should be able to handle a feisty Texas A & M team that lost three straight to Oklahoma State, Arkansas, and Missouri in midseason. It should be close, but I would be very surprised if LSU loses this one.
BBVA Compass Bowl (Jan 8th)
Prediction: Pittsburg 24 Kentucky 21
Reason: The Wildcats might play in the better division, but they were 2-6 against their in conference foes and never proved that they could hold their own against a competent group. Pittsburg is in the midst of a coaching change but still went 7-5 and has a lot of the talent from last year's near BCS run. Pittsburg should win this one but mediocrity will keep it fairly tight.
Visit Oregon Football Gear
Kraft Fight Hunger Bowl (Jan 9th)
Prediction: Nevada 40 Boston College 24
Reason: BC is a mediocre team with a fairly good defense. Nevada went 12-1 this season and knocked off Boise State at a time when it was number one in the nation on a few ballots. Any guesses about the likely winner?
Don't miss our 2011 BCS Bowls Previews. Here's some more College Football Bowl Predictions.
---
---
What do you think?
We'd love to hear your comments and/or opinions. If you submit them here, other visitors can read them, rate them and comment on them. An e-mail address is not required.
---
From 2010-2011 College Football Bowl Game Projections to NCAA Football Blog | Sports Blog | NFL Football Blog | NFL Football Archives | College Football Archives | MLB Baseball Blog | College Baseball Blog | MLB Baseball Archives | NBA Basketball Blog | NCAA Basketball Blog | NBA Basketball Archives | NCAA Basketball Archives | Fantasy Football | Fantasy Basketball | Fantasy Baseball | Soccer Archives | Olympics Archives | Stupid Athletes Archives | Other Archives | Football Forum | Basketball Forum | Baseball Forum | NFL Football Store | NBA Basketball Store | MLB Baseball Store | NCAA Football Store | NCAA Basketball Store | NCAA Baseball Store | Fatheads | NFL Football Tickets | NBA Basketball Tickets | MLB Baseball Tickets | NCAA Football Tickets | NCAA Basketball Tickets | NCAA Baseball Tickets |
---
Home Page
About Us | Contact Us | Site Search | Advertise | Terms of Use |
---