Wide Receiver Free Agents:
Is Decker Worth the Money?
By  Marvin E Azrak
Duringthis offseason, Eric Decker was amongst the abundance amount of talent in the wide receiver free agency category. There were many big name WRs such as Eric Decker, Jeremy Maclin, AnquanBoldin, and Hakeem Nicks. These players did in fact "receive" a "wide" contract. However, ex-Bronco's wide receiver Eric Decker got the most attention when he parted ways with the Broncos Franchise.

Eric Decker was drafted to the Denver Broncos in the third round of the 2010 NFL draft (#87 overall) from Minnesota. Decker has 4 years of experience under his belt playing for the Broncos. Last season Decker made 1.323 million. This offseason he was looking for big receiver money, which would be around $9 - 11 Million a year. He did receivea contract for five years and $36.25 million a year, with $15 million in guaranteeswith the New York Jets.

The untrained eye, looking at Eric Decker's game film from the 2013 - 2014 season, sees a wide receiver that createsopen space on the field and takes advantage of it. However, this is just a mirage.

Deckersimplybenefited from the extra coverage looks his teammate #88Demaryius Thomas warranted. For example, during the Broncos @ Chiefs game on 12/1/13, the Broncos were at the Chiefs' 45-yard line, and the Chiefs were playing a cover two zone. Consequently, Demaryius Thomas, the Bronco's #1 receiver, got a step on the defensive back, Sean Smith, and Decker ran a route on the inside against rookie corner back Marcus Cooper. Demaryius Thomas now with two players defending him left a single high safety, #35 Rickey Price.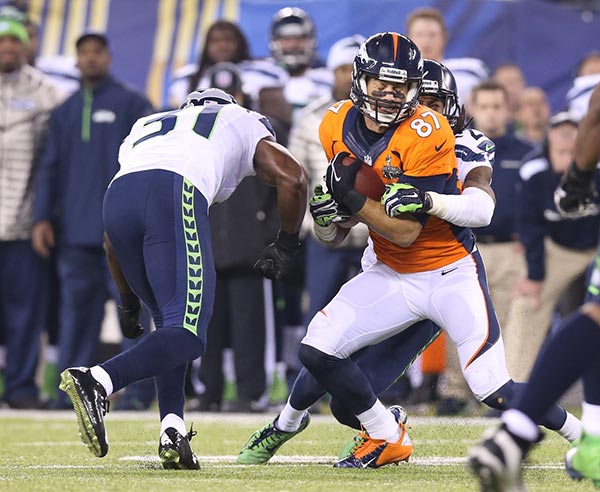 Decker broke off his route, recognizing the coverage, and Peyton Manning read the coverage perfectly as he has so many times before (or before this year's Super Bowl, anyway). Pass, catch, 43-yard gain.

Eric Decker is a wide receiverthat takes advantage of having less attention on him. He is a beneficiary from the Peyton Manning and John Fox system. Furthermore, Denver runs a Zone Blocking Scheme for their O-line. This creates time for Manning to find his receivers down the field.

Moreover, it's Peyton Manning throwing the ball to him; Peyton Manning the 5x NFL MVP - the guy who threw for 5477 yards and 55 touchdowns last season. Manning can make mediocre receivers look better than they truly are. For example, remember "Austin Collie", a fourth round draft pick that looked pretty solid with Peyton on the Colts in 2010. Collie's numbers were 58 catches, 649 Yards and 8 TDs. Collie posted these type of numbers consistently for 3 seasons with Peyton. However, afterwards when Collie went to the 49ers he was cut and entered football obscurity.

So when did Decker turn into Austin Collie? If you watch the Super Bowl XLVII game film, it's easy to understand why Decker ended up with just 1 Rec for 6 yards. The "Legion of Boom" exposed him as a Bust.

Unlike other teams who focused their defense primarily on the #1 wide receiver, Seattle had the first team All-Pro corner (Richard Sherman) and safety (Earl Thomas) to go along with a linebacking core that has the ability to take away the quick slants. Thus, the defensive coverage was very spread among wide receivers. As a result, Decker was blanketed by Seattle's coverage's and couldn't contribute to the Broncos' offense. Unlike other games, Decker couldn't exploit the defense and was held to just one single catch for six yards on a day when Manning threw the ball 49 times (fourth most ever) and completed 34 (a record).

Lastly, I would like to pull up a stat line of Eric Decker's numbers with… TIM TEBOW! Remember Timmy and the miracles he created in Denver? Eric Decker was on the field during those games as the 2nd receiver behind Brandon Lloyd. Decker's stats were 44 Recs /612 Yards /8 TDs. Those stats are truly what a team should expect out of Decker without Peyton Manning. While some may argue that Decker struggled simply because he played with Tim Tebow, it should be noted that Geno Smith is not much of an upgrade. Furthermore, on the Jets Decker will play in a run heavy offense that goes up against DarrelleRevis twice, AquibTalib and other top cornerbacks.

If I were running the New York Jets I would not have paid Eric Decker at his $36.25 million price tag. Instead, I would have utilized the abundance amount of cap space to get two wide receivers. The Jets need depth at the position - not one receiver in Decker who could potentially be a bust. The first receiver I would have paid is Emanuel Sanders; his deal in Denver was a three-year, $15 million contract, which is very cheap deal for an emerging young talent that the Jets certainly could have afforded. Sanders would have fit nicely in the #2 role in New York. The second receiver that I would have paid is Danario Alexander. I understand that he is a risky purchase, but there is huge upside considering that he led the league in yards per target in 2012. Furthermore, Alexander is coming off multiple knee injuries, so his price tag would have been cheap. If he is capable of playing at the level that he played at in San Diego when he was healthy, the Jets would have had a stud and with money leftover to spend elsewhere.
What do you think?
We'd love to hear your comments and/or opinions. If you submit them here, other visitors can read them, rate them and comment on them. An e-mail address is not required.
Wide Receiver Free Agents: Is Decker Worth the Money to NFL Football Blog