Why the Suns Should Trade Steve Nash?
Trading Steve Nash Now is the Key to the Phoenix Suns' Future
The Phoenix Suns have been the most dominant offensive team in the NBA over the past six years. Led by two time league MVP Steve Nash, the Suns torched basketball's offensive records and put up amazing statistical seasons….at least one side of the ball. While they always fell short of a championship, their brand of basketball was fast, fun, and engaging to watch. It will be missed.
Yes, I said missed. The old Phoenix Suns are dead. Owner Robert Sarver's month of criminal mismanagement over the summer-a period in which he let Amare Stoudemire go and signed Channing Frye (a poor decision), Hakim Warrick (a worse one) and Josh Childress (completely unjustifiable) to cap-killing long term contracts-destroyed the team's short and long term prospects. The only option left is to choose between rebuilding or reloading. Their recent trade of Hedo Turkoglu, Jason Richardson, and Earl Clark for Vince Carter, Mickael Pietrus, and Marcin Gortat should push the Suns in the retooling direction. However, trading Steve Nash remains the key to the Suns' chances of retooling quickly: Nash is having an exceptional statistical season and his talents will command a huge ransom on the trade market. If the Suns agree to trade him and stick the derby winners with the last of their bad contracts, then they will be in a great position to add talent next to Gortat and Lopez and return to contention fairly quickly. So, let's take a look at a few potentially trade options for the Suns:
1. The Orlando Magic
The Trade: Orlando sends point guard Jameer Nelson, center Daniel Orton, power forward Brandon Bass, power forward Malik Allen, and point guard Jason Williams to Phoenix for point guard Steve Nash and (the corpse of) small forward Josh Childress.
Here's an article about Steve Nash Jersey
Why it Might Work: Orlando and Phoenix's first trade looks like it will work out for both clubs but Orlando is still a bit behind the top contenders in the East. Getting Nash and pairing him with Dwight Howard would give them a legitimate title shot. On Phoenix's end, this trade would rid them of Josh Childress and his truly awful contract and import a good younger point guard in Nelson and talented frontcourt players Orton and Bass. In fact, Phoenix would have one of the largest and most talented frontcourts in the NBA which would a first in the desert.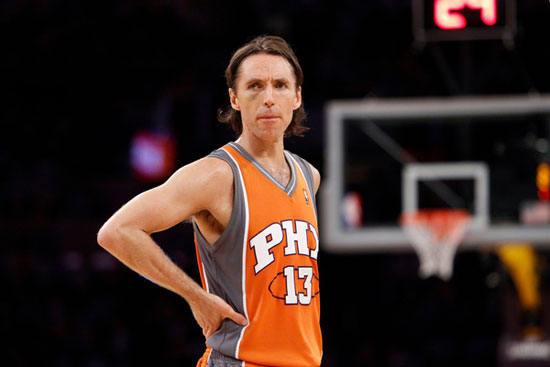 Steve Nash (13) during game 2 of the NBA Playoffs Western Conference Finals between the Phoenix Suns and the Los Angeles Lakers at the Staples Center in Los Angeles, CA.
---
2. The Portland Trail Blazers
The Trade: Portland trades point guard Andre Miller, shooting guard Rudy Fernandez, small forward Luke Babbitt, and center Joel Pryzbilla to Phoenix for point guard Steve Nash, small forward Josh Childress, and power forward Hakim Warrick.
Why it Might Work: Portland's front office may not want to admit it but the team is in a bind. They are capped out due to large contract extensions and Brandon Roy's massive deal (which has five years left on it) makes him more or less untradeable and prevents a major roster blow up. Instead, Portland has to make a move in the contending direction and acquiring Nash would make the Blazers (if Roy gets healthy for the playoffs) a major contender. In this trade, Portland would have to eat some salary but it would be worth it to get Phoenix's floor leader. And, on Phoenix's end, this deal would largely rid the team of the bad contracts it has signed and bring in two young sweet shooting talents to pair with the talented Lopez-Gortat frontcourt tandem.
There are, of course, other options for the Suns. The Knicks are rumored to have interest. The Hawks or Nets could take a gamble. The Rockets like Nash. However, each of these teams has issues that would make them think twice (and water down their offers) about acquiring Nash. Portland and Orlando, however, are a bit more desperate and Nash could put them over the top. If I was in Phoenix's front office, that's where I would start my search.
---
---
What do you think?

We'd love to hear your comments and/or opinions. If you submit them here, other visitors can read them, rate them and comment on them. An e-mail address is not required.
---
From Why the Suns Should Trade Steve Nash to NBA Basketball Blog | Sports Blog | NFL Football Blog | NCAA Football Blog | MLB Baseball Blog | College Baseball Blog | NCAA Basketball Blog | Fantasy Football | Fantasy Basketball | Fantasy Baseball |
---
Home Page
About Us | Contact Us | Site Search | Advertise | Terms of Use |
---