Why the San Antonio Spurs Will Defeat the Miami Heat
By Jason Fryer

The Spurs will be well rested and prepared for the Heat in the Finals.

Hold on...the Heat-Pacers series is tied 2-2 and I'm already calling this series over?

Yes.

Sorry Pacer (and anti-Heat) fans but remember that you guys were in a similar position last year when Indiana was up 2-1 in the series and then went onto lose the next 3 games.

If that wasn't enough, remember that Miami actually has more depth and hight on this years roster compared what they had last year. Following a game 1 injury to Chris Bosh, Miami's 2012 front court vs. Indiana featured Joel Anthony, UdonisHaslem (who was suspended for Game 6 of that series), and Ronny Turiaf along with inexperienced guard Norris Cole, often injured Mike Miller, and James Jones. This years Heat team has more depth upfront (though still not much) in a heathy Chris Bosh, UdonisHaslem, Chris "Birdman" Anderson, Joel Anthony, and Rashard Lewis along with much improved shooters in Norris Cole and Ray Allen off the bench.

Indiana features a solid core their with Paul George, Roy Hibbert, David West, George Hill, and Lance Stephenson however, even with their size differential I don't feel they have enough to get passed the Champs for two reasons:

LeBron is playing like a top 5 all time player: I'm a die hard Bulls fan and attended games 3 and 4 of the Eastern Conference Semifinals, but realize that with Wade hurt and Miami shooters not finding their stroke yet (I'll expand upon this soon), its been James carrying the Heat this postseason as he leads the Heat in points per game (25.2), rebounds (7.2), assists (6.7), and is second in steals (1.5). 


Miami's shooters haven't found their touch yet: The Heat shooters have been cold…and that's an understatement. Just look below...

Question: How many Heat players are shooting over 50% this postseason:

Answer: Chris Anderson (85.4% though the majority of those shots are open dunks and layups), UdonisHaslem (61.3%), LeBron James (52.3%), and Norris Cole (51.5%).

So that means that only 2 starters on the Heat are shooting over 50% from the field and no one who averages over 25 minutes per game (outside of LeBron) is shooting over 50% from the field.

Question: How many Heat players are shooting over 30% from 3 this postseason:

Answer: James Jones (100% though he's only attempted one this postseason), Norris Cole (56.5%), Chris Bosh (44.4%), LeBron James (36.7%), and Ray Allen (35.5%)

So this shows that only 4 players on the Heat (Haslem, Bosh, James, and Cole) have been playing up to their usual standards. In my opinion, I feel the rest of the Heat: Shane Battier (who shot 43% from 3 during the season), Ray Allen (41.9%), Mike Miller (41.7%), Mario Chalmers (40.9%), and Rashard Lewis (38.9%) will find their "touch" from beyond the arch andforce the Pacers into a number of difficult cross-matchups.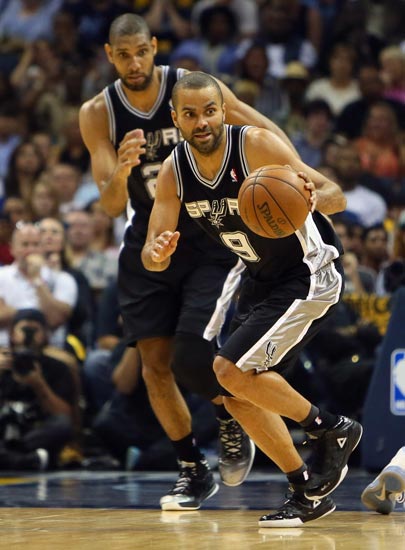 So with the Pacers in my opinion out of the way, why do I feel the Spurs will oust the Miami Heat in the NBA Finals?
The stars are back: For the first time since the 2007 season, Tim Duncan was named a member of the All-NBA's First Team (10th Time overall) and looks to have found the fountain of youth. Following a difficult end to the Spurs 2012 season (were up 2-0 on OKC before losing the next 4 games), Tony Parker said he would bring the Spurs back to the Finals thefollowing season and he delivered. Like Duncan, Parker showed why he's one of the top Point Guards in the NBA, top 15 (maybe even top 10) players in the entire league, and a future Hall-of-Famer.


The Heat have the best, but the Spurs have everything else: Yes, the Miami Heat do feature the best NBA player on the planet, but with Dwyane Wade not close to being 100%, the Spurs have the 2nd (Parker), 3rd (Duncan), and with Wade's health possibly the 5th best player (Ginobili) in the series along with a great core of role players in Kawhi Leonard, DannyGreen, Tiago Splitter, Gary Neal, Matt Bonner, and Boris Diaw. Though the Heat have a nice group of role players, they have no depth in the front court but have elite shooters that are not great playmakers. In crunch time, Miami's going to have to put LeBron on Tony Parker which will tire him out on the other end of the floor and the entirety of the series. The Heat have beenfortunate enough to avoid all elite athlete with great speed this postseason, however that will change when they go against San Antonio.


Let them rest: With the average age of the Spurs starters (and Ginobili) being almost 30 (and remember Leonard is only 21), the NBA's 7th oldest team (27.9) could definitely use this rest before facing the reigning champs. As for the Heat, they feature the leagues 2nd oldest team at 31.2 years old along with an aligning superstar that's not close to 100%, and theywon't receive nearly the same amount of rest as the Spurs (the finals start June 6th and San Antonio has been off since May 28th). The Spurs might come out rusty in game one, but will be well rested  for the reminder of the series.

Because of these reasons, I feel the San Antonio Spurs (who are a perfect 4/4 in the NBA Finals) will come out on top and defeat the Miami Heat in 6 games.
Spurs Defeat Heat 4-2


What do you think?

We'd love to hear your comments and/or opinions. If you submit them here, other visitors can read them, rate them and comment on them. An e-mail address is not required.