Why the NY Giants Will Win the Super Bowl
The New York Giants Will Win the Superbowl
Are you already planning your Superbowl party? Figuring out what horse to back? Well, two weeks out, the bet here is on the New York Giants!
They say déjà vu doesn't exist but the 2007....excuse me 2011....Giants might disagree. Like their 2007 predecessors, this Giants team was bruised and battered throughout the regular season and nearly missed the playoffs. But, when their defensive linemen got healthy, the team took off"¦and they haven't looked back. Four wins later, they are getting ready to battle the San Francisco 49ers in an NFC Title Game that will look more like the Thrilla in Manila than a typical NFL passing showdown. For defensive enthusiasts, it should be the highlight of the season!
So, what makes the Giants capable of taking out both the 49ers and either the New England Patriots or the Baltimore Ravens. Two things: talented defensive line depth and quarterback accuracy. Justin Tuck, Osi Umenyiora, and Jason Pierre Paul are all healthy, which spells disaster for opposing offensive lines. When on the field together, those three are nearly unblockable in tandem and will run quarterbacks to the ground all day. You only have to look at tape from the Giants-Falcons wild card game to see the evidence (warning: it's graphic).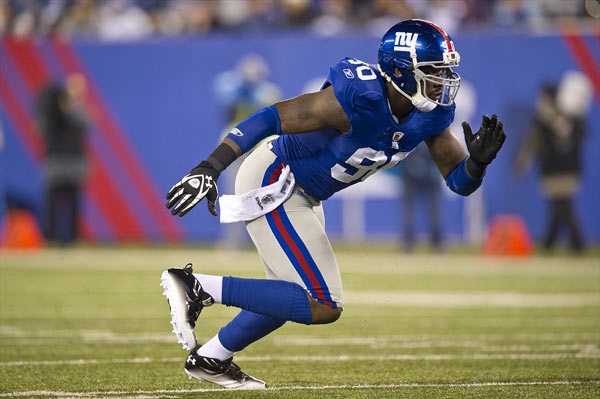 New York Giants defensive end Jason Pierre-Paul (90) during the NFC East matchup between the Dallas Cowboys and the New York Giants at MetLife Stadium in East Rutherford, NJ. The Giants defeated the Cowboys 31-14 to clinch the NFC East and move on to the playoffs.
---
Eli Manning, the Giants oft-criticized, always loved quarterback, is the second reason they will win the Superbowl. Manning is channeling his inner playoff road warrior and evolving into an elite quarterback right before our eyes. He may not throw for 5,000 yards in the regular season but in pressure playoff situations, I am not sure there is anyone better. If he can deliver accurate throws-particularly to his favorite target Victor Cruz-while the Giants defensive line bulldozes his counterpart, they the Giants will win it all!
For another opinion see Why the New England Patriots Will Win the Super Bowl
---
What do you think?
We'd love to hear your comments and/or opinions. If you submit them here, other visitors can read them, rate them and comment on them. An e-mail address is not required.
---
From Why the NY Giants Will Win the Super Bowl to NFL Football Blog | Sports Blog | NCAA Football Blog | NFL Football Archives | College Football Archives | MLB Baseball Blog | College Baseball Blog | MLB Baseball Archives | NBA Basketball Blog | NCAA Basketball Blog | NBA Basketball Archives | NCAA Basketball Archives | Fantasy Football | Fantasy Basketball | Fantasy Baseball | Soccer Archives | Olympics Archives | Stupid Athletes Archives | Other Archives | Football Forum | Basketball Forum | Baseball Forum | NFL Football Store | NBA Basketball Store | MLB Baseball Store | NCAA Football Store | NCAA Basketball Store | NCAA Baseball Store | Fatheads | NFL Football Tickets | NBA Basketball Tickets | MLB Baseball Tickets | NCAA Football Tickets | NCAA Basketball Tickets | NCAA Baseball Tickets |
---
Home Page
About Us | Contact Us | Site Search | Advertise | Terms of Use |
---