Why NBA Stars Should Not Help Make Front Office Decisions
By Paul Grossinger
If you ask NBA stars what their role should be in front office decisions, most will look at you blankly and say "I just want to play basketball." But in reality, top NBA stars do try to exert their influence over their franchises' decisions. That should never, ever be the case.
Recently, Kobe Bryant made headlines when he lambasted the Los Angeles Lakers' front office and told them to either trade Pau Gasol immediately or take him off the block. The Lakers swiftly responded that it was not his decision and Gasol would remain on the trade market. But Kobe's tirade reminded countless fans of his 2007 trade demands and is part of an unsettling cultural change across the NBA. Star players now think they own the teams.
Bryant is not alone: Derrick Rose may have demanded that the Chicago Bulls' front office look to trade Carlos Boozer for Gasol. Rose quickly denied the rumor but it was substantiated by several sources and whispers that he wants the Spanish forward will undoubtedly persist through the March deadline.
One big problem is that commentators, pundits, and former stars enable this behavior. After Kobe's tirade, Lakers' minority owner and former star Magic Johnson said he needs an individual sit-down with team boss Jim Buss. The implication was that Buss needs to explain his recent moves to Bryant, placate him, and include him in the decisions about the franchise's future.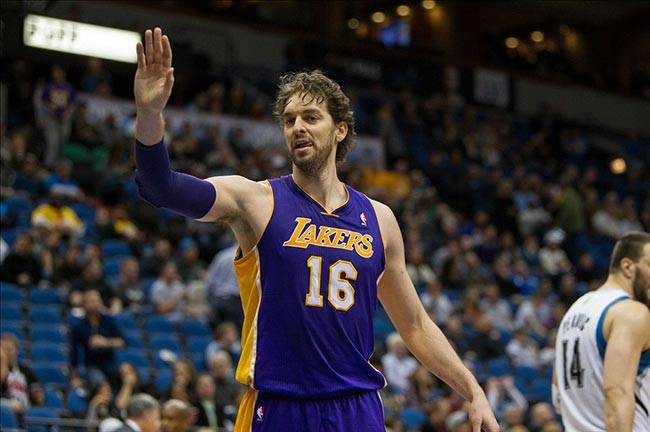 Pau Gasol #16 of the Lakers during the game. The Los Angeles Lakers defeated the Portland Trail Blazers by the final score of 103-92 at Staples Center in downtown Los Angeles, CA.
---
That is ridiculous. Owners should not have to appease players. General managers should make the best decisions in the interest of their teams. If you look at Kobe's decision-making resume, he insisted on a trade from the Lakers back in 2007. Would that have been a good decision? Did appeasing LeBron James and catering their personnel decisions to his every desire work out well for the Cleveland Cavaliers? I don't think so.
Michael Jordan's relationship with GM Jerry Krause and owner Jerry Reinsdorf is the best example of a team successfully refusing to appease a player. The Bulls quietly ignored Jordan's personnel advice for two decades and won six championships. Considering Jordan's management record with the Washington Wizards and Charlotte Bobcats, NBA history might well be different if Chicago had appeased him. Similarly, the Lakers denied Bryant's request in 2007 and instead traded for Pau Gasol. Clearly, that turned out pretty well.
The bottom line: let executives do their jobs. There may be exceptions but usually star players don't know what is in the best interest of their team. Or they will leave after their demands and crush the hopes of the franchise. Either way, NBA stars should never, ever control personnel decisions.
Let the stars play and the executives deal and let's leave it that way.
---
---
What do you think?

We'd love to hear your comments and/or opinions. If you submit them here, other visitors can read them, rate them and comment on them. An e-mail address is not required.
---
From Why NBA Stars Should Not Help Make Front Office Decisions to NBA Basketball Blog | Sports Blog | NFL Football Blog | NCAA Football Blog | NFL Football Archives | College Football Archives | MLB Baseball Blog | College Baseball Blog | MLB Baseball Archives | NCAA Basketball Blog | NBA Basketball Archives | NCAA Basketball Archives | Fantasy Football | Fantasy Basketball | Fantasy Baseball | Soccer Archives | Olympics Archives | Stupid Athletes Archives | Other Archives | Football Forum | Basketball Forum | Baseball Forum | NFL Football Store | NBA Basketball Store | MLB Baseball Store | NCAA Football Store | NCAA Basketball Store | NCAA Baseball Store | Fatheads | NFL Football Tickets | NBA Basketball Tickets | MLB Baseball Tickets | NCAA Football Tickets | NCAA Basketball Tickets | NCAA Baseball Tickets |
---
Home Page
About Us | Contact Us | Site Search | Advertise | Terms of Use |
---