Why is NFL Rookie Russell Wilson Starting for the Seattle Seahawks?
What are the Seattle Seahawks thinking. They reportedly just named rookie quarterback Russell Wilson the starter for Week 1. Let me start by saying I have nothing against Wilson. He was a good college quarterback, competing at a high level in two conferences – the ACC and Big Ten. The Seahawks selected Wilsonin the third round of the NFL draft (75th overall pick), which drew some speculation for all the 'experts'.
Wilson is list as 5'11'', which is pretty short in terms of an NFL quarterback. It has been said that he is too small to play at this level and that he won't be able to see over his offensive linemen to find his receivers. He did it in college, where linemen are the same size as in the NFL, so why can't he get the job done? Just because Wilson doesn't fit the prototypical mold of an NFL quarterback doesn't mean he should be overlooked. Wilson threw two touchdown passes in the third preseason game, which led to him being named to the starter. He looked good enough for coach Pete Carroll to take the reigns, and Carroll has been known to groom quarterbacks in the college ranks. The question remains though if Carroll can get the most of his young quarterback in the NFL.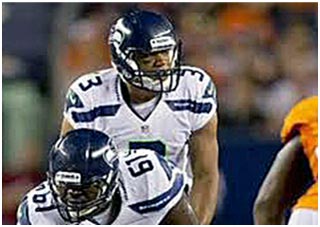 ---
I'm not saying Carroll can't coach Wilson into being a legitimate pro-style quarterback but he didn't do much with Tarvaris Jackson since taking over as head coach. With the emergence of Wilson and the offseason addition of Matt Flynn, Jackson became expendable. The Seahawks traded Jackson to the Bills for a draft pick where he will backup Ryan Fitzpatrick and most likely force Vince Young out of Buffalo.
For now, let's go back to Seattle. The Seahawks went out and gave Matt Flynn a good-size contract to compete for the starting job with Jackson. Apparently they didn't feel as highly on Flynn as we all thought. It doesn't make too much sense that they'd go out and sign one of the better free agent quarterbacks just to be the backup – especially behind a rookie. Flynn went to a franchise that gives him the best chance to start and perform at a high level. So far Flynn will have to wait his turn despite playing well when he filled in for Aaron Rodgers in Green Bay. That led to him being a sought after quarterback in free agency. I thought Flynn would go to Miami and reunite with his former offensive coordinator – now head coach -- but the Dolphins didn't show as much interest as I thought they would or should.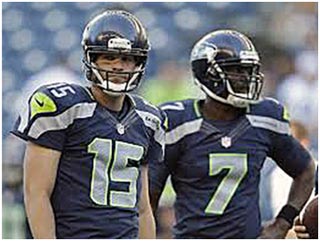 ---
So Flynn goes to Seattle where he should be able to beat out Jackson and win the starting job. Little did they know there would be a third potential starter, even after the Seahawks drafted Wilson. I'm sure he has a chip on his shoulder to prove to all his doubters that he can lead this team, which does have a lot of talent on it. They did let veteran Terrell Owens go, but the Seahawks have Sidney Rice, Doug Baldwin, Braylon Edwards and Marshawn Lynch on offense to make the chains move. Can Wilson demand the respect from these veterans and lead the team? That remains to be seen, but if he struggles Flynn will be waiting in the wings. I know Flynn wants to start, but he got a nice paycheck to sit on the sideline if Wilson remains the starter.
With Wilson being named the starter there will be five rookie signal callers starting for their respective team to start the season. Wilson joins the likes of, Andrew Luck, Robert Griffin III, Brandon Weeden and Ryan Tannehill as rookie starters. Of all five rookies, Wilson has the best chance to open his career with a win as the Seahawks face the Cardinals. That doesn't mean the Seahawks and Wilson will have the best record at the end of the year, but of the five teams listed, Seattle does play in the easiest division (NFC West) and could make a run for a Wild Card spot come playoff time.
I have to say making Wilson the Week 1 starter might not be the popular pick in Seattle, but if it works out fans won't be complaining. I'm not sure if this experiment will work with Wilson but I wish him the best. His promotion also puts a damper on Flynn's Fantasy value as he was ranked in the Top 24 for all quarterbacks by ESPN.
---
What do you think?
We'd love to hear your comments and/or opinions. If you submit them here, other visitors can read them, rate them and comment on them. An e-mail address is not required.
---
From Why is NFL Rookie Russell Wilson Starting for the Seattle Seahawks to NFL Football Blog | Sports Blog | NCAA Football Blog | NFL Football Archives | College Football Archives | MLB Baseball Blog | College Baseball Blog | MLB Baseball Archives | NBA Basketball Blog | NCAA Basketball Blog | NBA Basketball Archives | NCAA Basketball Archives | Fantasy Football | Fantasy Basketball | Fantasy Baseball | Soccer Archives | Olympics Archives | Stupid Athletes Archives | Other Archives | Football Forum | Basketball Forum | Baseball Forum | NFL Football Store | NBA Basketball Store | MLB Baseball Store | NCAA Football Store | NCAA Basketball Store | NCAA Baseball Store | Fatheads | NFL Football Tickets | NBA Basketball Tickets | MLB Baseball Tickets | NCAA Football Tickets | NCAA Basketball Tickets | NCAA Baseball Tickets |
---
Home Page
About Us | Contact Us | Site Search | Advertise | Terms of Use |
---