Why Don't Regular Season Strategies Work in the Playoffs?
Billy Beane believes the regular season should crown baseball's champion.  There should be no World Series.

Strictly speaking, Beane only said that regular season achievements should be recognized by more than a playoff berth.  Speaking on a panel, the iconoclastic Oakland A's GM told listeners that the regular season is 162 games long and should not simply be tossed away by one poor playoff series.
In theory, Beane has a point, albeit one to take with a serious grain of salt because the playoffs have been Beane's Achilles heel in his decade-plus as Oakland's General Manager.  His Moneyballpredictors, so successful for creating regular season juggernauts out of rising prospects and major league castaways, seem to always fall apart in the playoffs.  Despite several 95+ win seasons, Beane's teams have never made a World Series, let alone won a championship.

So, why don't regular season strategies work in the playoffs?  It's an interesting, critical question; not least because it is a phenomenon ubiquitous across sports.

Consider, for example, this year's Denver Nuggets.  The NBA's regular season darling, the high-seeded Nuggets just lost their first round playoff series to a mediocre Golden State Warriors team missing their best low-post scorer, David Lee.  What happened?

The Nuggets, who thrived over the course of a long regular season by sharing the ball and balancing the offense between several above average contributors, simply could not contain Warriors star Stephen Curry, who blasted them for a week straight to pull his team into the next round.  That kind of instant shock therapy star power, which can be lost over the course of a long regular season, shines through in the playoffs.

The "star" phenomenon is true across sports, even in the NFL.  The NFL, whose one-game playoff matchups offer the most unpredictable playoff track in sports, regularly sees upsets that would never happen in the regular season.  In last year's playoffs, the underdog Ravens knocked off the Denver Broncos, a deeper, more talented team that would beat Baltimore seven games out of ten.  Later, the Ravens knocked off the Patriots, the most talented team – top to bottom – in football and the NFL's most exciting rising team, the San Francisco 49ers.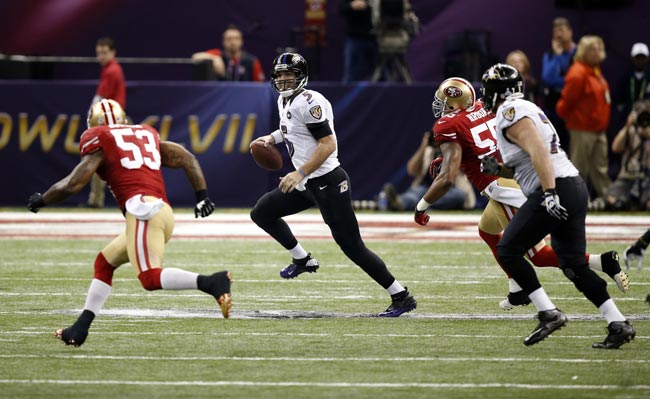 Baltimore Ravens quarterback Joe Flacco (5) scrambles in the first quarter against the San Francisco 49ers in Super Bowl XLVII at the Mercedes-Benz Superdome. Photo Courtesy By Derick E. Hingle-USA TODAY Sports.


What gives?  It's the star factor.  Joe Flacco, the Ravens' quarterback, was the best player on the field in every game.  With an assist from big-time playoff veteran contributors Ray Lewis, Ed Reed, and AnquanBoldin, Flacco used his star playmaking to catapult the Ravens past three teams that would have defeated them in the regular season.

So, what is the lesson for sports managers with a history of regular season success and playoff foibles?

Go and find star factors with playoff chops.  For every Alex Rodriguez, a regular season star if even there was one, there is a Derek Jeter or a Joe Flacco, stars who define themselves by winning in the playoffs.

So, if you want to host the trophy, go find one of them.


What do you think?

We'd love to hear your comments and/or opinions. If you submit them here, other visitors can read them, rate them and comment on them. An e-mail address is not required.