Why does the Big East Still Have an Automatic BCS Bid?
There are a lot of embarrassing things about the BCS system. A 12-1 Boise State team that has two losses in almost four years will not play in a BCS bowl. A three way tie for the Big Ten title will leave a heartwarming one loss Michigan State team out of the marquee bowls. The same problem in the Big 12 will leave a dominant Oklahoma State out of the big games. Despite going undefeated and shellacking several ranked foes, TCU will not even get an opportunity to play for a title. I can go on and on and so can every other infuriated college football fan in the country. The truth is, though, that the absolute worst part of the BCS system is the automatic bids policy. Every year, at least one of the major conferences is weak and hardly deserves a BCS trip. However, while several conferences have had recent off years, none can rival the Big East.
The "Big East," a misnomer if ever there was one, has played little quality football in recent years. That may change with the addition of TCU in a few years but, for the moment, the whole conference is awful. In fact, there is little separating the Big East from Conference USA at this point. Don't believe me? Look at the statistics. A barely ranked West Virginia team will likely play in a BCS game this year as a result of its Big East championship and unranked 7-4 Connecticut came awfully close. Last year, Cincinnati had a good regular season but was absolutely annihilated by Florida in the Sugar Bowl and surrendered an incredible fifty one points. The year before that, a decent West Virginia team played in a BCS bowl and displaced two undefeated and deserving mid-major squads.
This year, the Big East's automatic bid will produce even more embarrassing consequences. No Big East team is likely to be ranked to end the season-and none of them deserve to be-yet one team will play in a top five bowl. It will play in that bowl instead of one loss Michigan State (in a tough Big Ten division), one loss Boise State, and two-loss LSU. For a Big East team to get an opportunity over any one of these teams is embarrassing; for all three to be left out is simply egregious. Put simply, the BCS needs to change its policies and, at the very least, eliminate the automatic bids. For now, a true playoff system remains unlikely but the BCS organizers could at least try to return some fairness to the game by eliminating this ridiculous policy.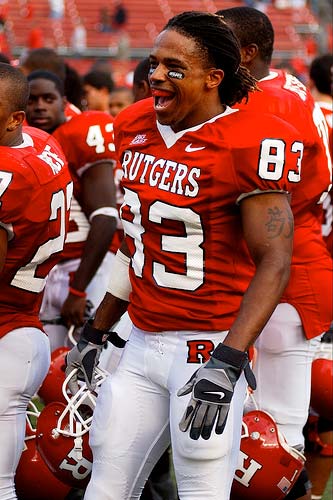 JAMES TOWNSEND after a Rutgers victory over Howard in a Big East game.
Thanks to The Fayj at flickr.com for this photo.
---
---
---
What do you think?
We'd love to hear your comments and/or opinions. If you submit them here, other visitors can read them, rate them and comment on them. An e-mail address is not required.
What Other Visitors Have Said
Click below to see contributions from other visitors to this page...

What If? Not rated yet
What kind of panic would the BCS go into IF the Big East Champion completed its season and did not have the required 6 wins to appear in a bowl game. …
TV is why Big East is in the BCS Not rated yet
Why does the Big East still have an automatic BCS bid? Well, in the words of the ol' country lawyer, just take a look at the black letter law in the four …
Time For College Football Playoffs Not rated yet
I'll take your thesis on the Big East (home to such traditional college football powers as Connecticut and South Florida) not deserving an automatic bid …
---
From Why does the Big East Still Have an Automatic BCS Bid to NCAA Football Blog | Sports Blog | NFL Football Blog | NFL Football Archives | College Football Archives | MLB Baseball Blog | College Baseball Blog | MLB Baseball Archives | NBA Basketball Blog | NCAA Basketball Blog | NBA Basketball Archives | NCAA Basketball Archives | Fantasy Football | Fantasy Basketball | Fantasy Baseball | Soccer Archives | Olympics Archives | Stupid Athletes Archives | Other Archives | Football Forum | Basketball Forum | Baseball Forum | NFL Football Store | NBA Basketball Store | MLB Baseball Store | NCAA Football Store | NCAA Basketball Store | NCAA Baseball Store | Fatheads | NFL Football Tickets | NBA Basketball Tickets | MLB Baseball Tickets | NCAA Football Tickets | NCAA Basketball Tickets | NCAA Baseball Tickets |
---
Home Page
About Us | Contact Us | Site Search | Advertise | Terms of Use |
---