Why Derrick Rose Will Lose Chicago Fans
Yes, I went there.

As a Chicago fan, I have wondered for months why Derrick Rose has not been playing.  As a sports writer, I have tenaciously avoided the subject.  No more.
Rose is Chicago's most popular athlete.  The heir to Michael Jordan in the city's pantheon, Rose is a local kid made good.  But, is the love eroding?  And, if it is, is that fair?

Rose suffered a terrible injury a year ago.  He was on the shelf for most of the season, with good reason.  No one questioned anything.  But, beginning in February, he was declared healthy.  He began practicing – and looked one hundred percent.

Still, no one really complained.  Not until a few weeks ago, when the playoffs began.  But, here is the rub: the Bulls approach Game 7 of their first round series, potentially about to lose a very winnable game against a beatable Brooklyn Nets team.  Chicago looks like a tough out; a legitimate threat in the East with their MVP playing.

So, where is Rose?

The former MVP practices before the game, looks sharp, dazzles with his moves, and then sits.  He is not part of the moment.  And, right now, that moment is that Chicago went from 3-1 to 3-3 in this series and the Bulls need him.

If Rose sits and the Bulls go home, will he lose fans?

Yes.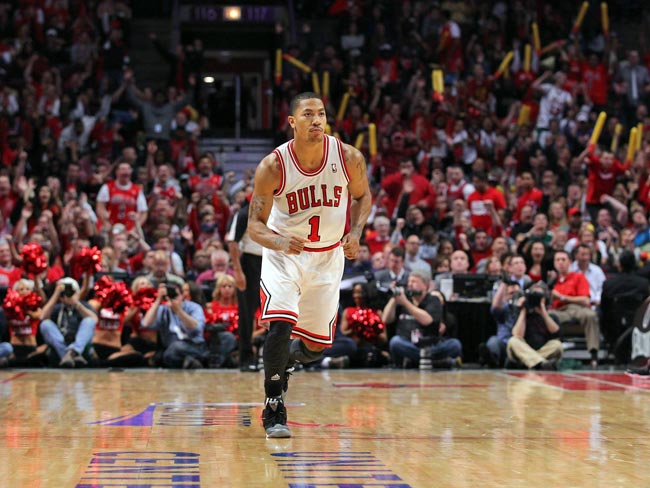 Chicago Bulls point guard Derrick Rose (1) reacts to scoring during the third quarter in the Eastern Conference quarterfinals of the 2012 NBA Playoffs against the Philadelphia 76ers at the United Center. The Bulls won 103-91. Photo Courtesy By Dennis Wierzbicki-USA TODAY Sports.


Chicago is a tough city.  Its fans are Midwestern, humble, salt of the earth people; true sports lovers.  Effort is prized.  If their MVP sits, again, looking healthy, and their team goes home, Bulls fans will remember that for a long time.

That is why, with the series on the line, Rose should come back.  It would be a surprise – but a necessary one.

In a very real way, his future – at least his future as an unparalleled sports icon in his hometown – depends on it.


What do you think?

We'd love to hear your comments and/or opinions. If you submit them here, other visitors can read them, rate them and comment on them. An e-mail address is not required.