Why College Football Should Let the FBS Collapse
The biggest problem in college football right now is the growing inequality between the "have" teams in the major conferences and the "have not" lower-level mid-majors who populate the rest of the non-AQ conferences. But the solution is not lowering the bar of competition to accommodate the smaller teams, it is to let the richest schools break off and form their own football competition.
Before dismissing this notion out of hand, consider: what are the worst problems facing top schools? They continually get caught for NCAA violations and pay the price. That is because their players are poor and don't have full cost of attendance scholarships, which means many of them are always on the lookout to make a quick buck from their talents. Look at Ohio State: the program lost millions of dollars, a bowl invite, prestige, and an iconic coach because a bunch of players used their fame to get free tattoos. Seriously!
So the solution is clear: let rich teams be rich and poor teams be poor. All the teams in the power conferences "" the Big Ten, Big 12, Pac 12, SEC, ACC, and Big East "" can afford to provide full cost of attendance scholarships to football players.Most of them already give those exact scholarships to their academic talents. When you consider how much time, effort, and energy the best college football players give toward excelling for their school, they have clearly earned the additional stipend money. The smaller teams that cannot afford such scholarships are already at a serious spending disadvantage. So why not just let them compete in a different league. When you step back and look at it, letting the system break apart is the solution that makes the most sense for everyone.
Not only will NCAA violations go down if athletes are taken care of, the level of competition and play will go up with the best conferences squaring off in a separate league. This only works for football but, when you consider that several schools have already split football off from the rest of their athletics (think Notre Dame as an independent), that is hardly a deal-breaking factor. It's high time top teams stop filling their schedule with cupcakes opponents anyways; in what other elite sporting league do you see that happen.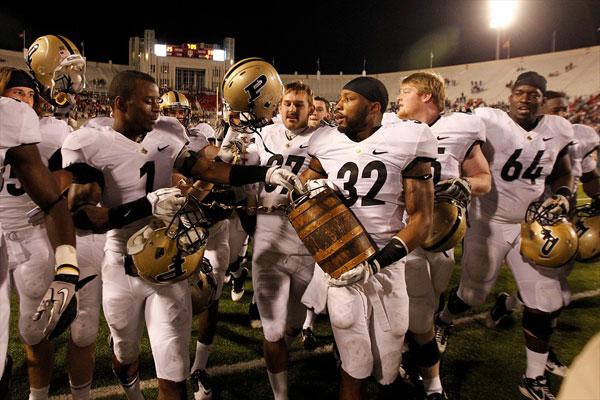 Purdue Players with the Old Oaken bucket after the Purdue Boilermakers played the Indiana Hoosiers in a college football game in Bloomington, Ind.
---
Can NFL teams schedule a few games against CFL opponents? It's time for a change.
In the future, the BCS teams should compete only against one another. In conjunction with that change, they should be subject to their own set of rules. Those rules should reflect their enormous budgets and financial wherewithal and unleash a new golden age of college football!
---
What do you think?
We'd love to hear your comments and/or opinions. If you submit them here, other visitors can read them, rate them and comment on them. An e-mail address is not required.
---
From Why College Football Should Let the FBS Collapse to NFL Football Blog | Sports Blog | NCAA Football Blog | NFL Football Archives | College Football Archives | MLB Baseball Blog | College Baseball Blog | MLB Baseball Archives | NBA Basketball Blog | NCAA Basketball Blog | NBA Basketball Archives | NCAA Basketball Archives | Fantasy Football | Fantasy Basketball | Fantasy Baseball | Soccer Archives | Olympics Archives | Stupid Athletes Archives | Other Archives | Football Forum | Basketball Forum | Baseball Forum | NFL Football Store | NBA Basketball Store | MLB Baseball Store | NCAA Football Store | NCAA Basketball Store | NCAA Baseball Store | Fatheads | NFL Football Tickets | NBA Basketball Tickets | MLB Baseball Tickets | NCAA Football Tickets | NCAA Basketball Tickets | NCAA Baseball Tickets |
---
Home Page
About Us | Contact Us | Site Search | Advertise | Terms of Use |
---