Who's Going Where? A Look At Soccer's Summer Transfer Meltdown
With the World Cup heading towards a feverish climax it won't be long before the soccer world reverts to its usual summertime speciality - obsessing over the ins and outs of the transfer market. A number of big deals have already been done of course, England pair Adam Lallana and Ricky Lambert have switched from Southampton to Liverpool, their erstwhile teammate has departed St Marys for Old Trafford and Chelsea have snapped up Spanish duo Diego Costa and CescFabregas.


With loads more big names guaranteed make their way between Europe's biggest clubs on a tide of multi-million dollar deals we preview some of this summer's hottest transfer stories. Odds come courtesy of
Betfair Online
.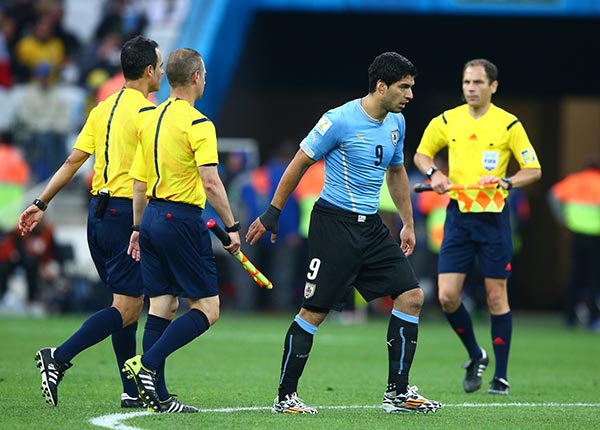 Luis Suarez
If you thought the toothy Uruguayan had already taken a big enough bite out of this summer's soccer headlines think again. Luis Suarez's World Cup antics were a mere appetiser in advance of what's likely to be a summer-long transfer tug of war. At the moment Barcelona have emerged as his most likely suitors and there's a em sense that Suarez would welcome a move to the Nou Camp, especially after suggestions that his public apology to for the biting incident was at the request of the Catalan giants. Liverpool reportedly want a cash plus Alexis Sanchez deal but will Suarez's ban diminish their bargaining power?
Likely fee:
$85 million +
Likely destinations:
Barcelona 2/9, Real Madrid 20/1, Bayern Munich 33/1
Mario Balotelli
Italy's mercurial forward looks more and more likely to leave Milan this summer amid rumours that he's unhappy with his club's lack of support following a difficult World Cup. Balotellireportedly feels he has been made a undeserved scapegoat for the Azzuri's early exit by
the Italian press and would have liked more support from Milan.
He'll have no shortage of suitors after a em Serie A campaign and a return to England could be on the cards with both Arsenal and North London rivals Tottenham reportedly interested.
Likely fee:
$40 million
Likely destinations:
Arsenal 2/1, Monaco 4/1, Chelsea 8/1, Tottenham 20/1
Paul Pogba
Manchester United's one that got away, Pogba enjoyed a hugely impressive break out season with Juventus last season and has continue to boost his burgeoning reputation in Brazil this summer where his all-action midfield play has been a key part of Didier Deschamps' French team. Europe's top teams are undoubtedly watching and Juveight struggle to keep their young star. A return to Man Utd is apparently even a possibility.
Likely fee:
$80 million
Likely destinations:
Manchester United 4/1, PSG 4/1, Chelsea 9/2, Real Madrid 6/1, Man City 14/1
Toni Kroos
Bayern Munich's midfield maestro has reportedly been slow to sign a new contract and may feel he's not valued highly enough by the Bavarian giants. Cue speculation linking him with a succession of Europe's biggest teams. Some reports suggest that Kroos has already turned down Man Utd this summer. At the time of writing rumour has it that
Real Madrid have swooped for Kroos
, possibly signing him for a reasonable sounding £19.9 million.
Likely fee:
$60 million
Likely destinations:
Real Madrid, Barcelona, Manchester United, Manchester City
James Rodriguez
The World Cup's biggest revelation and an undoubted star in the making, James Rodriguez was already highly rated enough to convince Monaco he was worth €45 million last summer and his standout performances in Brazil must make him one of the most coveted players in the world. It would surely take another blockbuster fee but Europe's richest teams are likely to be keen. Rodriguez has made statement that suggest he wouldn't be averse to the Bernabeu.
Likely fee:
$70 million
Likely destination:
Real Madrid 3/1, Man Utd 6/1, Arsenal 16/1