Who Will Win the NFL's NFC East Division
Well, here we go again.
On Monday night, the Giants had a chance to salt away the NFC East, and comfortably move ahead to thinking about playoff positioning and the like. A win would have given them control of their own fate for a top-3 seed in the NFC, and made missing the playoffs a nigh-impossible proposition.
They left from Washington with the division, once again, very much for grabs. Robert Griffin III led his resurgent Redskins, once written off by their own head coach, to a 17-16 squeaker over the most up-and-down team in football, and so, at least for one more week, all four teams in the NFC East can still point to ways they could win the division. This is crazy – and routine, in the tightest division in the NFL.
Can't anyone win the NFC East running away anymore? Last year, the Giants won essentially a week 17 play-in game over Dallas to make the playoffs, recovering from a four-game swoon in the middle of November. The year before that, the Giants attempt at a furious comeback failed when they dropped a week 16 game to the future Super Bowl champion Packers. In 2009, the Cowboys and Eagles tied atop the division, and ended up playing each other in the wildcard round. You have to go back to 2008 to find a year when a team won the division comfortably – and those Giants were bounced out of the playoffs by divisional rivals Philadelphia.
It's only fitting, I suppose. No division has been more successful since the NFL merger, and very few of them can claim the depths of the rivalries the division has to offer. Combine that with the huge markets they play in, and it's become the in thing to watch every December – which team will survive the bloody battles to emerge victorious. It seems fated that an article like this will pop up every year, like clockwork.
It seemed fated even a month ago. Oh, sure, the Giants, at that time, were sitting pretty atop the division. They were 6-2, looking down on a division that seemed utterly hopeless. The Redskins, as mentioned, had been abandoned by their coach – Mike Shanahan said, of the then 3-6 team, that the Redskins season was over. "Now you're playing to see who, obviously, is going to be on your football team for years to come. Now we get a chance to evaluate players and see where we're at," he said, of the wreckage that appeared to be the Redskins season. The Cowboys were sitting at 3-4, and people were beginning to ask if owner Jerry Jones would fire General Manager … Jerry Jones. The Eagles were also at 3-4, but had lost three in a row due to poor quarterback play, and were calling for coach Andy Reid's head. But, surely, you didn't believe that, did you? Not in the NFC East.
Now, the Giants are clinging to a one game lead after their typical November struggles. The Redskins have the most exciting player in football, and the rest of the team has risen to back him, increasing their level of play and making them a threat every week. Dallas is only a game out of the wildcard, as the Romo - arrow spins back around to point towards "clutch". And the Eagles….well, the more things change, I suppose.
So, all four teams are alive. But what does that mean from here on out? Let's go down the list, and look where all four stand.
Philadelphia: Well, this should go quickly, at least. The Eagles could have been mathematically eliminated had the Giants been victorious Monday night; instead, they're hanging by a thread. They've decided Nick Foles is their man from here on out, as they try to figure out what a post-Michael Vick or post-Andy Reid team will look like. To win the division, not only would they have to win out – Tampa Bay, Cincinnati, Washington, and the Giants, all of which they'll be underdogs in – but they would need each of the other three teams in the division to lose their remaining games. A single win by any of the three teams in the next three weeks would officially end the Eagles season, with the exception of a necessary Redskins win over Dallas in week 17. Suffice it to say it's already time for Eagles fans to be busting out their lists of prospects for the 2013 NFL draft, in between booing fits. Odds of winning the division: somewhere around 1 in 200, and I'm being generous.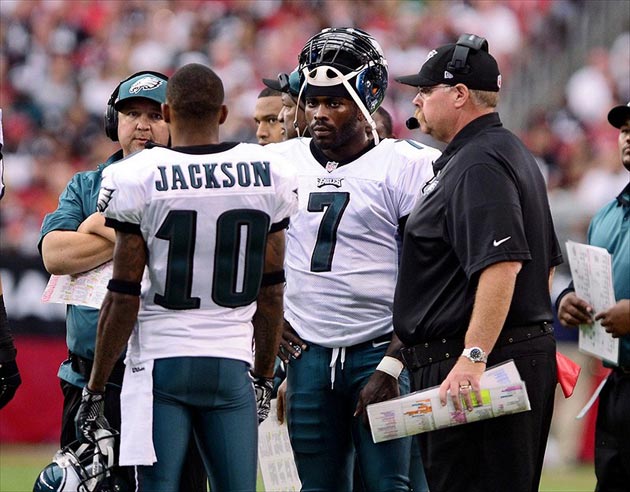 ---
Dallas: America's Team gets written off every week, only to come back strong the next. The loss to the Redskins on Thanksgiving Day led people to write the team's obituary, and then a win over the Eagles this week led them to point to the standings, and note that they were only a game out of first place! Now they've got DeMarco Murray back, too, which will be a huge help from here on out, having missed him since early October – and that immediately paid dividends, as it's clear the team just works better with him rather than Felix Jones toting the rock. There's a level of physicality the team just was missing, and they'll need that the rest of the way. To win the division, they'll probably have to win out, and next week's matchup in Cincinnati will be tough - -not to mention Week 17's rematch of their Thanksgiving turkey. That game in Washington might be for everything – the division, a wildcard berth, you name it. But the Cowboys players probably are still having nightmares of RGIII dancing past them – a thorn that's likely to stick in their side for years to come. Odds of winning the division? I'd put it somewhere around 1 in 4, as they're going to have to go into Washington, in what's likely to be a playoff atmosphere, and pull out a win. Just for the playoffs? A little higher – maybe 3 in 10, given the chance of a Seahawks collapse. Still, that game in Washington could really determine the Cowboys season.
Redskins: After being left for dead, the Skins have rattled off three straight in-division victories, an impressive feat no matter WHO you are. It's not just RGIII, either – the entire team has raised their level of play from that start. Alfred Morris would be a rookie of the year candidate in a year when his quarterback peers were mortals and not apparently some sort of super-perfect breed. Pierre Garcon's Redskins are 5-1 – he's missed so much of the season with foot trouble, but now that he's back and performing, the passing game has opened up. The big question is whether or not the Redskins dug themselves too deep a whole with their rotten start. Their remaining schedule is certainly doable – Baltimore just lost to a Charlie Batch-led Steelers team, Cleveland is improved but still bad, and then they close with the divisional pair of doomed Philadelphia and the Dallas team they demolished on national television. Further good news: in a tie with New York, Washington will likely have the division tiebreaker, as the Giants have already lost three games in the division. Don't get too excited – it's still a longshot; say, 1 in 4 of them winning the division, and 1 in 3 of them getting a playoff spot. But the way the team has responded after their poor start bodes well for seasons down the road – and three wins will more often than not get them into the dance.
Giants: And that leaves us with a team that defies description. Are the Giants the team that beat the Packers 38-10 and the 49ers 26-3? Or are they the team that got blown off the field by the Bengals? Will they continue one of their patented late season swoons, or not? I don't have the answers to those questions – only time will tell. What I can do is point to the two games that will decide the Giants fate, in weeks 15 and 16, when they go on a little road trip to Atlanta and Baltimore. A win in either of those two games will probably be enough to give them the division. That's going to be the proof of this team – can they go to a division leader in December and come home with a victory. If not, they might be watching helplessly on Sunday night in week 17, knowing that their fate is out of their own hands. But for now, at least, they're the only team with their destiny entirely in their own control – win out, and they've got the division, regardless. That's a powerful place to play from – they don't have to scoreboard watch yet, they just have to take care of business. They blew their chance to end this divisional fight in one blow, but they're still ahead on points. Give them a 1 in 2 chance of taking the division outright, and a 2 in 3 chance of at least holding on to a playoff spot. If they can't handle Flacco or Ryan, however – we might have yet another week 17 come with no idea what will happen in the always crazy NFC East.
---
What do you think?
We'd love to hear your comments and/or opinions. If you submit them here, other visitors can read them, rate them and comment on them. An e-mail address is not required.
---
From Who Will Win the NFL's NFC East Division to NFL Football Blog | Sports Blog | NCAA Football Blog | NFL Football Archives | College Football Archives | MLB Baseball Blog | College Baseball Blog | MLB Baseball Archives | NBA Basketball Blog | NCAA Basketball Blog | NBA Basketball Archives | NCAA Basketball Archives | Fantasy Football | Fantasy Basketball | Fantasy Baseball | Soccer Archives | Olympics Archives | Stupid Athletes Archives | Other Archives | Football Forum | Basketball Forum | Baseball Forum | Sports Trivia Questions | NFL Football Store | NBA Basketball Store | MLB Baseball Store | NCAA Football Store | NCAA Basketball Store | NCAA Baseball Store | Fatheads | NFL Football Tickets | NBA Basketball Tickets | MLB Baseball Tickets | NCAA Football Tickets | NCAA Basketball Tickets | NCAA Baseball Tickets |
---
Home Page
About Us | Contact Us | Site Search | Advertise | Terms of Use |
---