Who Should Run College Football?
Most sports commentary is inherently reactionary. We are always reacting to events in sports and commenting on those events. Should the Cardinals have let Albert Pujols become a free agent? Why did NFL owners push for a lockout? All that is well and good but sometimes it is incomplete. It is one thing to bash the BCS system as a failure (it is) and attack the Fiesta Bowl's embarrassing corruption but without exploring the future of the sport and offering a viable alternative, such criticism has little value. So, knowing that, I want to look to the future and discuss the future. Which organization should run college football and what changes should that organization make to the current system?
College football's systematic issues are endemic and complicated. Many fans have forgotten but the BCS system was actually implemented to simplify a very convoluted polling and bowl selection system. At the time, teams were ranked by a number of different polls and, amidst bitter disagreement, bowls were largely free to select the team's they wanted in their game. As a result, certain teams always went to bowl games and many deserving schools came up empty, which led to constant calls for an organization with the power to organize the weekly rankings and select bowl teams.
The BCS failed (and continues to fail) college football because it has power but lacks transparency. The BCS organization uses the power delegated to it to rank schools unilaterally using a combination of questionable computer and human rankings. This system inherently leads to questions and dissatisfaction but the BCS continually insists that it is college football's sole arbiter. More importantly, BCS officials refuse to add transparency to any of their rankings systems or to bowl selection, which leaves both teams and fans even more dissatisfied than they were with the old system. Under the old system, rankings and selections were unfair but they were also haphazard and disparate; the BCS keeps the arbitrary unfairness but uses its power to shove it down fan's throats annually. Therefore, the BCS system is not better than the alternatives available; it needs to be changed. Here is how: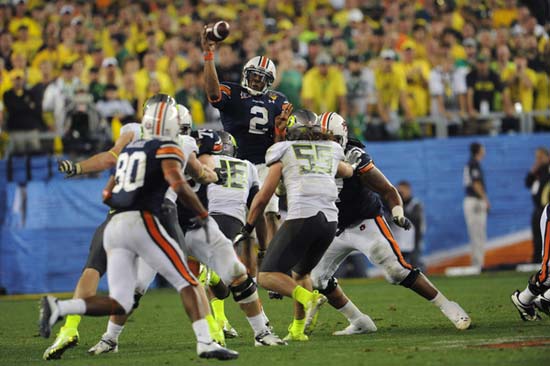 Auburn Tigers QB Cameron Newton (2) passes over the line of scrimmage during the Oregon Ducks game versus the Auburn Tigers in the BCS Championship Game at University of Phoenix Stadium in Glendale, AZ.
---
As complicated as college football's problems are, the available solutions are both simple and 'battle-tested.' First, the BCS should be eliminated because the corruption that its absolute control of the system generates is unacceptable. This last point is critical: no one knows if the BCS itself is corrupt but that doesn't really matter. As the recent Fiesta Bowl corruption findings demonstrate, the BCS Bowls (the Fiesta, Orange, Sugar, Rose, and the BCS National Championship) appear to be corrupt and that corruption is protected by the BCS' power over the sport and utter lack of transparency. The NCAA should replace the BCS as college football's primary controlling body. The NCAA's work with college basketball attests to its ability to run college sports very effectively; college basketball's weekly rankings are fairer, the sport's ratings have never been higher, and the success of the March Madness tournament has resulted in hundreds of millions of dollars more in advertisement and sponsorship revenue than college football's BCS-implemented system.
With the NCAA in charge of college football, the way will be clear to implement a more transparent rankings system and a playoff tournament. However, unlike what many BCS advocates like to argue, a college football playoff system would not need to be a copy of college basketball's March Madness. In fact, the new system could incorporate the bowls into the playoffs. Consider this potential option: the top 32 teams in the nation based on the final weekly rankings (which would allow for the AP Top 25 plus a few potential sleeper teams to spice up the action) would play in a playoff tournament. Each tournament game would be a bowl game and, as teams advanced, they would play in more important bowls. The Final Four teams would play in the Rose Bowl, Orange Bowl, Sugar Bowl, or Fiesta Bowl and then the Final two teams would play in the College Football National Championship.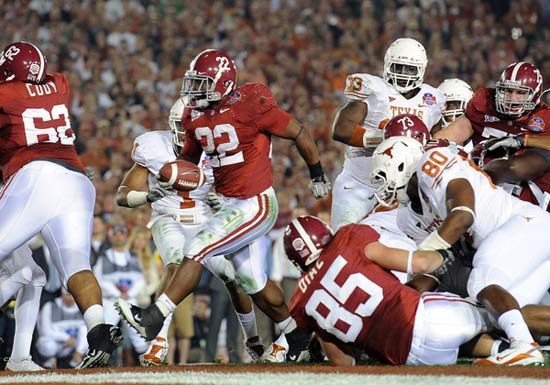 Alabama RB Mark Ingram (#22) scores on a 2-yard touchdown run in the 2nd quarter during the Texas Longhorns game versus the Alabama Crimson Tide in the Citi BCS National Championship Game at the Rose Bowl in Pasadena, CA.
---
A playoff system of this type would involve five games for the National Champions. It could be played over a month (with one round per weekend leading up to the National Championship). Although five games seems to be a lot at first glance, college football teams currently play only thirteen games. Eliminating two regular season games and adding a midseason bye week would be enough to accommodate the change.
Can you imagine the potential success of a month-long, merit-based, college football tournament, which actually incorporated the fun and pomp of bowl games? For fans, it would be an amazing experience; fans would be able to cheer on their favorite teams all season and hope for the best instead of giving up on national championship hopes after a week four loss. For networks, schools, and the NCAA, the potential revenue would dwarf that provided by the current system, which emphasizes bowl games and marginalizes all others. Sure, this theory needs polish and it would take time to get used to but the changes would undoubtedly end up having a very positive effect. Besides, fans want a playoff so, instead of continuing to defend a corrupt system that no one likes or appreciates, why not give the fans what they want for once? How about that for a sports philosophy?
---
What do you think?
We'd love to hear your comments and/or opinions. If you submit them here, other visitors can read them, rate them and comment on them. An e-mail address is not required.
---
From Who Should Run College Football to NCAA Football Blog | Sports Blog | NFL Football Blog | NFL Football Archives | College Football Archives | MLB Baseball Blog | College Baseball Blog | MLB Baseball Archives | NBA Basketball Blog | NCAA Basketball Blog | NBA Basketball Archives | NCAA Basketball Archives | Fantasy Football | Fantasy Basketball | Fantasy Baseball | Soccer Archives | Olympics Archives | Stupid Athletes Archives | Other Archives | Football Forum | Basketball Forum | Baseball Forum | NFL Football Store | NBA Basketball Store | MLB Baseball Store | NCAA Football Store | NCAA Basketball Store | NCAA Baseball Store | Fatheads | NFL Football Tickets | NBA Basketball Tickets | MLB Baseball Tickets | NCAA Football Tickets | NCAA Basketball Tickets | NCAA Baseball Tickets |
---
Home Page
About Us | Contact Us | Site Search | Advertise | Terms of Use |
---