Who Replaces LeBron?
By Dennis Berry

LeBron James finally got the monkey off of his back. He can no longer be called the best player in the NBA to not win a title. That title can finally go to someone else.

The question is who?

It is a list that players do not want to end up on. All players want to win a title before their career is over. For some players it takes a longer time in their career to make a championship a priority, as compared to getting paid.
Not winning a title does not mean that you were not one of the best to play the game. Some of the all-time greats never won a NBA Title; Elgin Baylor, Dominique Wilkins, George Gervin, Charles Barkley, Patrick Ewing, and Karl Malone come to mind. These are all great players with no championship ring in their possession.

Here is our list of the best current players to not win a title:

10. Joe Johnson – Career Avg 17.8 points, 4.2 rebound, and 4.4 assists

His career began in Boston, but after 48 games he was traded to Phoenix. There he was an important part of the Suns' success. After the 2004-05 season he signed off with the Atlanta Hawks. His first five years in Atlanta he averaged at least 20 points a game and became one of the best scorers in the NBA.

The problem for Johnson – and the Hawks – is their lack of success in the playoffs. While Johnson has been in Atlanta they have not advanced past the conference semi-finals. Johnson's scoring has also dropped off in the playoffs as well.

Another dilemma for Johnson is the fact that he is entering the late stages of his career. The 2011-12 season was his 11th year in the NBA. If he wants a title, he will probably have to leave Atlanta to get it.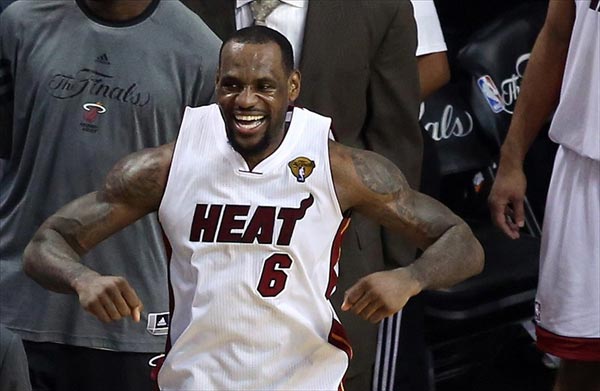 9. Deron Williams – Career Avg 17.6 points, 9.2 assists, and 1.1 steals

The three-time All-Star began his career in Utah and was seen as the replacement to John Stockton. It was not until his second season that he became a full time starter. That year Williams averaged 16.2 points and 9.3 assists a game and the Jazz made it to the conference finals.

Williams would lead Utah to the playoffs the following three years, then was traded to New Jersey in 2011. He has been the face of the Nets since the trade. This past season he averaged 21 points and 8.7 assists.

Now the question will be where will he end up? It appears he will land in either Dallas or move with the Nets to Brooklyn. He may have a better chance at winning a championship in Dallas, unless the Nets are able to acquire Dwight Howard to pair with Williams.

8. Kevin Love – Career Avg 17.3 points, 12 rebounds, and 46% FG

He just completed his fourth year in the NBA. That year may have been his best yet.

Love averaged 26 points and 12 rebounds a game. In the 55 games he played this season, he recorded a double-double in 48 of them. For that, he was named to his second straight All-Star game.

Love is the center piece of a young Timberwolves team. This year he signed a contract extension to keep him in Minnesota for the next four years. The Timberwolves are still missing a couple of pieces, but the parts are there to turn them into title contenders.

7. Amar'e Stoudemire - Career Avg 21.6 points, 8.8 rebounds, and 53% FG

The first of two New York Knicks on the list is Stoudemire. He came to the NBA out of high school and has been one of the best low post scorers during that time.

He best chance to win a title came in the mid 2000's in Phoenix. As a member of the Suns he played in two conference semi-finals. Much of Stoudemire's success came from being paired with Steve Nash.

In 2010 the six time All-Star signed with the New York Knicks. In his first year he averaged 25.3 points, 8.2 rebounds while shooting 50% from the floor. This past season he was hampered by injuries and struggled on the court averaging below 20 points a game in a full season for the first time since his rookie season.

6. Steve Nash – Career Avg 14.5 points, 8.6 assists, 49% FG, and 43% 3FG

Steve Nash is one of the best point guards in the history of the NBA. He is an eight time All-Star, three time All-NBA first team, and won two NBA MVP awards.

Yet he does not have a NBA title on his resume. His best chance at a title came in the mid 2000's when Phoenix was out-gunning everybody in the NBA. Nash won his two MVP's directing the Suns' offense. The problem was that while Nash was leading the high scoring offense, their defense would cause them to be ousted from the playoffs.

Now after completing his 16th NBA season, what will Nash do? He could choose to stay in Phoenix or he could chase that title. The current NBA champions, the Miami Heat are reportedly interested in him. Of course, almost every team in the NBA would love to add him to their roster.

5. Chris Paul – Career Avg 18.8 points, 9.8 assists, and 2.4 steals

The five-time NBA All-Star has become arguably the best point guard in the NBA. Of course before the 2011-12 season the controversy surrounding Paul was his desire to no longer play in New Orleans. That led to a trade to the Lakers, which was vetoed by the NBA, before he finally ending up a Clipper. This paired Paul with one of the most exciting players in the NBA, Blake Griffin.

After a slow start to the season, Paul led the Clippers to the Playoffs. He averaged 19.8 points, 9.1 assists, and 2.5 rebounds. Once in the playoffs, Paul led the Clippers to just the second playoff series win since moving to Los Angeles.

Paul is entering the prime of his career. The Clippers still have to make some adjustments to their roster to become title contenders and keep Paul past next season.

4. Derrick Rose – Career Avg 21 points, 6.8 assists, and 3.8 rebounds

The 2011-12 season is one that Rose would like to forget. He only appeared in 39 games during the regular season. Then in the Chicago opening round playoff game, Rose tore his ACL.

The year before this happened, Rose was a NBA MVP. He averaged 25 points, 7.7 assists, 4.1 rebounds, and 1.1 steals a game. It was during that MVP season that Rose showcased the skill set that made him the top pick in the 2008 NBA Draft.

There will be concerns over Rose until he proves that he has fully recovered from his injury. The Bulls have a talented young team that has had the best record in the Eastern Conference the past two years.

3. Kevin Durant – Career Avg 26.3 points, 6.6 assists, and 47% FG

Kevin Durant and the Oklahoma City may have lost the 2012 NBA Finals, but it will not be their last time there...not when you have a superstar with the talent level of Durant.

Durant may be the best shooter in the league. His skills were on full display in the finals when he averaged 30.6 points a game, 54% shooting from the field, and 39% from three. In the Thunder's game one win, Durant had 36 points and scored 17 points in the fourth quarter to lead his team.

2011-12 was a breakout year for Durant. He won his third straight scoring title and was the All-Star game MVP. If Oklahoma City can find a way to keep its young core of players together, it is only a matter of time before Durant is off this list.

2. Dwight Howard – Career Avg 18.4 points, 13 rebounds, 2.2 blocks, and 58% FG

Howard was one of the last high school players to make the jump into the NBA. Since coming into the NBA he has been to six All-Star games, named to five All-NBA First Teams, and won three NBA Defensive Player of the Year awards.

There is no question that he has the ability to be the best young player in the league. Yet, Howard is still maturing. In his time in Orlando the past few seasons, there have been more reports of wanting to be traded and clashes with former coach, Stan Van Gundy.

The 2011-12 season ended after 54 games with a back injury. It is unknown if it will be his last season in Orlando. There are reports that Howard wants to go to Brooklyn and play with Deron Williams. If that happens, the Nets will have the core pieces to build a championship team.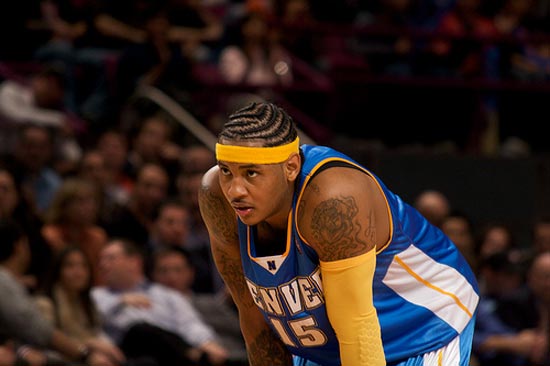 1. Carmelo Anthony – Career Avg – 24.7 points, 6.3 rebounds, 3.1 assists, and 46% FG

Carmelo Anthony may be the best scorer in the NBA today. He has averaged at least 20 points a game every year he has been in the NBA. This past season he averaged 22.6 points a game.

The problem for Anthony is his lack of success in the playoffs. He has made the playoffs every year he has been in the NBA, but only made it past the first round once. That was in 2009 when he was in Denver and lost to the Lakers in the conference finals.

Since being traded to New York, the Knicks got swept by Boston in the 2011 playoffs and lost to Miami 4-1 this year. The lack of his playoffs' success looks even worse on Anthony because he was in the same draft as LeBron James, Chris Bosh, and Dwyane Wade,

If Anthony is going to get his name off this list, two things have to happen. First, the Knicks have to improve the roster and get Anthony some help. Second, Anthony has to learn to become a better team player and trust his teammates more.

Here's our What We Learned from the 2012 NBA Finals.


What do you think?

We'd love to hear your comments and/or opinions. If you submit them here, other visitors can read them, rate them and comment on them. An e-mail address is not required.