Who is Better: The Chicago Bulls or Miami Heat?
Bulls or Heat? It's the question that dominates the NBA landscape, which Eastern Conference power is the best team in basketball?
Chicago and Miami are both exceptional teams but they are very, very different. In fact, their difference accentuates their rivalry. The Bulls are defined by depth, defense, and no-nonsense consistency. The Heat are defined by talent, super-stars, and questions about their ability to live up to the hype and win a championship.

But which team is better?

The Miami Heat are the more talented team. The trio of LeBron James, Dwayne Wade, and Chris Bosh is the best grouping of basketball stars since Magic Johnson, Kareem Abdul Jabbar, and James Worthy rules Los Angeles in the 1980s. James and Wade provide both elite scoring and distribution, Bosh provides finesse in the paint, and all three help anchor an exceptional defense. Now that all three are learning to share the basketball, the Heat have more potential than any other basketball team.

But the Chicago Bulls are just so solid. They have the best record in the NBA. They have stars, role playing starters, and bench players by the bucketful; in fact their rotation is legitimately 12-deep. Chicago can defeat mediocre teams with its bench players and recently embarrassed Orlando without both Derrick Rose and Luol Deng. In an abbreviated season with a crunched playoff schedule, that depth and consistency will really come in handy.

Their individual players may not rival the Heat's stars but they are great fits for the Bulls team. super star, Derrick Rose, is the NBA's best point guard. Their small forward, Luol Deng, is a team leader who anchors basketball's best defense. Joakim Noah is one of the NBA's toughest centers. And Omer Asik, the Bulls' best frontcourt reserve, is the best NBA player you have never heard of"¦yet.

Barring a colossal upset, the Bulls will face the Heat in the NBA Eastern Conference Finals. How do the two teams match up? Last year, the Heat won that same series 4-1. But the games were closer than that 4-1 box score entails: the Bulls should have won game three, were right there at the end of game 4, and lost game 5 because of a truly awful meltdown. Chicago lost due to a mix of bad luck, poor shooting, and an inability to close in big moments.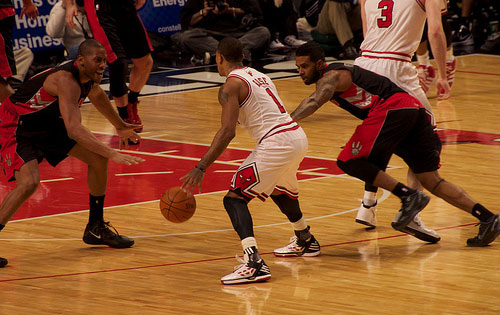 Thanks to Wahooo from Flickr.com for this great picture of Chicago Bulls.


Since last year, Chicago has improved in several areas. The Bulls added wing depth with Richard Hamilton and Jimmy Butler. They now have a competent backup point, John Lucas III. They can put more shooters on the floor. Most important, the Bulls have finished games better this season and look like an older, more mature team with exceptional chemistry. But Miami has improved as well, which will make for a compelling series. LeBron James is the undisputed league MVP and now the Heat's alpha dog. Chris Bosh is thriving as the primary post option. Critically, the Heat added a bench with Mario Chalmers, Norris Cole, and UdonisHaslem all playing well in reserve. So, they won't have Chicago's enviable depth but their incredible star power may make up for it.

So, who is better? It's all in what you favor: talent or consistency.


What do you think?

We'd love to hear your comments and/or opinions. If you submit them here, other visitors can read them, rate them and comment on them. An e-mail address is not required.