Who Are The Three Best Drafting GMs in Basketball?
There are a lot of very good General Managers in basketball. Daryl Morey (Rockets), Donnie Walsh (Knicks), Sam Presti (Thunder), Mitch Kupchak (Lakers); plenty of names come to mind. However, there are far fewer GMs who can be considered "elite drafters." What that means is that, over their tenure as GM, they have selected at least 2-3 star players and a number of solid contributors. While not an exhaustive analysis, I wanted to take a look at the three best drafting GMs in the sport over the last four seasons (2007-10). They are:
Oklahoma City Thunder's Sam Presti:
There is not all that much debate about this choice. Since taking over the abysmal Seattle Supersonics in 2007, Presti has turned them into the best young team in the league. Even more impressive, he did it exclusively through trades and the draft. In 2007, Presti sent ageing All Star Ray Allen to the Celtics in exchange for the pick used to select forward Jeff Green (the team's current third best player) and Rashard Lewis to Magic in a trade that ultimately produced two first round picks from the Phoenix Suns. He then drafted current MVP candidate forward Kevin Durant with the second overall pick in the 2007 draft and began creating the nucleus of a team that could dominate the league in future years. In 2008, he surprised many draft analysts by adding guard Russell Westbrook (whose talent was undeniable but underperformed at UCLA) but Westbrook has since become one of the top guards in the NBA and the ideal partner for Kevin Durant. Finally, Presti added exceptional defensive guard Thabo Sefolosha and power forward Serge Ibaka (now a key member of the rotation) in 2008, emerging guard James Harden (a late bloomer but one capable of dominating the position in future years), and center project Cole Aldrich in 2010. Overall, Presti has not had a "bust" pick in his four seasons as the Thunder's GM and the team is poised to dominate the Western Conference for years to come.
Chicago Bulls' John Paxson:
Many, many readers will undoubtedly consider this a very odd choice. However, John Paxson's drafting history speaks for itself. In 2010, the Bulls did not have a draft pick but that was only because they traded it to find enough cap room to sign power forward Carlos Boozer (playing at an all star level), three point specialist Kyle Korver, and shooting guard Ronnie Brewer. In 2009, the Bulls drafted small forward James Johnson (who still has a lot of potential) and current sixth man power forward Taj Gibson (the team's current sixth man). These picks were very solid, if unspectacular moves. However, the Bulls also drafted star point guard Derrick Rose in 2008. It is for this pick that Paxson soars up the list of best drafting GMs. While Paxson had the first overall pick so Rose was hardly a steal, he make the difficult decision to draft Rose over power forward Michael Beasley. Beasley was considered the best scorer in college basketball (averaging over 25 points and 10 rebounds per game) and was the consensus number one overall pick in the draft for most of the year. However, Paxson recognized that the Bulls needed a new franchise leader and Rose, with his incredible skills, athleticism, and charisma, fit the bill. Since then, Rose has become one of the NBA's best players and has led the new look Bulls to a likely high playoff berth this season. Combined with his selection of tough center Joakim Noah in 2007, these picks make Paxson one of the best three drafters of the past three seasons.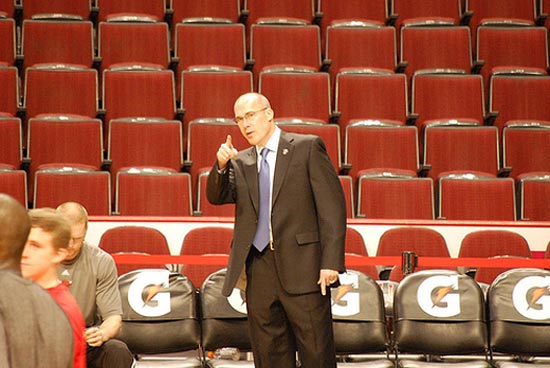 Thanks to Andy Hanacek from Flikr.com for this great picture of Chicago Bulls' GM John Paxson.
---
San Antonio Spurs' R.C. Buford:
R.C. Buford is probably the best drafter in the NBA. Buford, the Spurs GM since 2002, trained the Thunder's Sam Presti and has found more deep sleepers than any other GM in the sport's history. However, because his team has not had a high pick in the last four seasons, he has been unable to land a slam, dunk, elite talent. Nonetheless, despite this limitation, Buford has consistently added important pieces in each draft that have helped contribute to the Spurs' annual playoff runs. In 2007, he used the 28th overall pick to draft talented center Tiago Splitter. Buford knew Splitter was talented enough to possibly succeed Hall of Famer Tim Duncan and drafted him despite the fact that Splitter was under contract through 2009. After waiting patiently, Buford got a chance to see Splitter come over and become an integral part of the Spurs' success this season. In the meantime, he added guard George Hill (the team's current sixth man) with the 26th overall pick in 2008, power forward DeJuan Blair (a beast on the boards) in the 2009 2nd Round, and shooting guard James Anderson (the team's future starter at the position) in 2010. Because of his ability to find and draft talent with low level picks, Buford has kept the Spurs elite as their stars age and he deserves recognition for this achievement.
Of course, there are a number of other GMs in the league with strong drafting records. If you have an argument for one of them, be sure to start up a Forum topic about it!
---
---
What do you think?

We'd love to hear your comments and/or opinions. If you submit them here, other visitors can read them, rate them and comment on them. An e-mail address is not required.
---
From Who Are The Three Best Drafting GMs in Basketball to NBA Basketball Blog | Sports Blog | NFL Football Blog | NCAA Football Blog | NFL Football Archives | College Football Archives | MLB Baseball Blog | College Baseball Blog | MLB Baseball Archives | NCAA Basketball Blog | NBA Basketball Archives | NCAA Basketball Archives | Fantasy Football | Fantasy Basketball | Fantasy Baseball | Soccer Archives | Olympics Archives | Stupid Athletes Archives | Other Archives | Football Forum | Basketball Forum | Baseball Forum | NFL Football Store | NBA Basketball Store | MLB Baseball Store | NCAA Football Store | NCAA Basketball Store | NCAA Baseball Store | Fatheads | NFL Football Tickets | NBA Basketball Tickets | MLB Baseball Tickets | NCAA Football Tickets | NCAA Basketball Tickets | NCAA Baseball Tickets |
---
Home Page
About Us | Contact Us | Site Search | Advertise | Terms of Use |
---