Which School Should Become the SEC's 14th Member?
By Paul Grossinger
Texas A&M is now the newest member of the Southeastern Conference (SEC). Unlucky number 13, insists fellow Big Twelve member Baylor University, which is suing Texas A&M to prevent its departure. But, legal quibbles aside, the school's move is inevitable so now it's time to ask: who will be the SEC's 14th member?
The SEC has become the Golden Goose of college football. Overall, its teams are the best. SEC schools have won the past five National Championships. As such, the conference has no shortage of would be members. In fact, there are at least ten schools from the ACC, Big Twelve, Big Ten, and Big East that would love to join the SEC. Saturday Down South has done an excellent job covering all ten of those possibilities so, if you are interested in the full list, check it out here: Southeastern Conference Expansion Sec 14 Team. However, the SEC is a very selective conference so most of these schools have little more than a prayer. The SEC's real choice for lucky number fourteen will need three things: a winning pedigree, a strong recruiting ground, and a large television base. What three teams best fit those criteria?
The three "available" schools that best fit the SEC's selection criteria are Oklahoma, Missouri, and Florida State. Those three names may surprise some but they each make sense for different reasons.
Oklahoma is a college football gorilla and, while it was once content to be a shark in the Big Twelve, it may look to join the BCS' golden conference. Winning against SEC competition would earn the school regular national title game appearances. Unlike most other schools, Oklahoma has the players, recruiting base, and resources to do that on a consistent basis. Plus, for good measure, the school could create compelling rivalries with the best competition in the nation"¦and rabid fan bases like Alabama and LSU.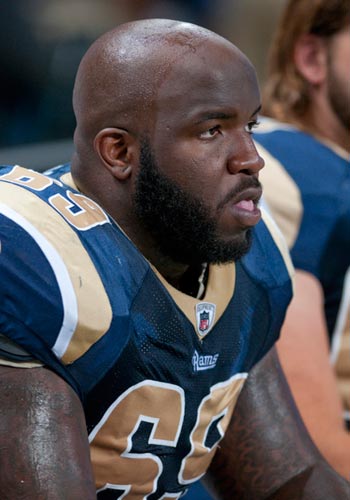 St. Louis Rams offensive tackle Quinn Ojinnaka (69). The St. Louis Rams defeated the Tennessee Titans 17-16 in a pre-season football game at the Edward Jones Dome in downtown St. Louis, Missouri on Saturday August 20, 2011.
---
However, the Sooners may be a better fit for the Pac 12. Texas wants to move there and create a rivalry with USC. Oklahoma and Texas' rivalry is the nexus of college football so abandoning Texas would be a bad move for the Sooners. For all the SEC's benefits, and Oklahoma's ability to contribute to the conference in a positive way, the school is more likely to end up playing in SoCal than Tallahassee.
Missouri may be the best natural fit for the SEC. The Tigers have a strong recruiting base in Missouri, a winning pedigree that includes a BCS bowl trip in the last half decade, and a strong television base in their home state and the surrounding area. Missouri is not "football land" like much of the SEC's home territory but the school's fans are respectably committed. The Tigers would be a strong addition for the SEC if they cannot land a true whale like Oklahoma or Texas.
Florida State is the most intriguing option. FSU's ties to the ACC are strong. But, some of its best rivalries, including its three-decade long battle with Miami, have been cheapened in recent years. Developing an inter-state, inter-conference rivalry with Florida would add great drama to the school's calendar. Most importantly, the SEC's competition level is higher than the ACC's. FSU, which is rising out of the ashes to become a football powerhouse once again, may want to play the best competition year in and year out in order to get regular national championship berths.
So, which school will become the SEC's 14th program? Who knows? It's impossible to say but be sure to watch: the way college football is realigning, your school might be next!
---
What do you think?
We'd love to hear your comments and/or opinions. If you submit them here, other visitors can read them, rate them and comment on them. An e-mail address is not required.
What Other Visitors Have Said
Click below to see contributions from other visitors to this page...

---
From Which School Should Become the SEC's 14th Member to NCAA Football Blog | Sports Blog | NFL Football Blog | NFL Football Archives | College Football Archives | MLB Baseball Blog | College Baseball Blog | MLB Baseball Archives | NBA Basketball Blog | NCAA Basketball Blog | NBA Basketball Archives | NCAA Basketball Archives | Fantasy Football | Fantasy Basketball | Fantasy Baseball | Soccer Archives | Olympics Archives | Stupid Athletes Archives | Other Archives | Football Forum | Basketball Forum | Baseball Forum | NFL Football Store | NBA Basketball Store | MLB Baseball Store | NCAA Football Store | NCAA Basketball Store | NCAA Baseball Store | Fatheads | NFL Football Tickets | NBA Basketball Tickets | MLB Baseball Tickets | NCAA Football Tickets | NCAA Basketball Tickets | NCAA Baseball Tickets |
---
Home Page
About Us | Contact Us | Site Search | Advertise | Terms of Use |
---