Where Will Dwight Howard Play Next Season?
So here we go again…another offseason of wondering where Dwight Howard will play next year. Last off-season was tough for Orlando to trade him because they only had a little over a month to get everything in order and decide what to do with Dwight Howard: trade him, agree to an extension, or see how the season turns out and decide something by the trade deadline. As the NBA Trade Deadline 2012 came, the Magic and Dwight Howard agreed to a 1-year extension creating even more confusion throughout the NBA. A few days later, there was a report that Dwight Howard wanted Head Coach Stan Van Gundy fired, which created on of the most awkward press conferences in history of the NBA.
A few weeks later, Dwight Howard's 2012-year came to an end as he was forced to undergo back surgery and miss the rest of the season. The Magic did eventually make the playoffs but were ousted by the Pacers in 5 games and not surprisingly a few days later, both GM Otis Smith and Stan Van Gundy were let go by the Magic, leading to a whole new management team in Orlando. The Magic have a few key questions they have to address during the 2012 offseason which include: who will the Magic hire as there GM and Coach? Will Dwight Howard be traded during the off-season? If he is traded where will he be traded during the offseason? If he's not traded during the offseason, will he be traded during the season, or will the Magic allow for him to become a Free Agent during the 2013 offseason.
In my opinion, I feel the Magic will finally throw in the towel and trade Dwight Howard this offseason for a few reasons. One, this is a different offseason from last year as now the Magic can discuss offseason trade ideas with all 29 other teams from now until the start of the NBA Season in about 5 months. Second, the Orlando Magic will soon have a new General Manager and I feel will want to completely start over the rebuilding process in Orlando. I feel whomever becomes the new GM in Orlando will look at how both the Nuggets (with Carmelo Anthony) and the Hornets (with Chris Paul) handled their situations and will try and emulate how they handled their situations.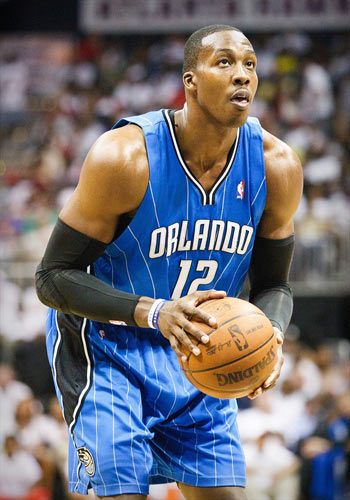 Orlando's Dwight Howard in Eastern Conference Semi-Finals Atlanta Hawks 105-75 loss to the Orlando Magic in Game 3 at Philips Arena in Atlanta, GA.
---
So the big question. Do I feel Dwight Howard will be traded…Yes. However a few things have to happen before he is traded. For one, I feel every team needs to make sure Dwight Howard is healthy, as at the end of the season he had to undergo a back procedure. If he checks out, and everything looks good, then I feel this process will move quickly (just like the Chris Paul situation).
And now the next biggest question: Where will he go? I feel in the end the Nets will get the player that they've always wanted and will pair him with Deron Williams (whom I feel will resign with the Nets a few months into Free Agency) in Brooklyn. I feel the Magic will eventually accept a trade that will include Brook Lopez (sign and trade), Marshon Brooks, and the Nets 2013 and 2014 First Round Picks. I feel the Magic are finally starting to realize that they need to start over and rebuild this team from the start up. In addition to trading Howard, the Magic need to make sure they include eithorHedoTurkoglu's contract or the contract's of Jameer Nelson and Quintin Richardson. This will help the rebuilding era begin that much sooner.
---
---
What do you think?

We'd love to hear your comments and/or opinions. If you submit them here, other visitors can read them, rate them and comment on them. An e-mail address is not required.
---
From Where Will Dwight Howard Play Next Season to NBA Basketball Blog | Sports Blog | NFL Football Blog | NCAA Football Blog | NFL Football Archives | College Football Archives | MLB Baseball Blog | College Baseball Blog | MLB Baseball Archives | NCAA Basketball Blog | NBA Basketball Archives | NCAA Basketball Archives | Fantasy Football | Fantasy Basketball | Fantasy Baseball | Soccer Archives | Olympics Archives | Stupid Athletes Archives | Other Archives | Football Forum | Basketball Forum | Baseball Forum | NFL Football Store | NBA Basketball Store | MLB Baseball Store | NCAA Football Store | NCAA Basketball Store | NCAA Baseball Store | Fatheads | NFL Football Tickets | NBA Basketball Tickets | MLB Baseball Tickets | NCAA Football Tickets | NCAA Basketball Tickets | NCAA Baseball Tickets |
---
Home Page
About Us | Contact Us | Site Search | Advertise | Terms of Use |
---