What Should Tyrann Mathieu Do Now?
The SEC has been among one of the best conferences in college football for years and will remain that way. Each university reloads with talent every year, whether it is incoming freshmen or transfers. Sometimes star players arise during the season that weren't highly touted recruits. One such player is Tyrann Mathieu of LSU.
Mathieu jumped on to the scene last year as a good cover corner and fantastic return man for the Tigers. He even made such a big impact that he was a Heisman Trophy finalist. So how does a player with so much promise and talent fall so fast in less than a year? Off the field issues.
Mathieu was suspended one game last season because of allegedly testing positive for marijuana for a second time. LSU has made a statement saying Mathieu cannot return to the football team at any time; but head coach Les Miles was singing a different tune and hasn't ruled out a return of his star defensive player in 2013. According to the report in the USA TODAY, a player is "permanently ineligible" after a third violation of a drug test. To my understanding Mathieu has a few options heading into the fall: he can sit out the upcoming season if he transfers to another FCS level school; he cantransfer to a lower level of football so he can play immediately; or Mathieu can enroll in classes at LSU in hopes he can return to play for the team in 2013. A representative from LSU has said there is no chance of Mathieu returning to the team, but others, including coach Miles have been very vague on that option.
The fact Mathieu has some options he should consider all of them thoroughly before making a decision. Let's start with staying at LSU. While he wasn't kicked out of school, Mathieu can enroll in classes this fall and attend the university that gave him a shot out of high school. The downfall is he may not play football again for the Tigers, which drops his stock in the NFL Draft. I'm not saying he can't make it to the NFL, but he'd be choosing a long and difficult road if he doesn't compete somewhere this season. He's a potential first- or second-round selection if he can get his head on straight and stay on the field. And So if he wants to be on the football field, remaining at LSU is the wrong choice. There is no reason to stay there because of such a slim chance of playing football in the purple and gold again.
And if, by some unforeseeable miracle, Miles gets Mathieu back on the team for the 2013, what kind of precedent does that set in college football? Not a good one in my opinion. College athletes have to balance classes, practice and game day, which probably isn't easy. But I'm sure they take a few cake classes to skate by. Again I'm not taking anything away from college athletes. Most don't become professional athletes and take their education very seriously. So if someone screws up multiple times – three in Mathieu's case – is it OK to just wipe it under the rug and let him back on the team after one year off? I say no, but what do I know.
Moving along…it has been reported that Mathieu has checked out McNeese State and could wreak havoc on offenses in the Southland Conference. The Cowboys would welcome a player of Mathieu's caliber, despite the off the field issues. McNeese State went 6-5 last year, but the addition of a playmaker on defense and special teams could definitely improve that record. Personally I think this is Mathieu's best option. He continues to play and stay in game shape. This has worked out just fine for other athletes in the past, most recently Heisman Trophy winner Cam Newton. Newton originally attended the University of Florida where he backed up Tim Tebow and was on track to take over as the Gators' quarterback. Unfortunately some legal trouble got Newton suspended from the team. He transferred to Blinn College and led them to the 2009 NJCAA National Championship.
After that it seemed like every university wanted Newton as he was recruited by many big-time universities. Newton settled on Auburn and led them to a National Championship. Now Newton is entering his second season in the NFL and is emerging as an impactful quarterback in the NFL. I'm not going out on a limb and say Mathieu could experience similar success, but think the NFL is still in his future if he plays his cards right. I'm sure there would be plenty of teams, especially in the SEC that would love to have Mathieu on the roster if he transfers to a junior college.Just imagine Mathieu in a Georgia Bulldogs uniform, returning kickoffs for touchdowns against LSU. Obliviously the Tigers don't want to see Mathieu go to a conference opponent, especially one that could take LSU out of the picture for the SEC West crown.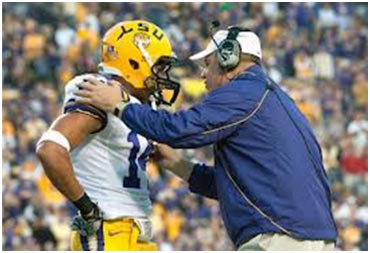 The last option Mathieu has is transferring to another school in FCS and sitting out there year. I say this isn't the best option for him either. If he sits out he may get out of game shape and make it difficult to make the squad as a starter in 2013. It also brings up the issue of Mathieu having so much free time he does something to get into trouble with the university.
The bottom line is if Mathieu wants to make it to the NFL someday, he has to be on the football field and get his act together off the field. Granted some players in the pros have legal issues (just look at Detroit's offseason woes) but if they don't perform on the field they won't get paid the big bucks. So if Tyrann Mathieu somehow reads this, take my advice. Go to a lower level college and kick some butt on the field. Stay out of trouble off the field and keep your eye on the prize: the NFL. As long as Mathieu is able to compete at a high level for the next two yearshe'll eventually find his way to the NFL and be a playmaker on special teams. If he can't stay out of trouble, Mathieu better be paying attention in some of his classes so he can get a job in the real world when his playing days are done.
---
What do you think?
We'd love to hear your comments and/or opinions. If you submit them here, other visitors can read them, rate them and comment on them. An e-mail address is not required.
---
From What Should Tyrann Mathieu Do Now to NCAA Football Blog | Sports Blog | NFL Football Blog | NFL Football Archives | College Football Archives | MLB Baseball Blog | College Baseball Blog | MLB Baseball Archives | NBA Basketball Blog | NCAA Basketball Blog | NBA Basketball Archives | NCAA Basketball Archives | Fantasy Football | Fantasy Basketball | Fantasy Baseball | Soccer Archives | Olympics Archives | Stupid Athletes Archives | Other Archives | Football Forum | Basketball Forum | Baseball Forum | NFL Football Store | NBA Basketball Store | MLB Baseball Store | NCAA Football Store | NCAA Basketball Store | NCAA Baseball Store | Fatheads | NFL Football Tickets | NBA Basketball Tickets | MLB Baseball Tickets | NCAA Football Tickets | NCAA Basketball Tickets | NCAA Baseball Tickets |
---
Home Page
About Us | Contact Us | Site Search | Advertise | Terms of Use |
---