What Makes SEC Football Teams the Best?
By Paul Grossinger
"Your new national champion: Auburn!" yelled the announcer following Auburn's nail-biting victory over Oregon last January. Alabama won in 2009, Florida in 2008 and 2006, and LSU in 2007. What do these teams have in common: they are all Southeastern Conference (SEC) powerhouses.
SEC dominance of big-time college football is hardly new. It's schools have won every national championship since 2006 and sent more teams to BCS bowl games than any other conference within that span. But, the question is, why exactly are SEC teams so much better than their rivals? The reasons are coaching, recruiting, and high-level competition.
The SEC's powerhouse schools employ the best coaches in the sport. If you stop and think to name the best coaches in the college game, the following names come to mind: Nick Saban, Les Miles, Mack Brown, and Bobby Petrino. All but Brown, the headman at the University of Texas, are employed by SEC schools. They have elevated their programs to exceptional levels: Nick Saban has built rebuilt Alabama around an exceptional defense into a perennial BCS championship contender, Les Miles took over from Saban in 2006 and parlayed his strong defensive tradition into the 2007 championship, and Bobby Petrino has created a vaunted offensive powerhouse at Arkansas.
SEC schools not only have the best coaches, they work hard to replace departed headmen with top-notch successors. Urban Meyer, the architect of Florida's two title teams, retired last year but the school hired college football's most exciting head coaching candidate, Will Muschamp, to replace him. His results have been exceptional up to this point. Auburn football let Tommy Tuberville go in 2008 but went out and hired hot shot recruiter and offensive mastermind Gene Chizik to replace him. Auburn is now the reigning BCS National Champion.
The SEC's top schools combine the best coaches with fertile recruiting grounds and aggressive, successful tactics. The Big Ten's home territory in the Midwest and rust-belt was once college football's most fertile recruiting ground but that has changed. Now, the south is America's football cradle. More than half of the country's best talent comes from the bible-belt states and most prefer to stay in the south. The region's unique culture and climate make the rest of the country seem far different and less appealing to southern high school players and the SEC's powerhouse programs aggressively protect their recruiting grounds. Collectively, they harvest nearly all the talent from their football producing home regions; the number of top southern football recruits who go to schools in other regions is essentially negligible.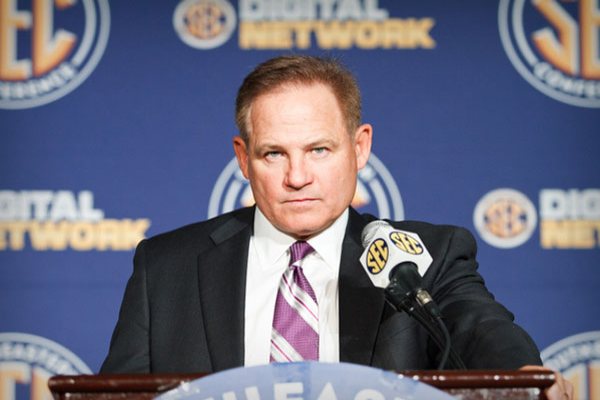 LSU coach Les Miles in SEC Media Days at Wynfrey Hotel in Hoover, AL.
---
The SEC's top programs also play against one another regularly and that converts top recruits into seasoned veterans. A look at this week's college football rankings reveals how important this is to creating a BCS championship team. As of week 5, #1 LSU has defeated #3 (at the time) Oregon, #25 Mississippi State, and #16 West Virginia. The Wisconsin Badgers, ranked fourth, had its best win this week against #15 Nebraska. Michigan football, which is undefeated at 5-0, counts its best win as a close victory over unranked Notre Dame. Spread over a twelve game season, that competition gap creates battered, toughened, veteran SEC teams that, more often than not, defeat their less seasoned opponents in the BCS bowls.
The mysterious formula for SEC success its complete: SEC schools combine the best coaches with the most talented recruits and the best constituent opportunities to become veteran football players. So, when it comes time to win championship games, the SEC's best teams are better coached, more talented, and more experienced than their opposition. Is it no wonder that they dominate the sport?
---
Here's our list of the Top SEC Football Schools.
What do you think?
We'd love to hear your comments and/or opinions. If you submit them here, other visitors can read them, rate them and comment on them. An e-mail address is not required.
---
From What Makes SEC Teams the Best to NCAA Football Blog | Sports Blog | NFL Football Blog | NFL Football Archives | College Football Archives | MLB Baseball Blog | College Baseball Blog | MLB Baseball Archives | NBA Basketball Blog | NCAA Basketball Blog | NBA Basketball Archives | NCAA Basketball Archives | Fantasy Football | Fantasy Basketball | Fantasy Baseball | Soccer Archives | Olympics Archives | Stupid Athletes Archives | Other Archives | Football Forum | Basketball Forum | Baseball Forum | NFL Football Store | NBA Basketball Store | MLB Baseball Store | NCAA Football Store | NCAA Basketball Store | NCAA Baseball Store | Fatheads | NFL Football Tickets | NBA Basketball Tickets | MLB Baseball Tickets | NCAA Football Tickets | NCAA Basketball Tickets | NCAA Baseball Tickets |
---
Home Page
About Us | Contact Us | Site Search | Advertise | Terms of Use |
---