What It Takes To Go From College To NBA?
The college to pro jump is huge. Everyone knows that. However, it is extremely difficult to pinpoint exactly which players will succeed and which ones will flame out as busts. Although no one, not even pro scouts, gets it right every time, there are a few key principles that can help every fan better understand what it takes to succeed in the pro game. After reading this, every fan will have at least a basic understanding of how scouts think about and evaluate college prospects. So, here is the list:
The One Skill:
A college player needs at least one above average (preferably elite) skill to perform well at the professional level. There are any number of these skills to choose from including, but not limited to, shooting, pure scoring, rebounding, stealing, on ball defense, zone defense, and leadership. The general rule of thumb is that if a college player demonstrates one of these skills at an elite level (or two or more at an above average level) they will be at least an effective role player in the league. Exhibit A would be Nets shooting guard Anthony Morrow; one of the best long distance shooters in the NBA who is an effective role player despite the fact that he has no other distinguishable skill. Starters need to possess at least two (preferably three or four) skills in abundance; for example Kirk Hinrich is a good NBA player because he is a capable shooter, defender, steal-creator, and leader but has limited offensive scoring ability and is not an elite producer in any category. Stars should, at least in theory, exercise every skill at an above average or elite level but in practice many NBA stars are sub-par leaders and defenders.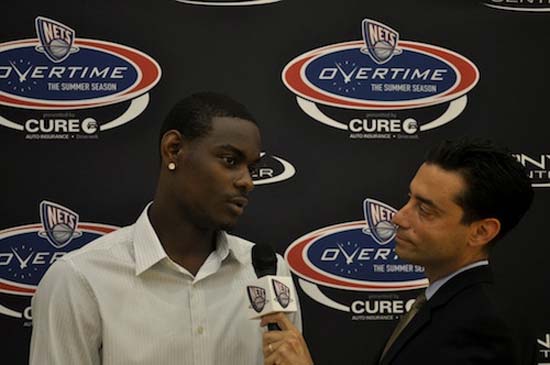 Chris Carrino Interviews Anthony Morrow at July, 2010.
Thanks NBANets at flickr.com for the picture.
---
The Talent and Athleticism Threshold:
The NBA is an increasingly explosive game driven by talent and athleticism. Even if a prospect is a good leader and a capable collegiate player, if he has limited talent and no athleticism or lateral quickness he will never be anything more than a useful bench player in the league. George Mikan might be a Hall of Famer but he would never survive in the 2010 NBA and scouts are always cognizant of this talent and athleticism threshold.
Here's an article about Derrick Rose Jersey
All Court Players are Perennially Underrated
There are a lot of players in the NBA who can score a lot of points. However, many of those same players are such poor defenders that they give up as many points as they score on the opposite end of the floor. That is why "stars" like Carlos Boozer and David Lee have negative plus-minus ratings: their defense is so poor that they can put up 20-10 and give up 25-15 on the other end! Therefore, teams constantly need strong defenders (even defenders without any other elite skills) to cover those players while they are on the floor or sub in for them in moments where capable defense is essential. Plus, if those same defenders have intangibles and can score as well, then they are almost locks to be stars in the league.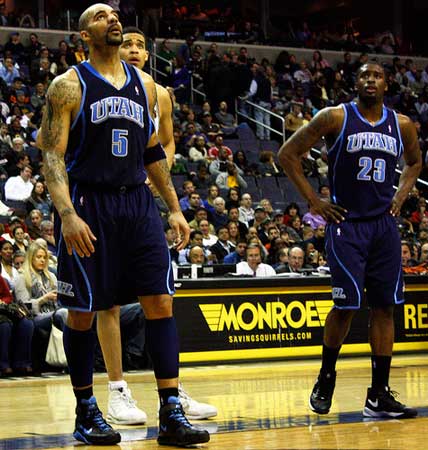 Carlos Boozer (left).
Thanks truthaboutit at flickr.com for the picture.
---
Certain Skills Cannot be Learned
This last point is likely the one that fans miss most. Evaluating a player is not just about the number of skills and positive attributes they have, it is the type of skills that matter. Poor long distance shooting, weak post play, not having an NBA body, and poor free throw shooting are all negative attributes that can be corrected by a dedicated drafting team. However, negatives like poor size, lack of coachability, and chronic off the court problems are often issues that scare teams away because the perception is that these are risky players with issues that cannot necessarily be corrected. This also extends to the positive side as well; one of the key reasons that Hasheem Thabeet was drafted second overall was because, in the words of one scout, 'you can't teach 7'3".'
Ultimately, it is hard to get in the heads of NBA scouts. Moreover, fans lack the resources to evaluate players at the level that NBA teams can. However, understanding these basic principles should go a long way towards helping fans evaluate players and decide for themselves who will be stars and who will be busts.
---
---
What do you think?
We'd love to hear your comments and/or opinions. If you submit them here, other visitors can read them, rate them and comment on them. An e-mail address is not required.
What Other Visitors Have Said
Click below to see contributions from other visitors to this page...

It Takes LUCK To Make It In The NBA Not rated yet
What does it take to get to the NBA? Are you kidding me!!! First, you have to be one of the most athletic individuals walking the face of the earth. Second, …
---
From What It Takes To Go From College To NBA to NBA Basketball Blog | Sports Blog | NFL Football Blog | NCAA Football Blog | NFL Football Archives | College Football Archives | MLB Baseball Blog | College Baseball Blog | MLB Baseball Archives | NCAA Basketball Blog | NBA Basketball Archives | NCAA Basketball Archives | Fantasy Football | Fantasy Basketball | Fantasy Baseball | Soccer Archives | Olympics Archives | Stupid Athletes Archives | Other Archives | Football Forum | Basketball Forum | Baseball Forum | NFL Football Store | NBA Basketball Store | MLB Baseball Store | NCAA Football Store | NCAA Basketball Store | NCAA Baseball Store | Fatheads | NFL Football Tickets | NBA Basketball Tickets | MLB Baseball Tickets | NCAA Football Tickets | NCAA Basketball Tickets | NCAA Baseball Tickets |
---
Home Page
About Us | Contact Us | Site Search | Advertise | Terms of Use |
---