What are the Consequences of NFL Bounty Programs?
By Paul Grossinger
Unless you have been hiding under a tree, you have read all about the NFL's investigation into the New Orleans Saints' bounty program under defensive coordinator Gregg Williams. What are the wide-ranging consequences of the violations' exposure for football?
From 2009-2011, Gregg Williams ran a "bounty" program, which consisted of a pool of money from himself and senior, defensive team leaders to incentivize players to put vicious hits on opponents in games and knock them out. The violations represent an egregious breach of the NFL's conduct policy under Roger Goodell, which emphasizes player safety and protecting the wholesome image of the game.
The program conjures up images of violent brutality, prison-like attacks, and disgusting gleeful joy in hurting fellow players. Worse, the exposure has and will shed light on similar programs, run by Williams at previous stops and similar defensive coordinators, which have peppered the game for many years. The consequences to the games' image could be disastrous.
Fans already know that football and its players are brutal. But they tend to desensitize themselves from the pure violence of the experience, embracing instead the feeling of pure, athletic competition the game inspires. They know that many hits are vicious but they tell themselves they are not intentional, only unavoidable circumstances of football. If they don't make those mental excuses, how can they in good conscience expose their families and children to such a gleefully violent experience? How can they support such brutal viciousness in a sport marred by horrific concussions unless they explain it off as inadvertent?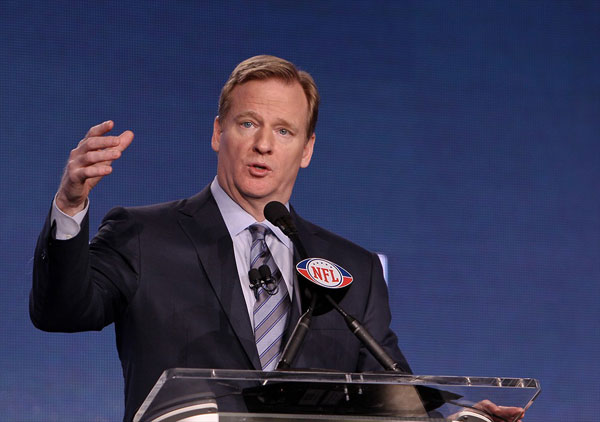 NFL commissioner Roger Goodell speaks during a press conference at Super Bowl XLVI at the J.W. Marriott during in Indianapolis, IN.
---
Confronting fans with football's penchant for choosing viciousness is a dangerous road. For every old school fan that consciously thrives on the games' core violence, there are three who love football's competition, athleticism, and hits but endeavor to ignore the violence at the games' heart. Concussions, hits, and their consequences are acceptable because the game appears genuinely apologetic for them and is endeavoring to fix the problem. But now, fans see that players actually multiply those consequences through premeditated, brutal attacks. For many, their wholesome image of the game is now tarnished.
The NFL will endeavor to mitigate this newest threat to the game. Suspensions, fines, and other penalties will be harsh, as they should be. The only place for intentionally hurtful, debilitating violence is prison; the gridiron should be a place of competition but never truly malevolent intent. Nonetheless, there is only so much that the NFL can do to the offending teams and players. There must be a genuine realization of the damage these programs, and the attitudes they reflect, do to the game of football and an organic effort to stop them permanently.
If there is no such effort, the consequences will affect the NFL for a long, long time.
---
What do you think?
We'd love to hear your comments and/or opinions. If you submit them here, other visitors can read them, rate them and comment on them. An e-mail address is not required.
---
From What are the Consequences of NFL Bounty Programs? to NFL Football Blog | Sports Blog | NCAA Football Blog | NFL Football Archives | College Football Archives | MLB Baseball Blog | College Baseball Blog | MLB Baseball Archives | NBA Basketball Blog | NCAA Basketball Blog | NBA Basketball Archives | NCAA Basketball Archives | Fantasy Football | Fantasy Basketball | Fantasy Baseball | Soccer Archives | Olympics Archives | Stupid Athletes Archives | Other Archives | Football Forum | Basketball Forum | Baseball Forum | NFL Football Store | NBA Basketball Store | MLB Baseball Store | NCAA Football Store | NCAA Basketball Store | NCAA Baseball Store | Fatheads | NFL Football Tickets | NBA Basketball Tickets | MLB Baseball Tickets | NCAA Football Tickets | NCAA Basketball Tickets | NCAA Baseball Tickets |
---
Home Page
About Us | Contact Us | Site Search | Advertise | Terms of Use |
---