USC Football: The Anthony Neyer Story
By Stephanie Graves
It is how you respond to things that counts.
That is what Anthony Neyer learned one evening at a bible study with some of his team mates held at Matt Barkley's apartment. He wrote it down and never forgot it.
So when Barkley announced he would be returning for another year, Neyer knew his response would be critical.
"Him coming back was an awesome thing -- to get a friend back and more time as well as a great leader. At the same time, as a competitor, there is a big chunk of reps – a large amount of playing time – as the focal point of the offense that is centered around Matt."
It was already a little crowded over in the quarterback meeting room, with seven gold jersey's cramming in every day. And unlike most positions, it was understood that only one of them would ever see the field.
Granted, it was almost a miracle in itself that Neyer was one of them. He was playing wide receiver on an 8-man team for a private Christian school in his home town of Palm Desert, Calif. when he realized that if he wanted to play at the next level he couldn't stay where he was at.
So he switched positions and transferred to the brand new catholic prep school that had barely started their varsity program. He convinced legendary quarterback coach Steve Clarkson to let him come to one of his camps before he ever played a single down at his new chosen position.
Clarkson couldn't help but take him on as a private pupil after that. Neyer and his mother would drive 2 hours every weekend up to Pasadena for lessons. But that led to some offers from a few smaller colleges.
Then every single one of those offers fell through. Late in the summer of 2010, wondering what to do, he received a call from USC. They had seen his tape and wanted to know he if wanted a preferred walk-on spot.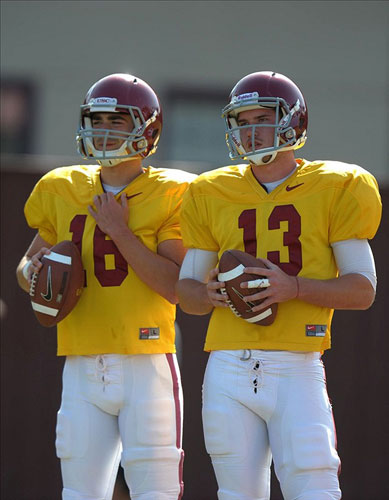 Apr 5, 2012; Los Angeles, CA, USA: Southern California Trojans quarterbacks Anthony Neyer (16) and Max Wittek (13) during a spring practice at Howard Jones Field. Photo Courtesy By: Kirby Lee/Image of Sport-US PRESSWIRE.
---
Neyer, whose commitment to academics rivals his passion for football, jumped at the chance.
Sure, he was a bit behind some of the others, such as Cody Kessler and Max Witek, who started at established football programs, but he was smart. And he learned quickly.
"Coach Helton would tell you – literally night and day. Just to see film from high school stuff that I was doing. The player that I am now, even from the player I was three to six months ago, I've gotten so much better."
Progress is great. But playing time is essential.
And now, with Barkley returning and Kessler and Wittek fighting for Lane Kiffin's blessing, it seemed that what Neyer needed most to take the next step was out of reach.
But to get what he needed, that meant he would have to transfer.
It meant leaving a program on the brink of a national championship season and a chance to continue to learn under what Neyer called an NFL-caliber coaching staff. It meant no longer getting tips from a Heisman contender.
It meant saying goodbye to his friends.
Calculated, calm and armed with an unrelenting faith he went and talked to quarterback coach Clay Helton and Kiffin.
And though sad to see him go, they knew they couldn't advise against doing what was best for his future. But they told him, if he didn't get an offer from a school that was the right fit, that he could always come back.
For now, Neyer will play at a local community college, L.A. Pierce. This fall, he will finally get a chance to be the starting quarterback. With his future beyond the end of this year still uncertain, he will still live near USC and commute to Pierce. He will still hold onto the support of best friends until the moment life, and football, leads him elsewhere.
"It's tough leaving that. I still live with two guys on the team," said Neyer. "Everything they have done I've done for two and a half years. We have all done it together. To have that change is weird."
But he knows that there is something the Pierce team can offer him just as much as USC could.
"I touched on the chemistry that USC has with their players and the team chemistry that they have. I saw a lot of the same thing in Pierce, the way those guys play with each other and interact."
And the chance to finally lead that, the chance to be THE guy, is one that Neyer simply cannot resist right now.
Some have told him that he reminds them of a young Steve Sarkisian. The current Washington coach also had to transfer from USC to a community college before starting at a major program (granted his time with the Trojans was spent on the baseball team, but their stories still parallel). But just like Neyer, his knowledge of the game and leadership have made him a success story that Neyer is continuously reminding himself of as he takes this next step in life.
Yes, it is a very scary time. But Neyer is calm. Excited even.
Which is exactly the kind of responsea starting quarterback needs to have.
---
What do you think?
We'd love to hear your comments and/or opinions. If you submit them here, other visitors can read them, rate them and comment on them. An e-mail address is not required.
---
From USC Football: The Anthony Neyer Story to NCAA Football Blog | Sports Blog | NFL Football Blog | NFL Football Archives | College Football Archives | MLB Baseball Blog | College Baseball Blog | MLB Baseball Archives | NBA Basketball Blog | NCAA Basketball Blog | NBA Basketball Archives | NCAA Basketball Archives | Fantasy Football | Fantasy Basketball | Fantasy Baseball | Soccer Archives | Olympics Archives | Stupid Athletes Archives | Other Archives | Football Forum | Basketball Forum | Baseball Forum | NFL Football Store | NBA Basketball Store | MLB Baseball Store | NCAA Football Store | NCAA Basketball Store | NCAA Baseball Store | Fatheads | NFL Football Tickets | NBA Basketball Tickets | MLB Baseball Tickets | NCAA Football Tickets | NCAA Basketball Tickets | NCAA Baseball Tickets |
---
Home Page
About Us | Contact Us | Site Search | Advertise | Terms of Use |
---