Underrated NBA Stars
NBA Basketball's Most Underrated Stars
LeBron James. Kobe Bryant. Kevin Durant. These players are great NBA stars. Everyone knows who they are and their ability to catapult a franchise to prominence. However, there are a number of NBA stars that are actually underrated because, while they are great players, most fans either don't know who they are or underestimate their importance. What follows here is my list of the top underrated star at each position. But, everyone has their own list of these top underrated players so, if you disagree with mine (or if you agree-there is no law against positive feedback I promise) share it with everyone in the community through the Forum. So, without further ado, the members of the list are:
Point Guard: Russell Westbrook
A lot of NBA fans are getting an introduction to the versatile, effective Westbrook this season. Kevin Durant's sidekick in Oklahoma City, Westbrook is one of the most capable guards in the game. His ability to score points (over 20ppg this season), dish out assists (over seven per game since midway through last season), steal at a high rate, and even get rebounds (one of the highest rebound rates for a guard in the league) makes him one of the best backcourt weapons around. Plus, he can also play both backcourt positions which means that, if Oklahoma City can add a point guard this season (cough Steve Nash or Chauncey Billups cough) Westbrook could create off the ball alongside them and the Thunder would instantly become the favorites in the Western Conference.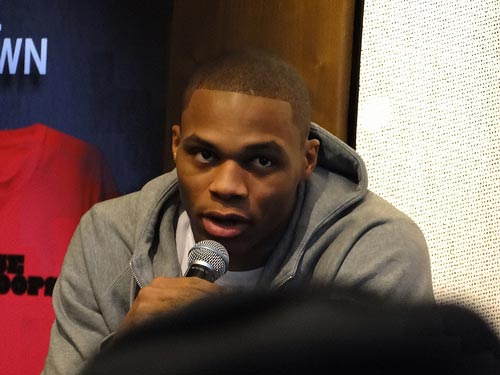 Thanks to Chamber of Fear from Flikr.com for this great picture of Russell Westbrook.
---
Shooting Guard: Kevin Martin
Kevin Martin is virtually unknown to anyone except hardcore NBA fans. But that is more due to casual fan's ignorance (and his limitations because of truly horrific defense) then his inability to impact a game. That's because Martin is a top five shooter in the NBA from mid to deep range and is the most efficient scorer in the league. On any given night, he is capable of scoring thirty plus points on less than twenty shots by getting to the line frequently and hitting three pointers. As such, he is the perfect complimentary star on a contending team and should be a pivotal player for the Rockets in future seasons.
Small Forward: Danny Granger
Danny Granger is certainly known to one subcategory of NBA fans: fantasy players! Everyone was introduced to Granger's fantasy prowess back in 2008 and he has been at the top of fantasy drafts ever since. However, his inability (up until this season that is) to lead the Pacers anywhere has limited his exposure. That said, he has great scoring ability, incredible wing length and shooting range, positive intangibles, and good defense, which means that he would be a top complimentary star for an MVP level franchise player. If he could get himself traded to a top team that needs a great shooting wing (cough Chicago Bulls cough please, please from a lifelong Bulls fan) then he could really flourish and earn the spotlight recognition he deserves.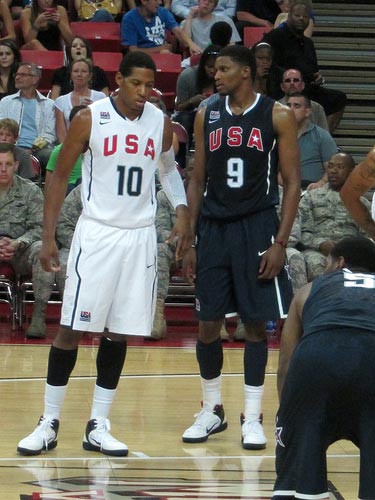 Thanks to Jeremy Andrews from Flikr.com for this great picture of Danny Granger (left) & Rudy Gay.
---
Power Forward: Al Horford
Unlike his highly overrated partner in crime, Joe Johnson, Al Horford remains an underrated player despite his constantly elite production. Horford has improved every season and is now posting a very efficient 15 points, 10 plus rebounds, and 1.5 blocks per game as a complimentary star. What's scary is that Horford has played out of position his whole career: he is a natural power forward and would be a true monster if he was allowed to play the four full-time.
Center: Nene Hilario
Denver center Nene totally fell of the map due to severe injuries in 2007-8. However, he came back with a vengeance in 2009 and no one noticed. Like Horford, Nene is a highly efficient complimentary player who posts an impressive stat line while placing himself so seamlessly into the flow of the game that the value of his contributions often goes unnoticed to the average fan. But make no mistake: Nene is as responsible for the Nugget's 2009 resurgence as anyone. His field goal percentage has remained-absurdly-over .600 the past two seasons and, combined with his solid free throw shooting, strong rebounding, and blocking ability, it makes Nene an ideal contributor. Plus, his efficiency (as measured by most statistics including PER) has remained at an All Star level since he has returned from injury. If the Nuggets are dismantled this season, he should be sent to a contender and might just flourish in the spotlight.
So, that's the list. There are, of course, other highly underrated stars so, if you have some names in mind, put them in the Forum! Looking forward to the debate!
---
---
What do you think?

We'd love to hear your comments and/or opinions. If you submit them here, other visitors can read them, rate them and comment on them. An e-mail address is not required.
---
From Underrated NBA Stars to NBA Basketball Blog | Sports Blog | NFL Football Blog | NCAA Football Blog | NFL Football Archives | College Football Archives | MLB Baseball Blog | College Baseball Blog | MLB Baseball Archives | NCAA Basketball Blog | NBA Basketball Archives | NCAA Basketball Archives | Fantasy Football | Fantasy Basketball | Fantasy Baseball | Soccer Archives | Olympics Archives | Stupid Athletes Archives | Other Archives | Football Forum | Basketball Forum | Baseball Forum | NFL Football Store | NBA Basketball Store | MLB Baseball Store | NCAA Football Store | NCAA Basketball Store | NCAA Baseball Store | Fatheads | NFL Football Tickets | NBA Basketball Tickets | MLB Baseball Tickets | NCAA Football Tickets | NCAA Basketball Tickets | NCAA Baseball Tickets |
---
Home Page
About Us | Contact Us | Site Search | Advertise | Terms of Use |
---