Top Tight End Prospects in the 2012 NFL Draft
By Eric Caldwell
Dwayne Allen, Junior - Clemson
When you begin to evaluate the tight end position, which is so predominantly based on athleticism, it's increasingly rare to spot a guy right out of the gate that gives you everything you could possibly look for in terms of a freakishly athletic perspective. Enter Dwayne Allen, the picturesque mismatch creator and all-purpose stud for those few remaining run-oriented teams as well. The unique size that the Clemson prospect brings to the table make him the ideal candidate throw a demonstrative block while his overwhelming lower-body strength allow him to lock-and-drive to the whistle and beyond. At 255lbs, Allen is capable of making his presence felt at the line of scrimmage, while turning into an absolute wrecking ball in the second level.
As a receiver, Dwayne Allen's speed is gold-standard for his position. Consistently displaying an elusive gear-shift anywhere from casual dig routes to galloping flags, this is a player that has left even safeties running out of their cleats at the collegiate level. His route running is fine-tuned, rarely showing hesitation while making sharp cuts in the10-15 yard range. The two major concerns that plague Allen and may ultimately cast him into that unnamed gap, separating the struggling embodiment of all-hype from that of a polished playmaker, are his hands and his ability to avoid contact. This doesn't go to say that Allen isn't an elusive ball-carrier, but more that he has difficulty getting separation in the close proximities of a zone defense in his route running, which forces the hands issue; as his ball-handling troubles are most evident in situations where he is well-draped or reaching into a tight space. Regardless, Allen should be the only TE in the class of '11 that will hear his name called in the first round, more specifically slots 20-30.
Orson Charles, Junior - Georgia
Jump-ball artist, red zone target extraordinaire, and 2011 All-SEC First Team selection are just a few of the noteworthy features on the resume of this NFL-ready tight end. In a 2011 season where Charles posted 45 catches for over 550 yards against punishing Southeastern Conference competition, Charles displayed an uncanny knack for high-pointing the ball and making sure-handed catches in crucial spots and situations. He's a skinny route-runner with a fluid ability to adjust to oddly thrown balls, making him perhaps the most dangerous inside receiver in this class.
Charles lack of physicality at the line of scrimmage is what will knock him into the mid-second round. Although he's shown a lot of promise in terms of effort blocking once engaged, Charles's ability to crack down at the line and create lasting contact in the second level is compromised by his lanky physique and receiver-like body type. Expect to see Orson Charles in a great capacity come September. As long as he can stay on the field, the Plant HS product should be very productive in the league.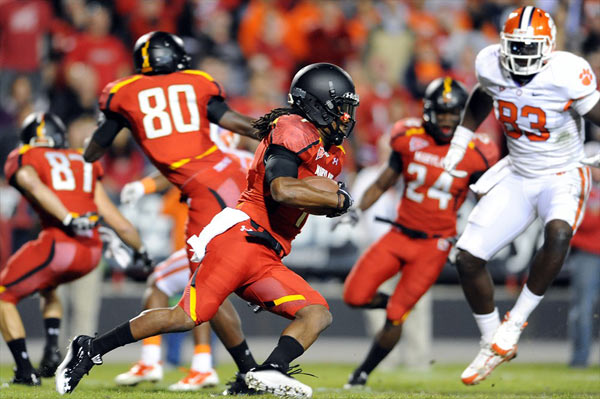 Maryland Terrapins wide receiver Tony Logan (1) runs back a kickoff against Clemson Tigers tight end Dwayne Allen (83) at Byrd Stadium in College Park, MD. where the Tigers defeated the Terrapins 56-45.
---
Michael Egnew, Senior - Mizzou
I'm going to go ahead and get this out of the way - Michael Egnew couldn't throw a decent block if his frail old grandmother was the ball-carrier. That being said, this kid can flat out go in the receiving game. He's elusive in open-space and has the ability to slip tackles after snatching balls on comeback routes, something you usually only see in the Pro-Bowl when press coverage is forbidden. Egnew doesn't necessarily create problems for the defense in the red-zone, but at 6'6" and 245lbs, I wouldn't be opposed to just throwing it up in his direction and seeing who comes down with it. Mizzou's 2010 MVP earned high praise for his quickness off the line, molding his timely routes and giving him the opportunity to create open space, where his true ability can be unleashed. Right now, Egnew is looking at a late 2nd-early 3rd round forecast, but an impressive Senior Bowl or NFL Combine outing could boost him ahead of Orson Charles.
Coby Fleener, Senior - Stanford
A lot of guys are really big on Fleener as a dark-horse candidate for the 1st round of April's draft. I, however, have my skepticisms. Yes, Fleener is a big target (6'6"/245lbs), but what he brings to the table in terms of athleticism I don't find particularly impressive. His 40-time lingers in the low 4.7s at best while his mobility downfield is limited by his uncut physique and rounded cuts.
But back to the upside, out of the 5 TEs on this list, Fleener is the only one who I consider and "elite" red-zone receiver. He can throw a powerful block at the second level and he must always be accounted for at the line-of-scrimmage, not to mention that there are plenty of guys who would kill for his frame. I believe that his impressive 2011 numbers can be attributed to being the #1 target of the most praised collegiate quarterback of the decade, and after the Combine I expect to see his stock slide, ultimately labeling him as a mid-round luxury pick.
Ladarius Green, Senior - UL-Lafayette
This list concludes with a small school prospect with big time aspirations. Ragin' Cajun, Ladarius Green, torched the Sun Belt for over 2,000 yards and 22 touchdowns over the course of his 4 year collegiate career. Green's 2011 numbers were sensational, despite being a magnet for double coverage and fighting an uphill injury battle early in the season. At 6'6", his superior size and speed make him a coveted receiving talent, who could be picked as high as the 3rd round if he continues to show promise during his pre-draft workouts.
---
What do you think?
We'd love to hear your comments and/or opinions. If you submit them here, other visitors can read them, rate them and comment on them. An e-mail address is not required.
---
From Top Tight End Prospects in the 2012 NFL Draft to NFL Football Blog | Sports Blog | NCAA Football Blog | NFL Football Archives | College Football Archives | MLB Baseball Blog | College Baseball Blog | MLB Baseball Archives | NBA Basketball Blog | NCAA Basketball Blog | NBA Basketball Archives | NCAA Basketball Archives | Fantasy Football | Fantasy Basketball | Fantasy Baseball | Soccer Archives | Olympics Archives | Stupid Athletes Archives | Other Archives | Football Forum | Basketball Forum | Baseball Forum | NFL Football Store | NBA Basketball Store | MLB Baseball Store | NCAA Football Store | NCAA Basketball Store | NCAA Baseball Store | Fatheads | NFL Football Tickets | NBA Basketball Tickets | MLB Baseball Tickets | NCAA Football Tickets | NCAA Basketball Tickets | NCAA Baseball Tickets |
---
Home Page
About Us | Contact Us | Site Search | Advertise | Terms of Use |
---