Top NBA International Prospects
1. Enes Kanter, PF:
Turkish power forward Enes Kanter is the most complete and polished international prospect since Pau Gasol was drafted into the league. He has no true weaknesses in his game and is particularly tough, smart, aggressive, and physical. Kanter should dominate his competition at Kentucky this season and, if he can prove that he is more athletic than advertised, there is no reason he shouldn't be the first overall pick in 2011. If that were to happen, Kanter would be the first international player ever selected first overall and it would be a watershed moment for the NBA.
2. Jan Vesely, PF:
Czech big man Jan Vesely has been on NBA scouts radar for years and is arguably the most complete prospect in Europe. Vesely is a classic skilled European big man in the Pau Gasol mold but, like fellow international big man Enes Kanter, he brings a toughness to the table that is rare for European players. Vesely also has an NBA ready body, underrated athleticism, speed, and quickness, finishing ability, and a great feel for the game. He needs more playing time and experience and has not played top competition yet, but as prospects go he is one of the best anywhere. Moreover, if he, Kanter, Montejunas, Splitter, and others develop, then the majority of the top skilled big men in the league could be European by the middle of the decade.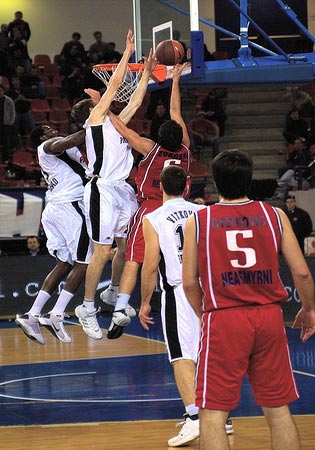 Jan Vesely blocks Ivan Zoroski.
Thanks to Hoops at flickr.com for this photo.
---
3. Jonas Valenciunas, PF:
The crown prince of Lithuanian basketball, Valenciunas has every skill and talent in the book. He is smart, aggressive, tough, and a worker and combines these terrific intangibles with great size, elite athleticism, scoring ability, and a terrific post game that is rare in Europe. He needs to gain strength and work on his long distance shooting, but he is a can't miss prospect who will star in the NBA.
4. Tomas Satoransky, SG:
Young, inexperienced, and still under the radar, Satoransky's status as an NBA prospect elicits some debate. Unlike Ricky Rubio, who became a You Tube sensation at 15, Satoransky is still unknown to all but the most ardent NBA fans. However, the truth is that the Czech guard is the most talented guard in Europe and quite possibly the most talented international prospect. Satoransky has ideal size, speed, quickness, and athleticism for the shooting guard position and, even at such a young age, has a varied skill set with innate ball handling, scoring ability, and an incredible feel for the game. Any NBA team would be lucky to get him outside of the lottery when he declares and he could be a future cornerstone for the NBA franchise wise enough to draft him.
5. Donatas Montejunas, PF:
The big man from Lithuania is extremely tall and skilled. Montejunas reminds some of Dirk Nowitzki because of his upside. Unlike many other European big men, he is athletic, fast, and aggressive and combines these attributes with great midrange shooting, dribbling and passing ability, and a very high basketball IQ. However, despite his incredible feel for the game, Montejunas' toughness is often questioned and some believe he does not have the mindset of an NBA star. It is this perceived problem combined with poor body language and inexperience, which might hold Montejunas back but his upside is limitless.
6. Robin Benzing, SF:
Benzing is the smartest and most skilled swingman prospect outside of the United States. He is a classic 3 man with a high basketball IQ, good instincts, shooting ability with range, and an innate scorer's mindset. Although he lacks elite strength, speed, and athleticism, he makes up for it with his skills and intangibles and could absolutely start in the NBA a few years down the road. He also remains a bit under the radar so an NBA team could sneak in and grab him late in the first round of the 2011 draft.
7. Lucas Noguiera, C:
Noguiera is a talented player with the size of a true center who many scouts believe is the second coming (nationality included) of Tiago Splitter. Noguiera is young and raw but his talent and upside are limitless and he seems to possess the drive to reach even the loftiest expectations.
8. Alexy Shved, PG:
Many scouts believe Shved is the best guard prospect outside of the United States. I disagree because Satoransky's upside is limitless, but that should not take anything away from Shved. He is talented, tenacious, crafty, and athletic and he augments these positives with production against the toughest competition in Europe. The team who takes a chance on him when he declares will be rewarded down the road.
9. Mindaugas Kuzminskas, SF:
Like many other European forwards, Kuzminskas is skilled, has a high basketball IQ, and can play multiple positions but lacks elite athleticism. What separates him from other European forwards, however, is his elite shooting and deep range on his jumper, which increases his upside and would make him a very useful pick for any contending NBA team.
10. Vladimir Dasic, PF
Dasic is an intelligent and skilled power forward who could also see some minutes at the three and five. He can help teams in a lot of different ways and even has enough athleticism to hold his own in that area. Teams considering drafting him need to be willing to wait but when he comes over he should contribute immediately.
11. Mario Delas, PF:
Delas is a very skilled forward with a high basketball IQ who can play multiple positions. While he lacks elite athleticism and strength, his sound basketball skills and versatility make him a good late round get to develop into a cheap but capable NBA role player.
12. Miroslav Raduljica, C:
Raduljica is highly skilled and has both the size and strength to play in the NBA. However, while his talent is undeniable, the Serbian center often lacks motivation, does not always play his hardest, and may not ever want to come to the NBA. This makes him a risky pick even in the late rounds but he is worth it to any team willing to be patient and then put the right people around him when he crosses the Atlantic.
13. Artem Zabelin, C:
Zabelin is a talented center with excellent size, strength, and even athleticism who can play in the NBA. However, he is also extremely injury prone, missed all of last season, and is not as skilled as some other European players. Nonetheless, his basketball IQ is sound and, like Omer Asik a few years ago, he would make a great stash pick.
14. Pablo Aguilar, SF:
Aguilar is a skilled swingman forward capable of playing the 2, 3, and 4 spots on the floor. He also has an excellent basketball IQ and strong fundamentals but his ceiling is limited by his lack of elite athleticism. He would make a good pick for a team looking for a cheap role player because, while he will never be a star, players with his skills command several million dollars in free agency and he could help any contending club.
15. Dejan Musli, C
Musli is one of the few true centers available with the size and talent to play in the NBA. He struggles against elite athletes and showed this against Team USA, but NBA teams pay millions for retirees who measure 7'2" in shoes. Despite his limitations, he has talent and NBA teams would be foolish to overlook him in the second round.
16. Nikola Mirotic, SF:
Like Aguilar, Mirotic is skilled, versatile, and smart. However, he also lacks athleticism, lateral quickness, and elite shooting and is not getting minutes at a high level of competition. Nonetheless, he is still a good stash pick for a team looking for cheap help a few years down the road.
17. Nenad Miljenovic, PG
Miljenovic is smart and talented and has demonstrated an ability to create with the ball and use his excellent floor vision. He is not a special shooter or athlete, but he reminds some of Goran Dragic and could be a capable backup point guard in the right situation.
---
---
What do you think?

We'd love to hear your comments and/or opinions. If you submit them here, other visitors can read them, rate them and comment on them. An e-mail address is not required.
---
From Top NBA International Prospects to NBA Basketball Blog | Sports Blog | NFL Football Blog | NCAA Football Blog | NFL Football Archives | College Football Archives | MLB Baseball Blog | College Baseball Blog | MLB Baseball Archives | NCAA Basketball Blog | NBA Basketball Archives | NCAA Basketball Archives | Fantasy Football | Fantasy Basketball | Fantasy Baseball | Soccer Archives | Olympics Archives | Stupid Athletes Archives | Other Archives | Football Forum | Basketball Forum | Baseball Forum | NFL Football Store | NBA Basketball Store | MLB Baseball Store | NCAA Football Store | NCAA Basketball Store | NCAA Baseball Store | Fatheads | NFL Football Tickets | NBA Basketball Tickets | MLB Baseball Tickets | NCAA Football Tickets | NCAA Basketball Tickets | NCAA Baseball Tickets |
---
Home Page
About Us | Contact Us | Site Search | Advertise | Terms of Use |
---