Top Five NBA Centers
There are only a limited number of good centers left in the NBA as the center position has become a very difficult position to fill. If your franchise is able to have one of these centers listed below on your roster, then your team should have a good chance of going far in the NBA Playoffs (all of these players will most likely be playing in the playoffs this year and all made the playoffs last year).
5. Joakim Noah: Noah's had a very inconsistent 2012 season as at times he's looked like he's one of the best defenders and rebounders and other times he's struggled. Noah started the season off slowly (only having 3 double-doubles in his first 17 games) but since then has been playing much better basketball. Even though Noah's statistically having his worst season since the 2008-2009 season (10.1 points and 9.7 rebounds this season), I still feel he's put together a pretty solid year while only missing 2 games. Only a few players can play Power Forwards or Center down low, switch onto Guards on the perimeter, and still shot over 70% (74.4%) from the free throw line.
4. Marc Gasol: The Memphis Grizzlies got off to a really bad start highlighted by the loss of star Power Forward Zach Randolph to a partial MCL Tear in early January. The Grizzlies needed a few other players to step-up during his absence and fortunately they had two players step up and become All-Star caliber players during this time in Marc Gasol and Rudy Gay. With the way these two players played in Randolph's absence and also helping save Memphis season, they both deserved to be All-Stars this year and showed why Memphis features a very good team. Gasol's having a career year; averaging 15 points, 9.5 rebounds, 1.9 blocks and 3.2 assists while shooting 74.5% from the free throw line on the season.
3. Tyson Chandler: Chandler has turned himself into one of the best centers in the NBA and has helped save the Knicks season. Defensively, he's as good as any player in the NBA and will be in the running for the Defensive Player of Award. Tyson's averaging 10.2 points along with 10 rebounds and 1.5 blocks while shooting a league best 68% from the field while being one of the most efficient centers in the league. He was also the anchor of a defense that won a NBA championship (Mavericks), and now has become the Knicks defensive stopper in addition to being one of the leader of this team. What a great transformation Tyson has made ever since he entered the league over a decade ago.
2. Andrew Bynum: What a great bounce back year by the center of the Los Angeles Lakers as he's was voted to his first All-Star game and has become one of the few centers that dominant both side of the court. In addition to everything else Bynum does, he's become the best offensive post player in the NBA while averaging 18.6 points, 12.20 rebounds, and 2 blocks per game. Even though Bynum has been criticized because of a few questionable on the court decisions he's made this season, he's still one of the two best centers in the league and at only 24 years old, it seems (that if his knees will hold up) that he'll become the next dominate Lakers center joining George Mikan, Wilt Chamberlain, Kareem Abdul-Jabbar, and Shaquille O'Neal.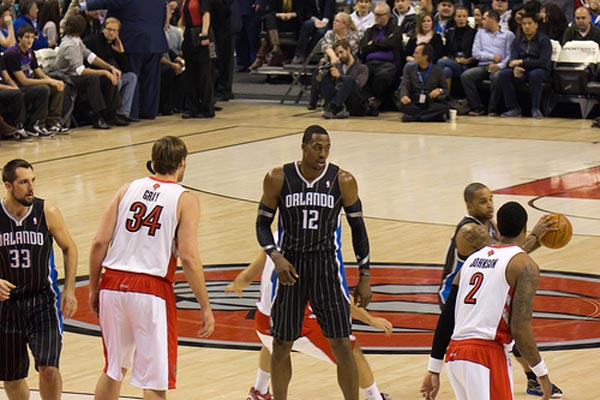 Thanks to Paul Gorbould at Flickr for this great picture of Dwight Howard and Orlando Magic at Toronto Raptors.
---
1. Dwight Howard: He might not be sure of where he wants to play next year, however, he's still the most dominant big man currently playing in the NBA. All season, Dwight Howard has been surrounded by controversy and problems which include: would Dwight be traded, would their coach finish the season, and the current back injury that might make Dwight Howard miss the remainder of the season. Howard is averaging 20.6 points, 14.50 rebounds, and 2.2 blocks per game this season and having another great season. Even though I feel Bynum features a much better post game than Howard's, its Howard's defense (the defending three-time defensive player of the year winner) that separates him from the other 5 centers and makes him the best center in the entire NBA.
---
What do you think?

We'd love to hear your comments and/or opinions. If you submit them here, other visitors can read them, rate them and comment on them. An e-mail address is not required.
---
From Top Five NBA Centers to NBA Basketball Blog | Sports Blog | NFL Football Blog | NCAA Football Blog | NFL Football Archives | College Football Archives | MLB Baseball Blog | College Baseball Blog | MLB Baseball Archives | NCAA Basketball Blog | NBA Basketball Archives | NCAA Basketball Archives | Fantasy Football | Fantasy Basketball | Fantasy Baseball | Soccer Archives | Olympics Archives | Stupid Athletes Archives | Other Archives | Football Forum | Basketball Forum | Baseball Forum | NFL Football Store | NBA Basketball Store | MLB Baseball Store | NCAA Football Store | NCAA Basketball Store | NCAA Baseball Store | Fatheads | NFL Football Tickets | NBA Basketball Tickets | MLB Baseball Tickets | NCAA Football Tickets | NCAA Basketball Tickets | NCAA Baseball Tickets |
---
Home Page
About Us | Contact Us | Site Search | Advertise | Terms of Use |
---