Top All Time College Football Team
College football is famous for its most prestigious powerhouse programs. What football fan doesn't know about the old school glory of Notre Dame, the year in, year out excellence of the University of Southern California, Florida's two National Championships in four years, and Miami's famous "semi-pro" teams of the 1980s? But which powerhouse college football program actually has the most wins in college football history? The answer often proves surprising to many: the University of Michigan.
Although Michigan Wolverines' college football has recently fallen on hard times, the program has perhaps the most illustrious history in the game. Knowing that, The Best Sports Blog wanted to take a closer look at this historic program. Michigan Wolverines college football began at the very, very beginning: college football's 1879 inception. The Wolverines immediately became the best team in the nation and were undefeated in 1879, 1880, 1884, 1885, 1886, and 1887. In 1896, Michigan became one of the founders of the historic Big Ten Conference and, courtesy of an undefeated 1898 season, were recognized as a powerhouse right off the bat.
Here's an article about Michigan State Football Gear
Michigan has always been associated with the Rose Bowl, which makes sense because the Wolverines first played in college football's most prestigious game all the way back in 1902. Michigan crushed Stanford 49-0 and announced itself as a national football power. However, the Big Ten did not allow its teams to participate in post-season bowl play for much of the first half of the 20th century so, despite undefeated seasons in 1910, 1922, and 1930, Michigan did not return to its favorite bowl game until 1948. In that year, Michigan smashed the University of Southern California 49-0 and began one of the most engaging non-conference rivalries in the history of the college game. Indeed, that 1948 win closed out one of the most impressive runs in sports history: the Wolverines claimed ten National Championships from 1879 to 1948 (1901, 1902, 1903, 1904, 1918, 1923, 1932, 1933, 1947, and 1948).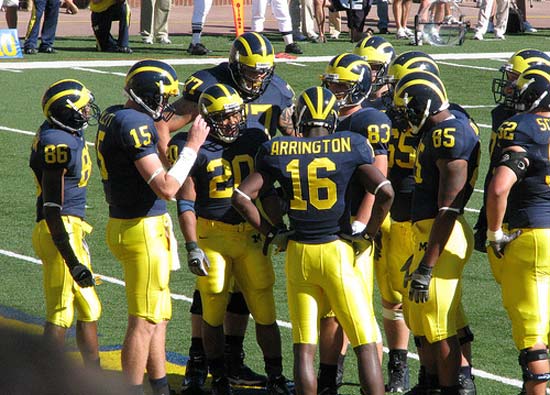 Thanks to Lisa from Flickr.com for this great picture of Michigan offense in the 1st quarter, from left to right: "Super" Mario Manningham (86), Ryan Mallett (15), Mike Hart (20), Jake Long (77, behind Hart), Adrian Arrington (16), Mike Massey (83), Justin Boren (65), Carson Butler (85), and Stephen Schilling (52).
---
Michigan remained a powerhouse football program throughout the 1950s and 1960s and won two Rose Bowls in that span (1951 and 1965) but the Wolverine's unprecedented run of consistent excellence began with the arrival of coaching legend Bo Schembecher in 1969. Starting in 1968, Michigan began a run of forty straight winning seasons that only ended in 2008. Even more impressively, the Wolverines made thirty three straight bowl appearances from 1975 to 2008, which remains the longest continuous stretch of post-season play in college football history. It was this incredible consistency that made Michigan the winningest-program in the game.
However, despite the Michigan Wolverine's consistency, they were unable to win a National Championship under Schembecher. This inability to win the biggest game (despite winning virtually everything else) rankled Michigan fans so Schembecher retired and was replaced by Gary Moeller in 1990. However, Moeller failed to win the big game as well, which meant that, when Lloyd Carr's Michigan Wolverine's finally won the National Title in 1998 with a 21-16 Rose Bowl win over Washington State, the school celebrated for years. Indeed, Carr enjoyed an unprecedented National Title honeymoon and coached the Michigan Wolverine's program for ten more years despite four straight bowl losses from 2004-2008.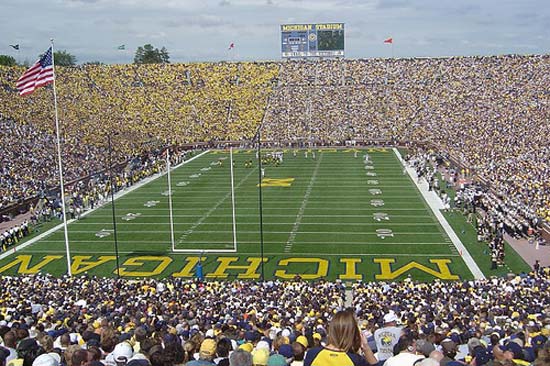 Thanks to Emily Sweeny from Flickr.com for this great picture of Michigan Stadium.
---
However, in 2008, Carr decided to retire and was replaced by spread offense guru Rich Rodriguez. But Rodriguez's style-both on and off the field-failed at Michigan and his tenure proved to be a spectacular failure. His 3-9 2008 season was by far the worst in school history and, after 5-7 and 7-6 seasons in 2009 and 2010, he was replaced by Brady Hoke. Looking forward, Michigan's 2011 could be more encouraging and, perhaps, the Wolverines will soon return to their winning ways.
Read more at:
---
What do you think?
We'd love to hear your comments and/or opinions. If you submit them here, other visitors can read them, rate them and comment on them. An e-mail address is not required.
---
From Top All Time College Football Team to NCAA Football Blog | Sports Blog | NFL Football Blog | NFL Football Archives | College Football Archives | MLB Baseball Blog | College Baseball Blog | MLB Baseball Archives | NBA Basketball Blog | NCAA Basketball Blog | NBA Basketball Archives | NCAA Basketball Archives | Fantasy Football | Fantasy Basketball | Fantasy Baseball | Soccer Archives | Olympics Archives | Stupid Athletes Archives | Other Archives | Football Forum | Basketball Forum | Baseball Forum | NFL Football Store | NBA Basketball Store | MLB Baseball Store | NCAA Football Store | NCAA Basketball Store | NCAA Baseball Store | Fatheads | NFL Football Tickets | NBA Basketball Tickets | MLB Baseball Tickets | NCAA Football Tickets | NCAA Basketball Tickets | NCAA Baseball Tickets |
---
Home Page
About Us | Contact Us | Site Search | Advertise | Terms of Use |
---