The Tragedy of Brian Hoyer's ACL Injury
It's been a bad 7 days for starting quarterbacks in the NFL.

Tennessee Titans starting quarterback Jake Locker was injured in the third quarter of their win over the Jets on Sunday, hit as he was throwing a pass. He has a hip injury and a sprained knee, and will miss at least the next month.
On Thursday, Brian Hoyer of the Cleveland Browns scrambled down the sideline, and completely tore his right ACL, ending his season immediately.

Not to be outdone, the opposing quarterback, EJ Manuel has sprained knee (pending an MRI), and would be out somewhere between two to four weeks.

Add in to them the quarterbacks that missed last week – the Vikings' Christian Ponder was injured, and the ex-Buccaneer Josh Freeman was benched and then released – and there's a market for the veteran QBs out there. It seemed appropriate to scour the free agent list, and see what quarterbacks might be able to come in and at least provide some emergency depth, if not outright starting roles.

Tim Tebow
No.

Josh Freeman
The most logical choice for someone like the Browns or Bills to pick up would be Josh Freeman, just released from the Buccaneers. With 59 career starts under his belt, there's simply not a more experienced QB out there. He's had his struggles recently, but his 2012 line really isn't all that bad – 54.8% completion, 27 touchdowns to 17 interceptions, 7.3 yards per attempt – those may not be ideal numbers for a starting quarterback, but for a fill-in, or emergency fill-in?Taking a gamble on him is far from the worst idea in the world. He's also the most in-shape of any of the options, as he was on a roster as recently as 48 hours ago.

A lot of the reason his completion percentage plummeted last year is the fact that his percentage of deep passes has been increasing – in 2011, he threw more than half his passes under 5 yards, and completed 73% of those. There's no reason to think that he can't show some of that form again – quick, short passes to complement a strong running game, like a Chris Johnson or a CJ Spiller. If I had to scramble for a quarterback, Freeman would be my first and only choice.

He's already been mentioned as a possibility to almost every team in the NFL – the Packers, Raiders, Bears, Browns, and so forth. He'll be on a team within 72 hours. Had the Buccaneers not totally tanked his trade value by leaking Freeman's medical records and making it very clear he was not welcome on the team any more, they probably could have gotten a late round pick for him today after Thursday Night's injuries. Instead, they'll get nothing.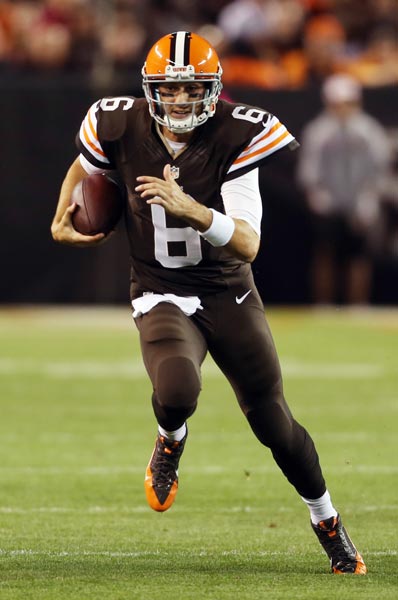 Vince Young
It was surprising when Young missed final cuts on the Packers roster – it briefly left the Packers with only Aaron Rodgers on the field. He, from all accounts, was adapting quickly to the Packers scheme, and looked surprisingly good considering how much rust he had on him in the 3rd preseason game, going 6-for-7 with a touchdown pass and flashing ability on the ground, as well. With 50 career starts under his belt, he has experience, as well.

He faceplanted in the fourth preseason game, and apparently had some trouble retaining the plays. Still, if you give him a simplified offense, he's certainly capable of moving you. I think he might be a better choice for depth, rather than an immediate starter – say, putting him on the Browns behind Brandon Weeden, or even bringing him back to Tennessee to be there in case Ryan Fitzpatrick goes down. He's an interesting choice in a number of situations.

Young's name has come up after the injuries Thursday night, though mostly in the "until Freeman was released, Young was the best quarterback on the market" sense. He's a solid second choice for teams looking for a short-term answer.

BJ Coleman
Call this more of a wild hair.Coleman lacks the experience of the other two names mentioned here – a 7th round pick by the Packers last season out of Tennessee-Chattanooga, I believe he never saw the field in his short NFL career. He was part of the mass QB-exodus in Green Bay, leaving right after Young did. If Young's questionable to come in and contribute right away, Coleman's pretty much an impossibility – the Bills, for example, would be better set with their own rookie Jeff Tuel in there.

That doesn't mean teams shouldn't look at Coleman if they get desperate – just that in this particular situation, he might not be ideal. Rotoworld currently lists BJ Coleman as the third best quarterback available on the free market, and there are reasons to like him. He has a lot of tools – I've even seen him compared to Peyton Manning when doing research for this article, though the difference is obviously about the same between a model rocket and the space shuttle. He might be a name brought into a training camp next year with a chance to compete for a developmental spot. However, in a situation where you need to have someone possibly play immediately, Coleman's not an option.

Other Names
There are other people out there with starting experience – Trent Edwards started over 30 games for the Buffalo Bills from 2007-2010, and was last released by the Bears after only 12 days on the roster this preseason. David Carr is still available, and has experience playing behind shoddy offensive lines from his time in Houston. He's been worked out by the Titans, but he's only attempted 61 passes since 2007, and isn't an ideal choice. And then, yes, there is Tim Tebow.
Considering the vastly different style of offense you'd have to install for Tebow to have a chance to be successful, I think that if I had to gamble on a media-circus quarterback who hasn't done anything in several years to be on my team, I'd make a phone call to Mississippi and bring back Brett Favre – his agent says he could still play! – before making a call for Tebow.


What do you think?
We'd love to hear your comments and/or opinions. If you submit them here, other visitors can read them, rate them and comment on them. An e-mail address is not required.