The Story Behind the Von Miller Suspension
Von Miller had hoped that his appeal of a four-game ban, issued this offseason reportedly for failing multiple drug tests.  Well, his appeal came back, and sources now say that he'll miss the first six games of the 2013 season – not precisely the outcome he had hoped.
Details on why Miller will be missing time are hard to find, due to confidentiality agreements, but here's what we know.  Miller is apparently being suspended specifically for an "extremely diluted" drug test – not a positive test for PEDs or anything of that nature.  Said diluted test would have had to happen multiple times for a six-game suspension to occur – Deadspin has a breakdown of the precise steps that needed to happen for a six-game suspension to be issued.  The exact length of the suspension has yet to be revealed by the NFL, as there are still negotiations going on between them and Miller's camp, but it'll be at least a quarter of the season.

It's a huge blow to the Broncos defense – with Elvis Dumervil out of town, Miller was going to have to step up to keep the Broncos improvement on defense last year from disappearing like a mirage.  Miller's been involved in a number of incidents in his short NFL career – positive tests for amphetamines and marijuana, avoiding court appearances for traffic charges, etc.  Stepping up as a leader on defense, he'll need to get his personal life under control in order to be a reliable performer for Denver – he's got all the talent in the world; but this sort of extracurricular activity is going to hurt him – and his team.

Now, Miller vanishing, even if it's for six games, isn't going to doom the Broncos season or anything – you've got Peyton Manning and company on offense, you can afford to be a bit weaker on defense.  Even a six game suspension would keep Miller available for games against teams like Indianapolis, Washington, New England, Houston, and five out of the six divisional contests – so the timing could be much, much worse.

On the field, the most logical next man up to replace Miller would be Shaun Phillips, but there's a reason the Chargers let him go this off-season – his production is mostly in the past at age 32.  Nate Irving, currently listed as the starting middle linebacker on their official depth chart but getting more reps on the outside, could shift over to the SAM position, as well.  The real issue is Miller's versatility – he plays linebacker on base downs, shifting to defensive end on clear passing downs.  There's no one on the roster who can replace his level of production at multiple positions, so it's going to have to be a team effort until he returns.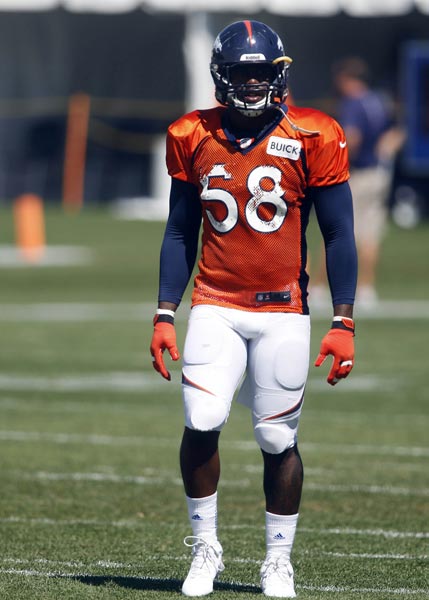 So, the Broncos will keep Irving as the SAM linebacker in the base defense, as Stewart Bradley has earned the starting middle linebacker job, and use Phillips on passing downs as a defensive end.  Without Miller, though, pressures are going to have to be generated by different play-calling.  Last season, the Broncos rushed five or more players 31.8% of the time; the numbers dropped to 6.7% for six or more rushers, both middle-of-the-pack numbers.  Perhaps they'll make up for the loss of one of the NFL's premier pass rushers by upping those numbers – quantity instead of quality.  They've certainly got the secondary to handle that sort of pass rush – anchored by Champ Bailey, with the excellent Chris Harris and Tony Carter, the Broncos cornerbacks can handle man-on-man coverage duties without excessive help.  They can hold down the fort while the front seven engage in any sort of crazy blitz package John Fox and Jack Del Rio can cook up.

With the rest of the AFC West a few years off from competing, I wouldn't consider the Miller situation to be worthy of downgrading the Broncos playoff hopes – at least, not too much.  But with only two preseason games left to go, the Broncos don't have much time to mess with things to prepare for Miller-less life.  Their next preseason game – their third, the one the starters play the longest in, typically – is versus the Rams on Saturday, and will be nationally televised by CBS.
We won't see anything crazy from the blitz packages – that will wait until the regular season – but we'll get an idea of what personnel the Broncos will use to replace Miller just by paying attention to snap counts.  The Rams have a new offensive line, too – getting Jake Long from Miami and moving Roger Saffold over to the right side – so it will be an interesting test.  Don't look so much for results, though – watch for tendencies, which players come in when.  That will tell you more about how the Miller-less Broncos will look than any scoreline or sack total.

What do you think?
We'd love to hear your comments and/or opinions. If you submit them here, other visitors can read them, rate them and comment on them. An e-mail address is not required.