The Purity of Street Basketball
By Paul Grossinger/Twitter
To like, comment, criticize, rant, or rave, tweet pgrossinger!
Brandon Jennings stared down John Wall at the top of the key. Wall made a swipe for the ball, looking for the theft and the glamorous fast break dunking layup that would inevitably follow. But Jennings saw the move, gracefully sidestepped the steal attempt, got a clear look at the basket and swished a long three pointer. The look he gave Wall as he moved to set up the defense was clear: it's on.
Replay of the 2012 NBA Playoffs between the up and coming Milwaukee Bucks and Washington Wizards? Not so. Instead, this very loosely recreated scene came from Saturday's exhibition game between the Los Angeles based Drew League and Washington DC's Goodman League. The matchup, called "Capital Punishment," was a fun, beautiful example of the purest form of the sport: Street Basketball.
The National Basketball Association may be the highest level of competitive basketball but it is certainly not the purest. Nor is NCAA College Basketball, which has seen its commitment to collegiate amateurism wane in recent decades. High school basketball is entertaining but it is neither high-level nor particularly pure since the top levels of the AAU game are filled with college-bound recruits and crawling with opportunistic agents and school boosters.
No, the purest form of the game is street basketball because, even when the squads are filled with professional stars, it still showcases the sport without all its grand trappings. Saturday's exhibition had a wealth of talent on the court but it took place in a tiny gym at Trinity University in Washington, DC. There were no lines of television cameramen, no groupings of local, national, and international game-play commentators, and no massive advertising billboards. What was present on the court was high level basketball, pure and simple, in the form of a fun but highly competitive game between motivated professionals looking for immortal bragging rights over their opponents.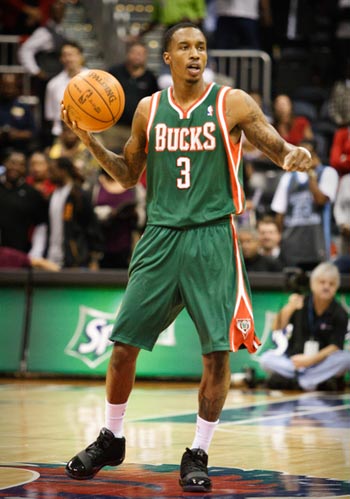 Milwaukee's Brandon Jennings in Atlanta Hawks 108-91 loss to the Phoexix Suns at Philips Arena in Atlanta, GA.
---
The game may not have mattered statistically but that was the beauty of it. The pure simplicity of its purpose, significance, and surroundings meant that there was only one factor to focus on: the basketball play itself. There were no post-playoff contractual concerns and no devils on player's shoulders silently suggesting they give an eighty-five percent effort to avoid injury in a contract year. There was pure, beautiful, honest competition between basketball savants who just wanted to beat one another. No one held back and no one gave quarter: it was about winning and winning alone. Victory itself without all the trappings of victory: just the simple joy of winning.
Why wax poetic about a glorified pickup game in a tiny gym between basketball players who are part of an ugly contractual dispute with their employers? The lockout is disgusting to fans: they see rich players and richer owners unable to agree on a way to split a massive revenue pie made up of fan's money. They see both sides willing to shut down basketball rather than compromise: more interested in love of money than love of the game. Yet, in a time of disgust and disillusionment that looks unlikely to end soon, the purity of the street game looms above it all. It game fans present in the gym and their You Tubing compatriots the chance to see what basketball looks like without the trappings of wealth, power, and ultimately angry disagreement that accompany those distractions. They got to see the game in its simplest form, without all the rotten elements, and appreciate one simple thing. Above it all, basketball remains a beautiful game.
---
What do you think?

We'd love to hear your comments and/or opinions. If you submit them here, other visitors can read them, rate them and comment on them. An e-mail address is not required.
---
From The Purity of Street Basketball to NBA Basketball Blog | Sports Blog | NFL Football Blog | NCAA Football Blog | NFL Football Archives | College Football Archives | MLB Baseball Blog | College Baseball Blog | MLB Baseball Archives | NCAA Basketball Blog | NBA Basketball Archives | NCAA Basketball Archives | Fantasy Football | Fantasy Basketball | Fantasy Baseball | Soccer Archives | Olympics Archives | Stupid Athletes Archives | Other Archives | Football Forum | Basketball Forum | Baseball Forum | NFL Football Store | NBA Basketball Store | MLB Baseball Store | NCAA Football Store | NCAA Basketball Store | NCAA Baseball Store | Fatheads | NFL Football Tickets | NBA Basketball Tickets | MLB Baseball Tickets | NCAA Football Tickets | NCAA Basketball Tickets | NCAA Baseball Tickets |
---
Home Page
About Us | Contact Us | Site Search | Advertise | Terms of Use |
---