The Philadelphia 76ers Are the Worst Team in NBA History
By Lorenzo Tanos

Current Lineup of 2013-14 Sixers Worse than Final Lineup of 1972-73 Sixers, Despite Better Record

It's an open secret of sorts, but the 2013-14 Philadelphia 76ers are raising the bar when it comes to alleged tanking.  With 24 straight losses, the Sixers are on their way to breaking league records for futility.  Yet they're in no danger of breaking the records of the Charlotte Bobcats (7-66 in 2011-12) and the team that had the all-time worst NBA record for close to four decades, the 1972-73 Sixers, who went 9-73 that season.  Which leads us to the question – despite being better in terms of overall record, are the 2013-14 Sixers worse than the 1972-73 lineup?
A look at the Sixers' lineup shows just how miserable the team is at the present.  One can argue that rookie Michael Carter-Williams is one of a few bright spots on the lineup, and a strong candidate for Rookie of the Year honors, but the fact of the matter is that he was better in the first half of the season than the second.  And while he can steal the ball like nobody's business, his defense involves too much gambling and at this point, he cannot be considered a good defender on an NBA level.

Following the inexplicable trades that sent Evan Turner to the Indiana Pacers and Spencer Hawes to the Cleveland Cavaliers for virtually nothing of immediate consequence, Thaddeus Young has stepped up as the go-to-guy, but he's always been best as a complementary player than the main man on offense.  Then you've got players like Henry Sims (acquired in the Hawes trade), Hollis Thompson, and James Anderson, players with decent numbers who wouldn't be key contributors, let alone starters on good teams.  In all, 21 players have worn a Sixers jersey this season, and with the exception of MCW and Young, and, prior to them, Turner and Hawes, none are NBA-caliber starters.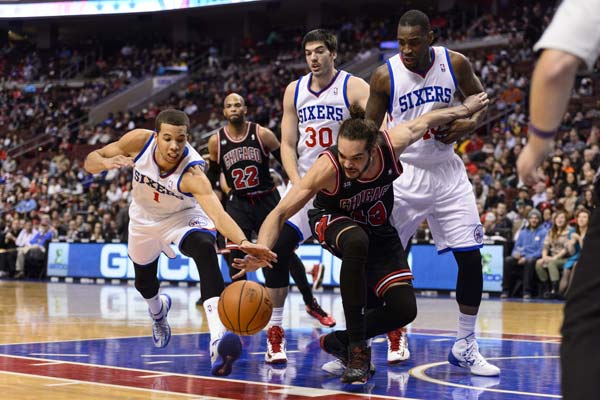 Going back in time to 1972-73, 19 players suited up for the Sixers that year, and their final lineup for the season was led by the two backcourt Freds (leading scorer Carter and All-Rookie Team member Boyd), Tom Van Arsdale, Leroy Ellis, Manny Leaks, and everybody else.  Carter and Van Arsdale were, at that time, capable of starting on most other NBA teams, though best used complementary players (see: MCW and Young from the 2013-14 Sixers).  Then again, Boyd never had it as good as he did in his rookie year, and power forward Leaks (fresh from the ABA when he joined the '72-'73 Sixers) was reduced to a reserve for the 1973-74 Capital Bullets.  And Ellis was never more than a role-playing big man and, if applicable, a stopgap starter. 

Still, that's more than what the 2013-14 Sixers presently offer – a starting lineup of Carter-Williams and Anderson, Young and Thompson at forward, and Sims at center, with a bench featuring Tony Wroten, Byron Mullens (who coincidentally played a key role on the 2011-12 Bobcats), Elliot Williams, Jarvis Varnado, Arnett Moultrie.  Most of these players wouldn't have a chance at significant minutes had they played elsewhere, and if the Sixers go down in history with the longest losing streak in NBA history, I will not be the least bit surprised.

Here's hoping the Sixers make the most out of their supposed attempts at tanking and get themselves a good pick in the 2014 Draft, and that 2013 first-rounder Nerlens Noel is able to suit up in 2014-15, because despite the injuries, he still has the makings of a good NBA big man.


What do you think?

We'd love to hear your comments and/or opinions. If you submit them here, other visitors can read them, rate them and comment on them. An e-mail address is not required.
The Philadelphia 76ers Are the Worst Team in NBA History to NBA Basketball Blog