The NFL's Best Defensive Free Agents in 2013
Earlier this week, we looked at the best free agents coming up on the offensive side of the ball.  Now it's time to turn to the defense, and see who might be plugging the gaps for new teams in 2013.
DE: Michael Johnson (Cincinnati) and Michael Bennett (Tampa Bay)
One of the reasons the Bengals might lose top-rated offensive tackle Andre Smith is the need to use the franchise tag on Johnson, who only just turned 26 years old, yet is already one of the top defensive linemen in football, with 11.5 sacks last year to go with very solid run defense.  Johnson wants to stay in Cincinnati, Cincinnati wants to keep Johnson – but there's been no movement on a long-term deal as of yet, and with the Franchise Tag deadline looming on March 4th, the Bengals might simply be out of time.  The Bengals need to make a long-term deal with one of Smith or Johnson, or risk losing the non-tagged player.  All this with the upcoming needs to pay players like Andy Dalton and AJ Green – the Bengals are in a difficult financial spot.

Bennett, on the other hand, will not be tagged – at least, that's the word from Tampa Bay GM Mark Dominik, who says they won't be using the tag on any player this year.  Bennett is a versatile player who can play defensive tackle just as well as he can on the end, and had the best season of his career with nine sacks last season.  He excels, however, in the run game – it's his pass defense that has improved the last few seasons, while his run defense has always been solid.  He played 83% of Tampa Bay's snaps last season, which is a very high number for a defensive lineman.  The Buccaneers have a lot of cap room, but with Da'Quan Bowers getting arrested, Bennett has all the leverage.  He'll get offers from quite a few people when free agency opens, and should see a nice payday.

DT: Henry Melton (Chicago) and Randy Starks (Miami)
The list of pass-rushing defensive tackles always is a small one, but there's none better in the game today than Melton.  He brings with him some run-game deficiencies, but he was arguably a better pass rusher than the highly paid Julius Peppers last season, and he's got tons of speed for a 300 pound guy – hence his Pro Bowl selection this year.   The issue for the Bears is that they are just barely able to squeeze Melton in under a franchise tag offer, but that might end up being moot – there's no one on the roster to replace him, so the Bears will likely be forced to tag him, and pay him $8 million more than he was making this season.  If not, a 26 year old tackle with 13 sacks over the last two seasons could see an even larger payday.

Another star player not close to a deal is Starks, the focal point of the Dolphins run defense.  He and Paul Soliai formed an imposing duo in the middle, clogging up running lanes, while still allowing Starks enough freedom to make 4.5 sacks and even an interception – he's got some athleticism wrapped up in him.  The Dolphins have three big free agents, and only one franchise tag – Starks, CB Sean Smith, and OT Jake Long.  Starks would be the cheapest of the three to tag, but the Dolphins also could have a plan B – sliding Jared Odrick inside to tackle, and seeing what Olivier Vernon can do as a starter on the outside.  The Dolphins might have to play a game of eeny-meeny-miney-mo to figure out who to tag and who to gamble with on the open market.  My hunch says Starks, but Jeff Ireland hasn't usually done what I thought he would in the past.

OLB: Paul Kruger (Baltimore) and Philip Wheeler (Oakland)
A little bit lost in the Joe Flacco negotiations and the Ray Lewis retirement is the status of Kruger, who might end up being the odd man out in Baltimore.  He shined all season, with nine sacks, and added two more to his tally in the Ravens' Super Bowl win.  Now, Kruger wants to stay with the Ravens – but financially, I just don't think that's possible.  The Ravens are in a very bad position financially, with only 10 players adding up to over $69 million dollars against the salary cap.  Kruger deserves a $40 million plus contract, and there's just no way the Ravens can fit him in, unless he takes the hometown discount to top all hometown discounts.  There's some worry that his statistics might be inflated – he performed much better with Terrell Suggs in the lineup opposite him – but young pass rushers like Kruger don't come around any day.  Cleveland is expected to take a run at him, both strengthening their defense and weakening a rival, as is Indianapolis.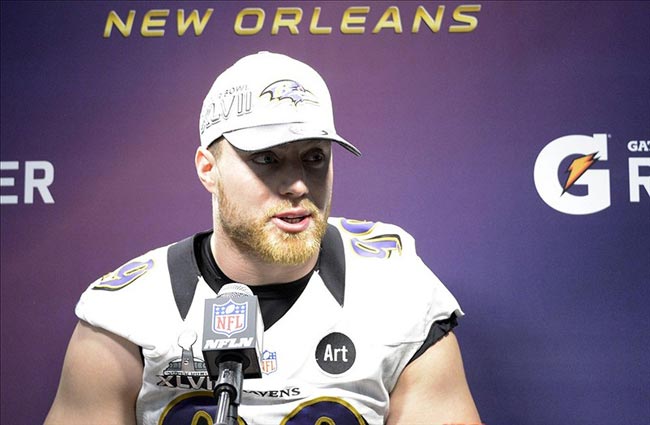 Feb 3, 2013; New Orleans, LA, USA; Baltimore Ravens outside linebacker Paul Kruger (99) speaks to the media after winning Super Bowl XLVII against the San Francisco 49ers at the Mercedes-Benz Superdome. Photo Courtesy By Kirby Lee-USA TODAY Sports.
If you had told me, last year, that I'd consider Wheeler a top free agent, I probably would have laughed, but he improved by leaps and bounds, and was arguably the best player on Oakland's defense.  He set career highs in tackles, sacks, forced fumbles, and passes defensed – all on a one year speculative deal from Oakland.  Oakland wants him back, but I expect him to reach the free market.  He's not a game changer, by any means, but he's a solid complimentary piece – he could help a team looking to add to their existing lineup, not revamping from the ground up.  Wheeler played his first years in Indianapolis in a Cover 2 system, and never really stood out – it took the more downhill style of Oakland for him to shine.  Hence, he might be more of a system player – so, if you're running his kind of system, he could be picked up for a lot cheaper than, say, Kruger, and is worth a flyer from somebody.
ILB Brad Jones (Green Bay)
Green Bay was very concerned when Desmond Bishop went down with a season-ending injury, but Jones came in and filled in admirably as an every down linebacker – Pro Football Focus graded him as the tenth best inside linebacker in football last year.  There's two ways to look at this from a Packers perspective – he's either a luxury the Packers can do without, because presumably their entire linebacking corps won't get injured next season, or he's proved his worth as a starter on the team, allowing them to cut a higher-cost player like AJ Hawk.  I think that would be the wisest course of action, actually – Jones would cost significantly less than Hawk does, and it was Jones, not Hawk, the Packers picked to stay in the lineup when they went down to one linebacker.  Jones is also versatile, as he started his career as an outside linebacker, including starting there in 2010.  I wouldn't be surprised if another team decided to take a shot at him, but I imagine Green Bay will find a way to get him back in the yellow and green next season.

CB Sam Shields [RFA] (Green Bay) and AqibTalib (New England)
As a restricted free agent, Shields is going to end up in Green Bay again this year, but the question is whether or not Shields can be signed to a long-term deal or not – this is one reason why I think the Packers should go with the cheaper Jones over AJ Hawk.  Shields missed some time last season with a high-ankle sprain, but, when healthy, he was a true shutdown cornerback, and the Packers desperately missed him when he was out – though, again, it's hard to point to just which player hurt the Packers the most, as it seems half their defense missed games over the course of the season.  Shields will get a second round tender from the Packers, but they'll be negotiating for a long-term deal, trying to prevent him from hitting the market in 2014.

AqubTalib is a headcase, there's no way around it.  He's been involved in fistfights with fellow players, charged with resisting arrest and battery, and accused of aggravated assault with a deadly weapon, though those charges were later dropped.  He's outspoken, to say the least, and without a strong locker room, could end up being a cancer on a team.  He's also a lights-out cornerback who was single-handedly responsible for improving New England's leaky secondary last season – when he was injured in the playoff loss to Baltimore, the game swung dramatically.  The Patriots aren't going to use their franchise tag, but they may use the transition tag on Talib, giving them the right of first refusal.  The team they might be competing with?  San Francisco.  The 49ers have apparently been kicking the tires on all the free agent cornerbacks, and Talib is the one most likely to hit the free market.  After getting exposed by Joe Flacco in the Super Bowl, the 49ers are looking to upgrade – and a free-agent Talib might be a better deal than sending high draft picks to New York for DarelleRevis, even if Talib brings with him a basketfull of problems.

S: DashonGoldson (San Francisco) and Louis Delmas (Detroit)
I had Jairus Byrd on this list when I began writing the article, but he has since been franchised by Buffalo, taking him out of the picture.  The role of top safety available, then, falls to someone who had the tag used on him last season – DashonGoldson.  The 49ers, as mentioned above, are looking for secondary help, but are NOT expected to place the tag on Goldson.  The premier cover safety in the NFL, and a deserving Pro Bowler, Goldson is going to make a lot of money from somebody and, so far, the 49ers have not had any luck in long-term contract negotiations with him.  Even more so than the Alex Smith trade, this was the 49ers top priority this offseason, but it's looking less and less likely that they'll be able to get anything done.

Louis Delmas has injury red flags all over him – his knee has caused all sorts of problems, as he's missed 13 games the last two seasons.  When healthy, though, there's few in the league better than him, and if it wasn't for that injury history, he'd be getting top dollar – it's a similar situation to Bob Sanders of the Colts, who always was a difference maker when playing, but rarely was healthy enough to play.  The odds are both sides will agree on a short term contract – a test, if you will, to see how Delmas' knee holds up over the course of a full season before agreeing to a long term deal.
What do you think?
We'd love to hear your comments and/or opinions. If you submit them here, other visitors can read them, rate them and comment on them. An e-mail address is not required.