The NBA TV Problem
As most avid NBA fans have noticed, a steadily increasing number of the team's regular season home games have been disappearing from network TV. The NBA's pet television network, NBA TV, now broadcasts a large number of regular season games and you cannot even get access to them on your local TV anymore; if you want to watch you have to buy the channel. Since it comes either alone or as part of a sports package that costs $10 per month, most viewers opt not to subscribe and simply miss a few regular season games every year. The NBA knows that so now they have upped the ante: a selection of playoff games will now be broadcast on NBA TV. That is unacceptable.
Putting a selection of regular season games on a channel that most people cannot access is distasteful to begin with. Many people in this country either live paycheck to paycheck or, at the very least, have to watch what they spend closely. Spending an extra ten dollars per month for a worthless little channel like NBA TV is just not in the budget. However, one can understand the NBA's desire to make a little bit of extra money and, to be fair, missing a couple regular season games is not the end of the world. But the playoffs are another story.
Here's an article about Derrick Rose Jersey
This year, the NBA has decided to put Game 3 of the first round of the Chicago Bulls vs. Indiana Pacers series on NBA TV. Like many other avid Bulls fans, I do not own NBA TV. As irritated as I was when my regular season Bulls games were blacked out on both network television and the NBA League Pass, I managed to let that go. But when I see the "BLACKOUT" notice for the Bulls' third playoff game in as many seasons, it is really going to make me angry.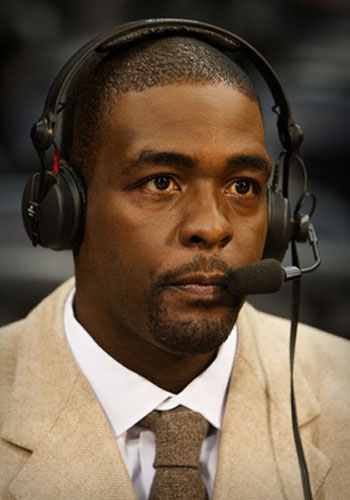 Former NBA player Chris Webber is working the game for NBA TV in Atlanta Hawks 95-84 loss to the Cleveland Cavaliers at Philips Arena in Atlanta, GA.
---
Making some money on regular season games is ok but the NBA Playoffs are the fan's chance to cheer on their team as they advance.Fans put up with a long eighty two game season, strings of losses, endless trade discussions, and more than a little salary dumping. The regular season is, ever increasingly, about the league more than its fans. Sometimes fans wait years to see their team get to the playoffs with a chance to contend; I've been waiting for that since Michael Jordan retired in 1998. That makes the playoffs a very special time that was, until recently, still about the fans. Now, that may not be the case and the NBA should seriously reassess that decision.
Visit Dirk Nowitzki Jersey
As powerful as modern sports leagues are, they sometimes lose sight of their true base of interest: sports fans. We are seeing that now in the NFL labor battle: both sides are busy flinging insults and accusations at one another all day but have forgotten one critical point: all the money they are fighting over comes from the fans and all the fans want is to see more football. When the NBA puts playoff games on NBA TV and takes them away from dedicated fans, they are forgetting who the sports are really about. Fans are interested because they get to watch the games-in person or on their home TV, so taking games away from them is wrong. The scary thing is that one playoff game per series on NBA TV may be just the beginning: what could come next?
---
What do you think?

We'd love to hear your comments and/or opinions. If you submit them here, other visitors can read them, rate them and comment on them. An e-mail address is not required.
What Other Visitors Have Said
Click below to see contributions from other visitors to this page...

NBA TV is truely the root of all evil Not rated yet
After being overseas for a while, I recently came back to the US and got back into the NBA after a long hiatus. What I found was something has changed …
---
From The NBA TV Problem to NBA Basketball Blog | Sports Blog | NFL Football Blog | NCAA Football Blog | NFL Football Archives | College Football Archives | MLB Baseball Blog | College Baseball Blog | MLB Baseball Archives | NCAA Basketball Blog | NBA Basketball Archives | NCAA Basketball Archives | Fantasy Football | Fantasy Basketball | Fantasy Baseball | Soccer Archives | Olympics Archives | Stupid Athletes Archives | Other Archives | Football Forum | Basketball Forum | Baseball Forum | NFL Football Store | NBA Basketball Store | MLB Baseball Store | NCAA Football Store | NCAA Basketball Store | NCAA Baseball Store | Fatheads | NFL Football Tickets | NBA Basketball Tickets | MLB Baseball Tickets | NCAA Football Tickets | NCAA Basketball Tickets | NCAA Baseball Tickets |
---
Home Page
About Us | Contact Us | Site Search | Advertise | Terms of Use |
---