The NBA Draft 2012: Most Intriguing Players to Watch
By Jason Fryer

There's a lot of great players at the top of the NBA Draft (Anthony Davis, Bradley Beal, Michael Kidd-Gilchrist to name a few) but with the Bulls holding the 29th pick, I wanted discuss a few "under the radar" players that I feel would provide the Bulls a great amount of depth to their roster.

Royce White: White (6'8" 270 lbs.) is a Power Forward who is an undersized player for the position but still can make a great impact off the Bulls bench. One of the best parts about Royce White's game is that for his size he's a great ball handler, in fact he brought the ball up for Iowa State last year. He might not have a definite position on the court, but he will for sure have an impact on the game and give a team even more ball-handlers on the court at all times.

Jeremy Lamb: The Bulls have been looking for an impact 2-guard for the past few years and as a Freshman Lamb helped UConn win a National Championship. During his second season at Connecticut (and Kemba Walker now in the NBA), Lamb became a much better scorer (went from averaging 11.1 points as a freshman to 17.7 points per game as a Sophomore) while still averaging over 4 rebounds per game. If the Bulls decide to draft Jeremy Lamb, I feel he would be a great starting 2-Guard, and would make a solid backcourt player with Derrick Rose for a number of years.

Will Barton: Another 2-Guard for the Bulls to consider; Will Barton struggled during his first season at Memphis (12.3, 4.9 rebounds, and while only shooting 42.8% from the field. However, as a Sophomore Barton had a significant impact on the Tigers roster as he averaged 18 points, 8 rebounds, and 3 Assists while shooting 50.9% from the field. Barton has the potential of being a great 2-Guard in this league and great size at 6'6".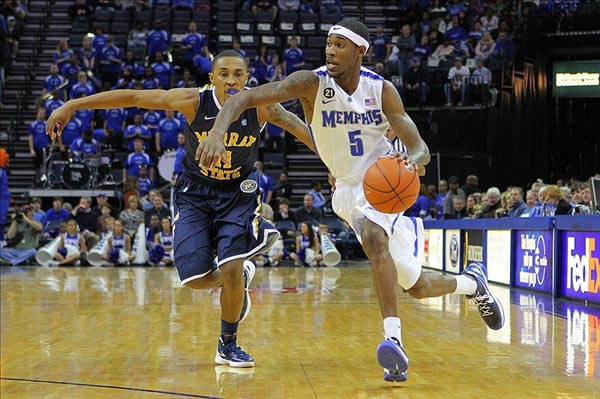 Memphis Tigers guard Will Barton (5) drives the ball to the goal during the game against the Murray State Racers at the Fed Ex Forum. Murray State Racers lead the Memphis Tigers at the half. Photo Courtesy By: Spruce Derden-US PRESSWIRE.


Tyshawn Taylor: During his first four years at Kansas, Tyshawn Taylor wasn't seen as much of a "score" and was more of a facilitating guard his first three years in college. During his senior year, Taylor had a much bigger role in their offense as he averaged 16.6 points to go along with 4.8 Assists on the season. Taylor was a four-year player at Kansas and would be a great backup to Derrick Rose in the future.

John Jenkins: You can never have enough scorers on your team and with Jenkins he would provide the Bulls with another great scorer off the bench. Jenkins (6'4 and 215 lbs.) has one of the best jump-shots in this draft and would be able to help Derrick Rose spread the floor even more in the future.


What do you think?

We'd love to hear your comments and/or opinions. If you submit them here, other visitors can read them, rate them and comment on them. An e-mail address is not required.