The Mystery of Pro Bowl Voting
Now that the Pro Bowl has moved to the week before the Super Bowl, fans are much more interested in the game and how the players are selected.  Each and every year, the Pro Bowl voting is dominated by the superstars who have been there before—and by the hot rookies people are familiar with from college.  Being a Pro Bowler is something of a self-fulfilling prophecy—once you make the Pro Bowl, you get the name recognition to return year after year, sometimes leaving other deserving players on the outside looking in.
Here are a dozen players who have never appeared in a Pro Bowl who deserve a trip to Hawaii this year.

QB Matthew Stafford, Detroit Lions

Yes, the Lions have entered free-fall over the last two weeks, but the Pro Bowl acknowledges success over the course of the entire season, and it would be hard to argue against Stafford's credentials.  His 4211 passing yards has him third in the NFL this year, and his 28 touchdown passes are just behind that, in fourth.  With a number of the usual suspects going down to injury (Rodgers, Cutler) or simply having off years (Luck, Brady), it might be time to turn to Stafford.  The Lions have not had a Pro Bowl quarterback in 41 years, since Greg Landry in 1971.  Stafford currently sits seventh in the voting, and has a very good chance to bring his Honolulu blue to Hawaii proper.

QB Ryan Tannehill, Miami Dolphins

Considering the Swiss cheese-esqueoffensive line Tannehill has had to play behind, and the controversies the team has had to deal with, the fact that the Dolphins are in playoff contention at all is rather amazing.   The second-year quarterback has none of the buzz some of his draft class compatriots received, but he took a step forward in all phases of the game in 2013.  With six quarterbacks making it, you could make a strong argument for Tannehill to slip onto the very bottom of the list.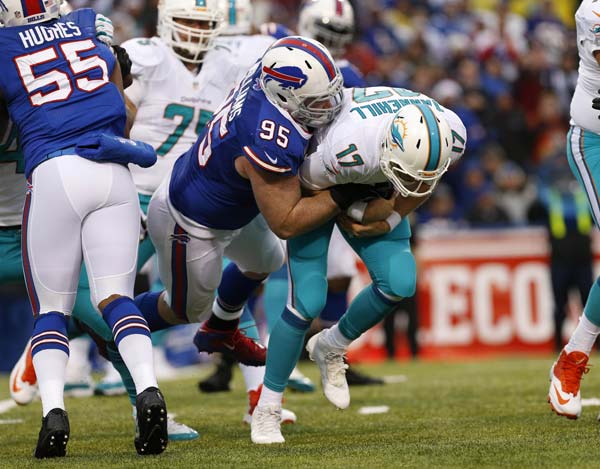 DE Calais Campbell, Arizona Cardinals

Because he doesn't rack up double-digit sack numbers, Campbell sometimes gets ignored when it comes time for Pro Bowl voting.  As a 3-4 defensive end, he's not called upon to do that as much—the sacks go to the outside linebackers.  But Campbell has racked up 60+ quarterback pressures this season—from 2008, when ProFootballFocus started charting that, only Justin Smith and JJ Watt managed those numbers from a 3-4 DE position.  That's high company.

DE Michael Johnson, Cincinnati Bengals

If Johnson didn't make it with 11.5 sacks last season, his lower sack totals this season would seem to make him a lost cause.  This season, though, he already has 54 quarterback pressures and has been the leader of Cincinnati's (probable) division winning defense.  He deserves a look.

DE Cameron Jordan, New Orleans Saints

With the Saints massive turnaround on the defensive side of the ball, they deserve a Pro Bowler, and Jordan's your man.  With 12 sacks, he leads all 3-4 defensive ends.  He's versatile, can play multiple positions on the line, and has really come into his own this season.  It's time the league at large recognizes him.

DE Robert Quinn, St. Louis Rams

Fifteen sacks.  Twenty quarterback hits.  Forty-eight quarterback hurries.  Thirty-seven 'stops'—solo tackles causing the offense to fail.  When it comes to pure pass rushing, there hasn't been a better player in the NFL this year.

OLB Lavonte David, Tampa Bay Buccaneers

After their 0-8 start, it would have been easy to write off most Buccaneers, but that's the offense talking—not the defense, which has been fairly solid all year 'round.  David's also at a disadvantage because he's not a pass-rusher—he's a 4-3 outside linebacker, meaning he drops into coverage more often than his 3-4 brethren, with whom he's competing.  He is the best cover linebacker in the game right now, though, with five interceptions and four more passes defensed, and he's made an impact and each and every Tampa game.

ILB Stephen Tulloch, Detroit Lions

Tulloch has been a tackling machine in the 2013 season, pushing the 100 tackle total through fourteen games.  Only Paul Posluszny and NaVorro Bowman have more tackles among inside linebackers—Tulloch has been a force in both the run game and pass coverage.  He'd be a solid selection for the bottom of the inside linebacking corps.

RB DeMarco Murray, Dallas Cowboys

The Cowboys insistence on passing when trying to end football games is amazing considering that, in Murray, they have one of the top running backs in football today.  Murray's edging towards breaking 1,000 yards for the first time in his career, and has added useful gains through the air, as well—he should be getting the ball more as it is.

RB Darren Sproles, New Orleans Saints

Sproles really isn't a 'running' back—he only has just over 200 yards rushing this season.  He's really more of a receiver out of the backfield, where he excels, up over 550 yards already this year.  If he was the sole back in the New Orleans system, he'd be getting many more votes, certainly.

WR Alshon Jeffrey, Chicago Bears

Both Jeffrey and Brandon Marshall should make the team this season, as they've been the beneficiaries of Marc Trestman's revitalized Chicago offense.  Already over 1200 yards on the season with two games to go, Jeffrey has exploded onto the scene, more than tripling his production from last year.  He looks to be a future perennial Pro Bowler.

WR Jordy Nelson, Green Bay Packers

Nelson has had to put up with significantly sub-par quarterback play ever since Aaron Rodgers went down, yet is still over 1000 yards receiving on the year, and could easily hit double-digit touchdowns by the time the year is through.  Give him some credit for continuing to produce while the Packers ran out of quarterbacks.


What do you think?
We'd love to hear your comments and/or opinions. If you submit them here, other visitors can read them, rate them and comment on them. An e-mail address is not required.
The Mystery of Pro Bowl Voting to NFL Football Blog