The Most Unbreakable Records in Sports
By Bryan Knowles

About a month ago, I wrote an article trying to tease out who the number one team was in college basketball.  It's safe to say the season hasn't exactly gone to plan thus far – there's not a single dominant team, and everybody can lose almost every night.  Since that article, things haven't gotten that much smoother, but I've become more confident – I know now who I think the best team in college basketball is – and they helped solidify that status last night as they routed cross-state rivals North Carolina 69-53.  Yes, I think once again, for the umpteenth time in the history of college basketball, Duke is the team to beat.
Not that it's been smooth sailing getting here!   Since that last article, where I put Duke as a tentative number one, they've lost at Maryland and at Virginia – both teams likely to miss the tournament entirely.  That's not the resume you want out of your #1 team, and, in most years, would bump them out of the conversation entirely.  It's safe to say, however, that this is not most years.  There're still two reasons I've got Duke at #1.

First of all, the competition I mentioned hasn't had a great time, either.  Gonzaga's ranked number one, and, with only two losses, that seems fair enough – they've earned a #1 seed, at least, so far – barring some kind of epic collapse in the WCC tournament.  However, that's been earned on a week schedule – their best win since that article was a close, 70-65 win on the road at BYU, another team that could very well miss the tournament.  Wins over Portland and Loyola Marymount aren't the stuff champions are made of.  The rest of the teams listed have struggled – Michigan's loss to Penn State was absolutely baffling, one of the worst results by any team this year.  Indiana lost at Minnesota and at home on senior night against Ohio State.   And Miami?  The team I had #2 last month?  A 65-80 loss at Wake Forest and a 69-71 loss against Georgia Tech have left them reeling, needing to regroup – they're still the #1 seed in the ACC tournament, but momentum is not in their favor.  And that's without mentioning a little thing like a 76-79 loss…against Duke.

So, if every team has some losses, why has Duke not dropped with the rest of them?  It's very simple – the losses came without Ryan Kelly.   Kelly's foot injury really shifted the balance of power in the ACC.  With him, the Blue Devils are 18-0 this season, while only managing a 9-4 record with him out.  With him out, Miami decimated Duke in a 27 point blowout win.  In the rematch, Kelly poured in 36 points and took down seven rebounds while leading Duke to a hard-fought victory.  The team was solid without him, but getting him back has put the team running on full gear once again.

The injury might even have had a silver lining to it.  In last night's demolition of North Carolina, Kelly wasn't much of a factor on the scoreboard, only scoring eight points.  His presence still stretched the defense, but it was his teammates – teammates who had had to carry the load with him out for 13 games – who rose to the occasion.  Seth Curry led the team to a 14-0 start, and they never really looked back.  Curry's really blossomed this season as he's been able to play shooting guard, his natural position, and his scoring touch has helped Duke out of some nasty situations.  Mason Plumlee then took over in the second half, ending up with 23 points and 13 rebounds.  Curry and Plumlee are a devastating duo by themselves, but with Kelly re-integrated into the mix, all of a sudden they're getting a little more space to work in, another outlet to go to.  It's that little bump up from good to very good.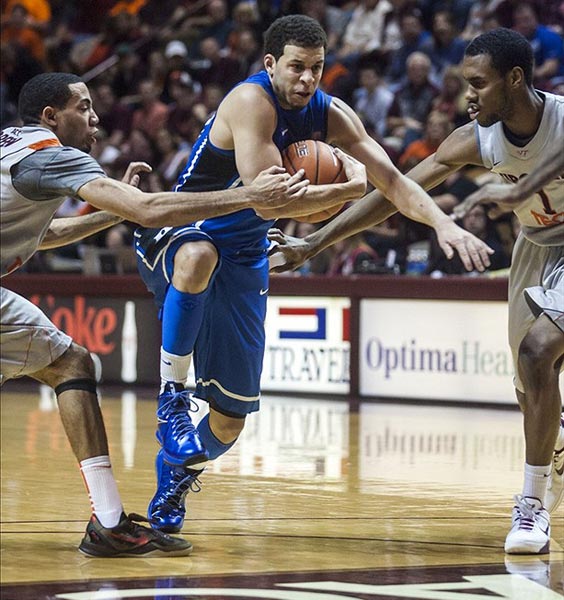 Feb 21, 2013; Blacksburg, VA, USA; Duke Blue Devils guard Seth Curry (30) drives to the basket against Virginia Tech Hokies guard Erick Green (11) and guard Robert Brown (1) during the first half at Cassell Coliseum. Photo Credit: Peter Casey-USA TODAY Sports.

Yes, very good.  I'm hesitant to call ANY team great in this mixed up season, but Duke seems to have the best argument for it.  They were 15-0 and a clear consensus #1 before Kelly went down, and they seem to have picked up right where they left off, while learning how to win if Kelly has an off night.  That's key – you can't only rely on one guy to take you all the way in a single-elimination tournament, because one bad night will send you packing.  The Blue Devils know how to play without him, and that will help them in the long run.

That doesn't necessarily mean I'll be picking Duke in my bracket next week, however – in this crazy season, I could see half a dozen teams going on a 6 game run to take the whole thing down.  A bunch of people in my various pools will be picking Duke, not only because they're good, but because, well, they're Duke.  Probably better in that situation to take the road less travelled by, and increase my share of the proverbial pie by taking a team less people are riding on – after all, only one of us can win.  That's a story for another article, though – Duke, right now, is my number one team in the nation.
What do you think?

We'd love to hear your comments and/or opinions. If you submit them here, other visitors can read them, rate them and comment on them. An e-mail address is not required.