The Manti Teo Conundrum: Who Will Draft Him?
Would YOU want Manti Te'o on your team?

That's the question sweeping the NFL combine today.  On Saturday, Manti Te'o had his official press conference – his first non-scripted chance to answer questions from the media about the catfishing scandal that has linked itself indelibly to Te'o.  It certainly has damaged his image in the world of public opinion – Nielsen Sports recently released a survey that says Te'o is the second most disliked athlete in America, behind only Lance Armstrong.  That's not exactly company he wants to be keeping.
Te'o was swarmed by the media – a packed house cramming the room, obviously the star attraction, drawing the attention away from the tight ends and offensive linemen running through drills on the field.  All in all, he handled himself well – which was a must for him, considering he will be judged far more by his ability to handle this controversy than by his 40 time this week.  He came across calm and collected.

Te'o mentioned he had already been his formal interviews with both the Houston Texans and Green Bay Packers, and had meetings scheduled with eighteen other teams.  Yes, they asked about LennayKekua.

"I understand that people have questions, but I think I have answered everything I could," Te'o said towards the end of his fifteen minute media barrage.  He mentioned that the teams mostly wanted to hear details of the scandal in his own words, and then moved on to football questions.  "How I'm handling it going forward, it's doing what I'm doing right now: focusing on the moment and focusing on football and the combine."

Alright, let's focus on football for a moment, then.  As ridiculous and insane as the LennayKekua story is, I don't think many teams will be running a false-girlfriend formation.  Te'o shows no struggles with object permanence or anything like that on the football field, and it does not appear that he was guilty of perpetrating the hoax, so, in reality, there's been a lot of ado about nothing when it comes to Te'o's on-field performance.  It's certainly something teams should talk about, but it's more of an off-field story than an on-field story.  People have been drafted high with far worse stories than this one.

More important to his draft status, then, is his performance in the BCS Championship Game, which can charitably described as 'sub-par'.  Yes, he racked up 10 tackles, but the Tide dominated from start to finish, ending up with 265 yards rushing, and Te'o was never really a factor – not what you'd want out of a Heisman candidate.

"That's all on me.  I played hard and so did my team, but Alabama had a great-game plan and so did we.  They executed better than we did."  He denied it had anything to do with recently learning that Kekua was in fact alive – and there we go again, back at the girlfriend story.

Let's try another angle – after a poor performance like that, a Senior Bowl performance could have brought the spotlight back onto Te'o's on the field performance rather than off-field issues.  However, he turned down the opportunity to appear, meaning our last impression of him was his poor performance during the Championship Game.  A great combine day on Monday could help answer some of those questions – but a 40 yard dash time or performance in the bench press isn't shedding NFL-quality offensive linemen or hunting down running backs.

That might be looking too closely at one game, however – yes, Alabama was probably the toughest opponent Te'o has ever faced, but it's also possible he just had an off day, be it because of off-the field scandals or not.  It's impossible to argue with his production on the field over the past three years; there's a reason he was considered for a Heisman.  He's also the prototypical size for an inside linebacker at 6'1", 248 – and he's got above-average speed, too.  He's been a vocal leader with a great work ethic and all those other intangibles you like to chalk up, can cover sideline to sideline and, generally speaking, wraps up ball-carriers well.   Personally, I think the knee surgery he had in 2010 is more likely to affect his draft stock than the scandal.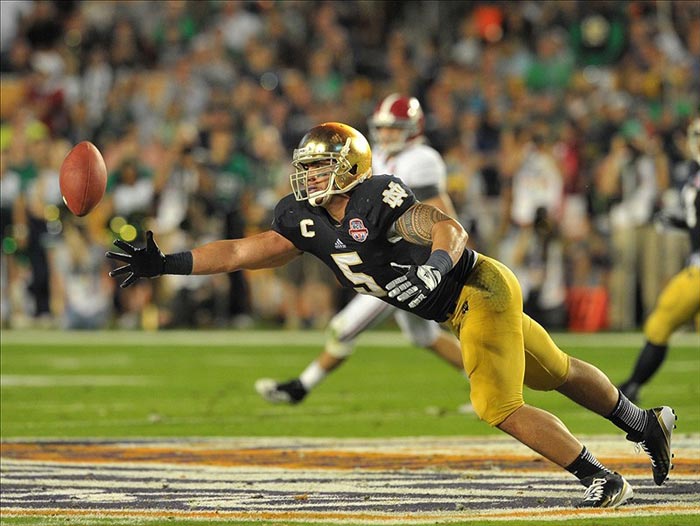 Jan 7, 2013; Miami, FL, USA; Notre Dame Fighting Irish linebacker Manti Te'o (5) can't make the interception on a tipped ball against the Alabama Crimson Tide during the first half of the 2013 BCS Championship game at Sun Life Stadium. Photo Courtesy By Matt Cashore-USA TODAY Sports.
It helps that the other two top-inside linebacker candidates have their own issues.  Alec Ogletree of Georgia has blistering speed and great measurable – but he was suspended for the first four games of this season for failing a drug test, was charged with a DUI last week in Arizona, was arrested as a freshman for stealing a motorcycle helmet – he brings a bunch of character issues with him.  His interview session Saturday was only slightly less interesting than Te'o's, and hit all the expected notes – "I'm a good person at heart, everybody makes mistakes.  I feel really bad about the situation.  I'm learning from it and moving forward."

The other top linebacker, Kevin Minter of LSU, has seen his stock rise as the Te'o and Ogletree fall.  Smaller than Te'o, slower than Ogletree, he's not a premium athlete – but with no off-the-field problems or injury history, he's quickly becoming the safe bet.  That's not to say he doesn't have the potential to become a top linebacker -- far from it, he's a sound all-around player.  He just lacks the top-end physical skills the other two seem to possess.  Still, if a team's looking to avoid a headache, Minter's a good way to go.

So, whither Te'o?  Before the scandal, Mel Kiper of ESPN had Te'o going in the top 10, but that seems unlikely now – but I wouldn't imagine he'd slip out of the first round of the draft.  At #19 and 20, in fact, are two teams that might decide to pull the trigger on him – the New York Giants and Chicago Bears.  The Giants have two free agent linebackers that struggled last year – an upgrade over Chase Blackburn could really help them out.

I think they'd rather go towards the offensive line at #19, but when your general manager comes out and says you need better linebacker play next year, it becomes a real possibility.  The Bears have aging problems – Brian Urlacher will be 35, and was hurt for most of last season.  Someone's going to need to step in there sooner rather than later.  Again, their offensive line looks like a bigger problem, but the way the draft looks at the moment, the top linemen may all be gone by the time #19 and #20 roll around.  Te'o – or one of the other inside linebackers – might be the call in that scenario.

Whoever takes Te'o isn't just brining in a Heisman finalist, of course – most draft picks haven't had interviews with Katie Couric or been hounded by reporters from MTV.  There's an off-the-field cost that will have to be measured, regardless of whether or not teams say that the scandal has affected his draft position.  Someone's going to take that headache – the question is who and when.  Once we get to the middle of the first round of the draft, general managers around the league will be asking themselves the same question.

Would YOU want Manti Te'o on your team?
What do you think?
We'd love to hear your comments and/or opinions. If you submit them here, other visitors can read them, rate them and comment on them. An e-mail address is not required.