The Kings Should Not Move to Anaheim; They Should be Contracted
Off the court, the NBA has been a bit of a boring place these days. Gilbert Arenas hasn't waved a weapon at anyone this season, Tyreke Evans is staying away from drive-bys, Rashard Lewis has stayed off the juice…overall it's been very quiet. The biggest off court issue on the docket concerns the Sacramento Kings whose owners, the Maloofs, want to move the team to Anaheim. Fans, NBA executives, and owners alike have taken sides on the issue but no one has publically hinted at the best answer: the Sacramento Kings should neither stay where they are nor more to Anaheim; they should be contracted.
Contraction is a bit of a taboo subject in the NBA. For all you millennial generation NBA fans out there, the word "contraction" is the NBA's version of "Voldemort;" it's just not used because it scares people. Players and agents don't talk about it because fewer teams means less competition for player services and, consequently, smaller contracts for players. Considering the hit player earnings are about to take after this season, neither players nor their supporters want to support an idea that would reduce their contract leverage further. NBA owners and Commissioner David Stern don't talk about it (though Stern discussed it for one paragraph in one interview this year and it shocked the basketball world) because the very idea is scary. How would the NBA decide what teams to contract? And, unsurprisingly, the mainstream sports media stays away from the subject of contraction because discussing an issue that upsets both owners and players is simply bad business.
Yet, despite that, the idea of contraction should be discussed because it is the best solution to the NBA's revenue problems. It is not by any means a total solution that will completely solve the league's endemic financial issues but it would be a great start. Here is why: last year, up to twenty-two NBA teams (depending on whose accounting you believe) will lose money for the 2010-2011 basketball season. But, "lose money" is a relative term and most of those teams will come relatively close to breaking even; if they shed some bad contracts this offseason and see some mild revenue restructuring in the new Collective Bargaining Agreement then they will be just fine. However, a few teams lose ridiculous amounts of money and lack the revenue base to ever be profitable. The Sacramento Kings are one of them.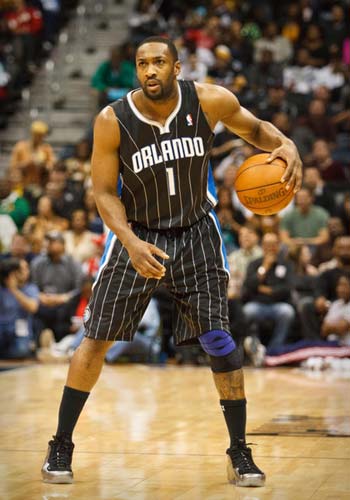 Orlando's Gilbert Arenas in Atlanta Hawks 85-82 victory over the Orlando Magic at Philips Arena in Atlanta, GA.
---
Sacramento fans are certainly passionate but they hardly provide strong financial support to the team. In defense of the Maloof's desire to move, Kings fans have not flocked to Arco Arena to see the team's underperforming product the past few seasons. TV revenue has been weak. Simply put, the team is bleeding money and, despite an outpouring of support in the final month of the season, there is little evidence to suggest that Sacramento and its fans are ready to support a profitable NBA basketball team.
However, moving the team to Anaheim is hardly a better option. The Los Angeles metropolitan area already has an NBA juggernaut franchise that has snagged most of the available fan base and TV revenue in the region. They are called the Los Angeles Lakers, are two time defending NBA champions, and are the most storied franchise in the sport. The area also has a franchise for all the people who refuse to root for a winner and would rather embrace a hopeless underdog. They are called the Los Angeles Clippers and Clippers fans now get a special bonus: they get to watch phenomenon power forward Blake Griffin (and get to see Vinny del Negro play with his hair during games, which is priceless. Trust me, I'm a Bulls fan). So, where is there room for the incoming Kings? There isn't any.
So, the Sacramento Kings should be contracted. Contraction would eliminate a franchise that has no chance to be profitable where it is and hurts the NBA's bottom line. Its players could be redistributed through a randomized draft to other teams, which would strengthen the NBA's rosters and make many games that much more interesting.
Contraction is not the only option. The Kings could remain in Sacramento another year and look at another city. But the NBA has already placed teams in all US (and Canadian) cities that can support them so finding one that really deserves a team would be difficult. If you find one, then tell me. But, if you can't at least consider contraction. If nothing else, it's a great option that deserves more of a hearing.
---
What do you think?

We'd love to hear your comments and/or opinions. If you submit them here, other visitors can read them, rate them and comment on them. An e-mail address is not required.
---
From The Kings Should Not Move to Anaheim; They Should be Contracted to NBA Basketball Blog | Sports Blog | NFL Football Blog | NCAA Football Blog | NFL Football Archives | College Football Archives | MLB Baseball Blog | College Baseball Blog | MLB Baseball Archives | NCAA Basketball Blog | NBA Basketball Archives | NCAA Basketball Archives | Fantasy Football | Fantasy Basketball | Fantasy Baseball | Soccer Archives | Olympics Archives | Stupid Athletes Archives | Other Archives | Football Forum | Basketball Forum | Baseball Forum | NFL Football Store | NBA Basketball Store | MLB Baseball Store | NCAA Football Store | NCAA Basketball Store | NCAA Baseball Store | Fatheads | NFL Football Tickets | NBA Basketball Tickets | MLB Baseball Tickets | NCAA Football Tickets | NCAA Basketball Tickets | NCAA Baseball Tickets |
---
Home Page
About Us | Contact Us | Site Search | Advertise | Terms of Use |
---