The History of Drafting NFL Quarterbacks
With the third pick in the 2014 NFL draft, the Jacksonville Jaguars selected Blake Bortles, quarterback from the University of Central Florida.

The logic's certainly there—considering the Jaguars have spent the last three years dealing with the likes of Blaine Gabbert and Chad Henne behind center, picking a quarterback was the most important thing they could do to kick-start their rebuilding process.
They selected Bortles over other highly-rated quarterbacks, including Texas A&M's Johnny Manziel, who fell to Cleveland at pick No. 22, and Louisville's Teddy Bridgewater, who fell to No. 32 and the Minnesota Vikings.

Jaguars general manager Dave Caldwell gushed over the pick, saying "our college staff got together and our coaching staff got together he was a unanimous consensus of the guy that we all wanted."

It would be odd if Caldwell had said anything different; presumably, when you're the first team to draft a quarterback, you get the quarterback you wanted.  The question is, how often does the prospect a team wanted turn out to be the best prospect?  How often does the first quarterback taken end up as the best quarterback in the draft?

Let's go back through history and see how often teams made good choices, and how often they swung and missed.  It'll give us a framework for deciding how likely it is that Jacksonville made the best pick.  We'll go back to the beginning of the common draft in 1967 and see what happened.

Each pick will either be a success, if they happened to take the best quarterback available, acceptable if it wasn't the best quarterback in the draft but still had a very good career, or a failure if they missed out on a great player.

1967: The San Francisco 49ers took Steve Spurrier with pick No. 3.  Spurrier never really took off as a quarterback, having one decent season in 1972, but otherwise being an utter bust.  With the very next pick, Hall of Famer Bob Griese went off the board.  Verdict: Failure

1968: The Detroit Lions are fairly happy with Greg Landry, who put up several really good seasons in the early '70s.  Still, Ken Stabler, taken in the second round, has the rings, and was likely the better player.  Verdict: Acceptable

1969: The Cincinnati Bengals thought they had something special in Greg Cook, but a devastating injury at the end of a fantastic rookie season essentially ended his career.  No great quarterbacks were available this year, but James Harris made the Pro Bowl once he had a chance to start with the Rams.  Verdict: Not their fault, but failure.

1970: Yeah, the Pittsburgh Steelers taking Terry Bradshaw with the top pick?  That worked. Verdict: Success

1971: The New England Patriots found a good one in Jim Plunkett, the best of the quarterbacks who went 1-2-3 in the '71 draft.  However, the Bengals found a steal in the third round with Ken Anderson, who really should be in the Hall of Fame.  Verdict: Acceptable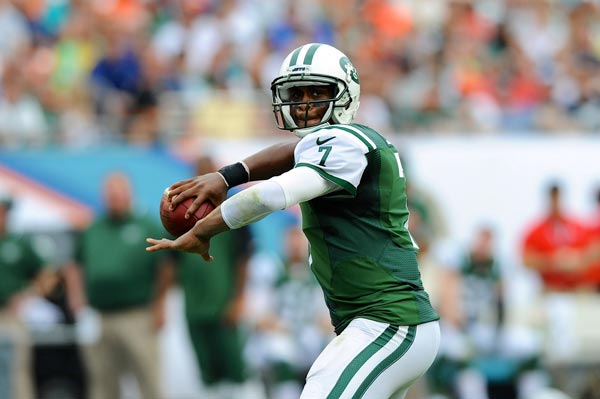 1972: The Green Bay Packers took Jerry Tagge, an utter bust who was out of the league in three years.  Down in round 13, Brian Sipe had a very solid career in Cleveland, making the Pro Bowl in 1980.  Verdict: Failure

1973: Can't blame the Baltimore Colts for taking Bert Jones, whose 1976 season is still one of the best ever.  He's not Dan Fouts, however, who ended up in the Hall of Fame.  Verdict: Acceptable

1974: No quarterbacks went until the third round, when the Dallas Cowboys found Danny White out of Arizona State.  He's the only quarterback in this draft who went on to do anything of note.  Verdict: Success

1975: Steve Bartkowski went number one overall to Atlanta, and for years was their best quarterback ever, making the Pro Bowl twice in the '80s.  He's not quite as good as Steve Grogan was, as Grogan was a solid starter or reserve in New England from 1975 to 1990.  Verdict: Acceptable

1976: The New York Jets took their first dip into the quarterback pool and nailed it, taking Richard Todd with the sixth pick.  He's the only quarterback that year who did anything.  Verdict: Success

1977: The St. Louis Cardinals liked Steve Pisarkiewciz, a bust who was out of the league in three years.  Later in the first round, the Minnesota Vikings found Tommy Kramer, who was a very solid starter for almost a decade.  Verdict: Failure

1978: No first-round quarterbacks, with the highest picked being New England's Matt Cavanaugh in the second round.  The best quarterback taken was likely the last one, Bill Kenney.  He never played for the Dolphins, but became a Pro Bowl quarterback in Kansas City.  Verdict: Failure

1979: The Bengals liked Jack Thompson with the third pick, who only started 21 games in his career.  A better first-round pick would have been Phil Simms, but this was the Joe Montana draft, and nothing was going to top that. Verdict: Failure

1980: Not a very strong draft for quarterbacks.  The Oakland Raiders took Marc Wilson in the first round and got 50 starts out of him.  I'd rank him slightly behind Eric Hipple, who started about the same number of games for Detroit, but I can't call this a huge swing and miss.  Verdict: Acceptable

1981: The Packers swing and miss again, taking Rich Campbell in the top 10.  He never started a game.  They could have had Neil Lomax instead, who the St. Louis Cardinals turned into a Pro Bowl quarterback.  Verdict: Failure

1982: Art Schlichter was going to be the quarterback of the future for the Baltimore Colts, but the Colts weren't long for Baltimore, nor was Schlichter long for the league.  The Bears found their oft-injured punky QB Jim McMahon with the very next pick, and shuffled their way to the Super Bowl.  Verdict: Failure

1983: I'm torn on this one.  The Baltimore Colts found their guy in John Elway, a great pick.  But Elway refused to play for them, and had to be traded away.  If they had taken Dan Marino or Jim Kelly, maybe they're able to sign him and revitalize the franchise fifteen years before Peyton Manning.  As it is, I can't go full success because they didn't keep Elway, but at least they identified a Hall of Famer.  Verdict: Acceptable, if short-sighted

1984: For a draft with no first-round quarterbacks, this was very solid, with Jay Schroeder and Jeff Hostetler having success in the NFL.  Neither of them holds up to the Bengals' second-round selection of Boomer Esiason, the first quarterback off the board. Verdict: Success

1985: The Philadelphia Eagles started the quarterback run in the second round, and found Randall Cunningham.  Nailed it. Verdict: Success

1986: You could make some arguments for Mark Rypien in this draft class, and Washington was happy with his pick in the sixth round.  At the top of the draft, however, the Oilers found Jim Everett.  Rather than use him, however, they traded him to the Rams and got two first-round picks in return.  Considering they already had acquired Warren Moon that offseason, that was the right move, but Everett was still the best quarterback in this draft.  Verdict: Success

1987: It seems like VinnyTestaverde, who the Buccaneers took with the first overall pick, played forever, lasting until 2007.  Tampa Bay, Cleveland, Baltimore, NY Jets and Dallas all found him a solid starting option while waiting for someone better to come along.  It wasn't a bad pick, but I'm going to bump Rich Gannon just over him, due to a higher peak in Oakand.  Verdict: Acceptable

1988: Tom Tupa, taken by the Phoenix Cardinals in the third round, was a better punter than quarterback.  They could have had Chris Chandler, who may not have had as good of a leg, but did have an NFL-caliber arm.  Verdict: Failure

1989: While he's a little overrated due to the value people place on Super Bowl-winning quarterbacks, the Dallas Cowboys found a good one with the top pick in Troy Aikman.  Verdict: Success

1990: Jeff George is a pretty average first overall pick; a consistent starter who could never take the next step.  The Colts could have looked at Neil O'Donnell or Scott Mitchell instead, but it's hard to put either of them ahead of George.  Verdict: Success

1991: The Seattle Seahawks took Dan McGwire, a bust who started only five games in his NFL career.  The Falcons may not have known what they drafted in Brett Favre, but obviously, when Favre got to Green Bay he turned in one of the greatest careers in NFL history.  Verdict: Failure

1992: The Bengals used the sixth overall pick on David Klingler, who at least had one season as a starter, albeit a horrible one.  Brad Johnson, taken by the Vikings in the ninth round, became a two-time Pro Bowler and Super Bowl champion.  Verdict: Failure

1993: The Patriots used the top pick on Drew Bledsoe, who locked down their starting role until someone named Brady came to town.  You could make an argument for Mark Brunell, but Bledsoe comes out on top in my book.  Verdict: Success

1994: Back to the busts, as Washington thought Heath Shuler would be their long-term answer, but he instead washed out of the league in four years.  Trent Dilfer, taken three picks later was solid, as was Gus Frerotte, found in the seventh round.  Verdict: Failure

1995: The Houston Oilers found Steve McNair, who became a league MVP, with the third overall pick.  The Carolina Panthers were more than happy with Kerry Collinsat number five, and Kordell Stewart had a nice career too, but McNair's the man.  Verdict: Success

1996: Another year with no first-round quarterback, but the Baltimore Ravens made the best of a bad class when they took Tony Banks in the second round.  Verdict: Success

1997: The San Francisco 49ers swung and missed with Jim Druckenmiller, arguably the biggest bust they've ever had.  The only good quarterback in the draft was Jake Plummer, who had an up and down career in Arizona and Denver. Verdict: Failure

1998: The Indianapolis Colts took Peyton Manning.  Verdict: Success

1999: Another draft where quarterbacks went 1-2-3.  It was a pretty deep draft, too, with Donovan McNabb, Daunte Culpepper and Aaron Brooks all having solid careers.  The newly expansion Cleveland Browns could have had any of them, but instead went with…Tim Couch.  Verdict: Failure

2000: If Chad Pennington had been able to stay healthy for two seasons in a row, the New York Jets would have come out alright here.  However, he couldn't, and even if he could have, he was no Tom Brady.  Verdict: Failure

2001: It's hard to grade Michael Vick, taken by Atlanta with the first overall pick, due to the combination of his incredible on-field performance and the off-field drama caused by his arrest and incarceration.  We'll split the difference and call him adequate, as he's not better than Drew Brees, anyway.  Verdict: Acceptable

2002: The Houston Texans thought they had their man, starting their franchise with David Carr.  He soon became shell-shocked by sacks, however.  He really wasn't that bad of a pick, though.  He was still in the league as a solid backup last season, so this isn't a total failure considering the weak crop of quarterbacks in 2002.  They would have been better off taking David Garrard in the fourth round, however. Verdict: Acceptable

2003: Injuries harmed his career, but the Cincinnati Bengals can't complain about what they got out of their top pick, Carson Palmer.  No one else has even come close.  Verdict: Success

2004: A loaded class with an awkward history.  The three quarterbacks who went in the top 11, Eli Manning, Philip Rivers and Ben Roethlisberger, have all had great careers—and don't forget Matt Schaub, down in the third round.  The Chargers took Manning number one overall, and then swapped him with Rivers and the Giants.  Like the Baltimore Colts in 1983, they didn't keep their pick, but at least they got another top quarterback out of the deal.  Take the whole mess and call it Verdict: Acceptable

2005: The 49ers took Alex Smith, which looked a lot worse until the past few seasons, when he revitalized his career.  It's actually enough to slide it into the acceptable level, though I wouldn't argue too strenuously with anyone who still thinks the pick was a disaster at number one.  2005 was a very solid draft for quarterbacks, with Jason Campbell, Matt Cassell and Ryan Fitzpatrick all having solid careers, but the cream is obviously Aaron Rodgers.  Verdict: Acceptable now, but not so much a few years ago.

2006: The Tennessee Titans agonized with their third pick; Vince Young or Matt Leinart?  The answer, it turns out, was Jay Cutler.  Verdict: Failure

2007: JaMarcus Russell, who went number one to Oakland, is the biggest bust of all time, both in terms of not being a good football player and also in terms of being very large.  The 2007 draft was a disaster at quarterback.  Do you like Kevin Kolb?  Trent Edwards? Tyler Thigpen?  Whoever you choose, just make sure it isn't Russell.  Verdict: Failure

2008: The Falcons bounced back from the Michael Vick fallout by taking Matt Ryan with the third overall pick, and that's worked out pretty darn well so far.  You could make a case for the Super Bowl-winning Joe Flacco over Ryan, but I think that's putting too much emphasis on the rings.  Verdict: Success

2009: Matthew Stafford's a bit of a stat-compiler, but does he ever compile eye-popping stats.  With no one else in this class having taken that next step forward yet—his top competition is Mark Sanchez and Josh Freeman—the top pick in '09 holds onto his crown.  Verdict: Success

2010: These last four classes are very hard to judge, thanks to the small sample sizes we're dealing with.  Sam Bradford's been underwhelming as St. Louis' top selection, but at least he's a four-year starter.  Who would you prefer, Tim Tebow?  Verdict: Success

2011: Cam Newton gets unfairly criticized sometimes for having a negative attitude on the bench, but he's a great player who was definitely worthy of the top selection.  Colin Kaepernick is on his tail, and Andy Dalton's had a good career too, but for now, this is Verdict: Success

2012: Way too early to declare a clear winner here, but no Colts fan is unhappy with the selection of Andrew Luck with the top pick.  It looks like a great class overall, though.  Russell Wilson's my current choice for best quarterback taken, but Robert Griffin, Ryan Tannehill and Nick Foles all have had solid starts to NFL careers, too.  Verdict: Acceptable

2013: Ennh.  Based on just their rookie season, can you call E.J. Manuel, taking by the Bills with the sixteenth pick, the top quarterback?  He missed time with injury, so I suppose the current crown has to go to Geno Smith or Mike Glennon.  The top three quarterbacks taken currently have the top three careers, but one season's not long enough to determine anything.  Verdict: Acceptable

In the long run, it seems, the first quarterback off the board has a bad record against the field; only 17 times out of 47 have they become the best quarterback in the draft.  That's as many times as it's been a disaster—for every Peyton Manning, there's a Jamarcus Russell.

However, if you're just trying to make sure your team hasn't made a horrible mistake—that they've taken a top quarterback if not necessarily the top quarterback, the odds are much more in your favor.  Out of the 47 drafts in the common draft era, 30 times the first quarterback taken has been at least in the ballpark of the best quarterback taken.  No, I would want Drew Brees over Michael Vick, but Vick's still been a solid quarterback.  When you consider the odds of a quarterback, at random, being the best in the draft class is only about 6.7% (700 quarterbacks taken, 47 best quarterbacks in 47 drafts), 30 out of 47 solid pick doesn't seem too bad.

The odds are Blake Bortles won't be the absolute best quarterback in the draft.  Maybe Teddy Bridgewater excels in Minnesota, or maybe Tajh Boyd takes over in New York and becomes the next Joe Namath.  Just going by the odds, however, Bortles is likely to have a solid NFL career.


What do you think?
We'd love to hear your comments and/or opinions. If you submit them here, other visitors can read them, rate them and comment on them. An e-mail address is not required.
The History of Drafting NFL Quarterbacks to NFL Football Blog